Trang An, Tam Coc – Bich Dong, and Van Long wetland, three famous tourist destinations of Ninh Binh, will appear in blockbuster Kong: Skull Island, expected to debut in 2017. On 26th February afternoon, the crew of Kong: Skull Island arrived in Ninh Binh and started working for two weeks from 27th February to 15th March here. The first shooting location is the scenic Trang An landscape complex, located 7 km to the west of Ninh Binh city and 96 km from Hanoi. The selected context includes a 2-hectare broad valley inside the Trang An landscape complex (between Tam Coc – Bich Dong and the marina area of Trang An).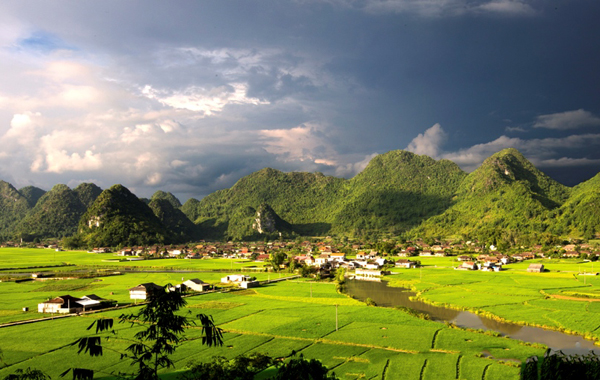 Thung Nang is reached by a 3-km cruise. From Thach Bich wharf, in the vast space of the valley, visitors will feel like being immersed in nature and enjoy the quite fresh atmosphere.
Trang An landscape complex is an aggregate combination of cultural heritage and natural heritage which was recognized by UNESCO in 2014 as the World Cultural and Natural Heritage site in Vietnam.
The Vietnamese Government has recognized many heritages of the region as special national relics including Trang An eco-tourism area, the tourist resort of Tam Coc – Bich Dong, Hoa Lu ancient capital.
Tam Coc – Bich Dong, also known for famous names such as "Ha Long Bay on land" is a key tourist destination of Vietnam.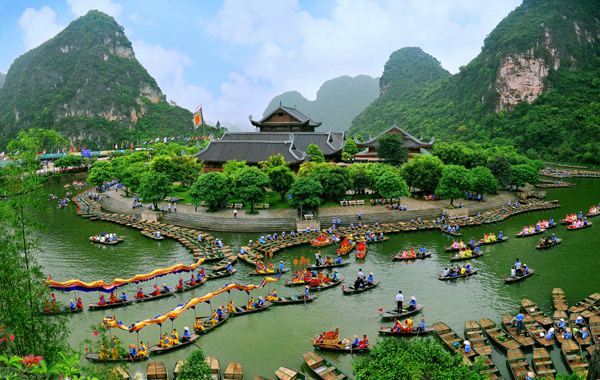 The entire region consists of the system of limestone caves and historic sites relating to the provision of Vu Lam of Tran Dynasty located in Ninh Hai Commune, Hoa Lu.
These weathered and eroded limestone mountains form many unique shapes and always bring excitement to visitors.
From 27th February to 7th March, the crew of Kong: Skull Island will shoot at scenic Trang An. On 8th 3 March, the film will be continued shooting at the Tam Coc – Bich Dong.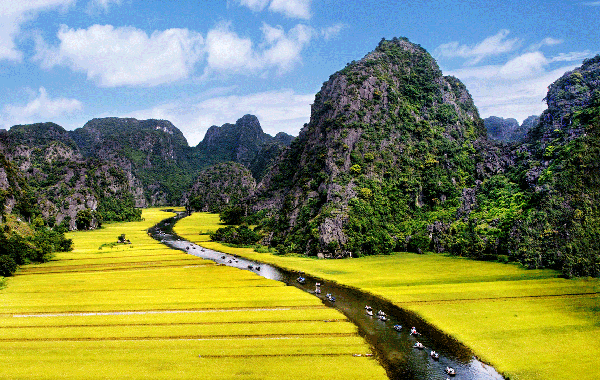 From 9/3 to 15/3, the crew will film in Van Long natural reserve. This is not only a resort but also the largest wetland natural reserve in the Red River delta. It is located in the northeast of Gia Vien district.
Van Long natural reserve boasts a landscaped and poetic beauty. The water is crystal blue which helps you clearly see the eye-catching moss carpet at the bottom. The breathtaking beauty of this place is also added by the majestic limestone mountains which have been largely eroded making a virtual cave system.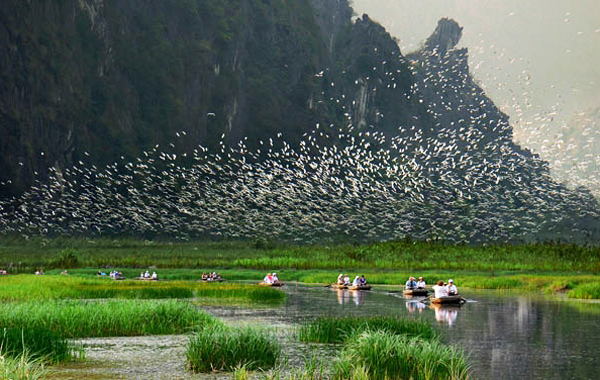 In the filming days of Kong: Skull Island, the routed Trang An, and Van Long wetland will be rearranged for guests in order not to affect the crew.