Hundreds of years ago, it used to be the custom with the Vietnamese to hang Tet pictures on the Lunar New Year holidays. "The nation's soul brightens on scallop paper". (Hoang Cam's poem). Tet pictures are part of the pure and kind-hearted Vietnamese soul, a fine cultural feature worthy to be preserved. A few days before the Tet holiday, Dong Ho people (Thuan Thanh, Bac Ninh province) peddled their pictures everywhere and merchants all over the country flocked there to buy pictures wholesale. From Hanoi to other provinces, Tet pictures abounded in all places "all over the markets and rural areas", in ever) household. Unicorn and dragon dances were performed to hope for good fortune and happiness during those festive days. The absence of the above entertainments during Tet holidays does not differ much from the lack of rice cakes, small glutinous rice cakes (banh tet), or Tet festival poles on the same occasion. Pictures of guardian spirits were hung on the right and left doors or gates.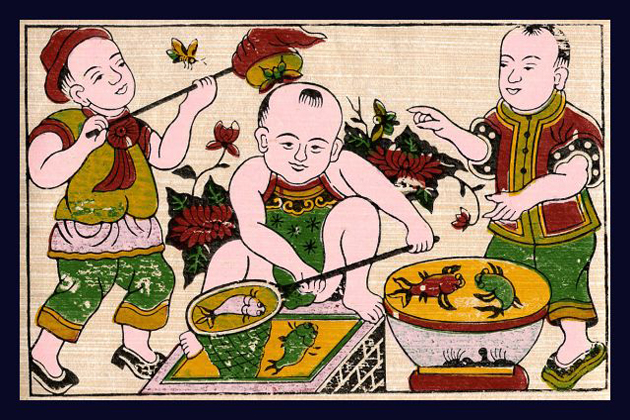 These are gods from Heaven who protect the family members to ensure them a new year of good health and prosperity. Tet pictures stem from so intricate religious beliefs that even art lovers or regular buyers in many instances either do not understand or feel no need to know. They simply buy them when they find them to their liking; they hang them in expectation of their family's joy and happiness and gradually the habit of buying beautiful Tet pictures is likewise formed. In former times, even the poorest household had its own altar for the cult of ancestors. The cheapest one is made of paper: simply an altar figure with a fine display of an ancestral tablet, parallel scrolls in Chinese characters… drawn in gay colors.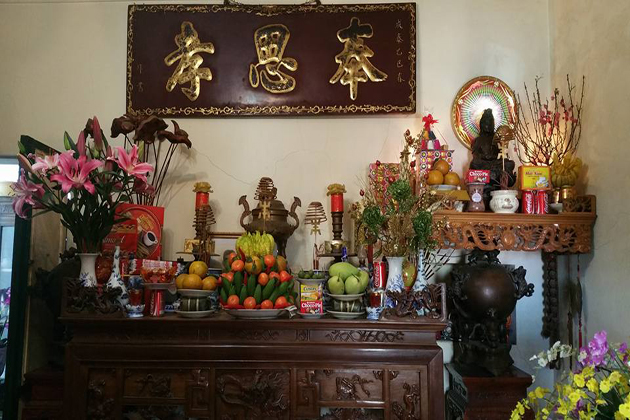 Dong Ho is a village of wood artists with many families specializing in folk pictures several hundred years ago. The most famous of them is the Nguyen Dang clan. The paper is made from the bark of a tree, do (Wikstroemia indica), and coated with scallop shell powder. The colors are extracted from natural materials viz. dark green from indigo, red from Vermilion, white from the scallop shell, black from charcoal, brown from Dioscorea, yellow from Hemerocallis, hence they are fresh and familiar to people. Each color requires a woodblock with lines in relievo. The printing of one picture needs several separate woodblocks, for the craftsman could print only one at a time. Colors are printed first, next come the lines for hemming the contour of figures, and lastly the black lines. The colors superimpose without blending together, the lines are large and thick, thus giving the picture a vigorous look with high graphic quality and expressive power. This flock of chickens gathers happily, similar to a large family in complete concord: father, mother, and children fowls assist and protect one another.
The atmosphere is so bustling that one can almost hear the exciting, stimulating sound of tam-tams. The Lunar New Year days cannot do without sports and games such as swinging on a swing, wrestling, playing chess…The artists keenly observe wrestling postures to concisely and coherently represent them; he probably lays stress only on the major ones, so the chisel lines are clear-cut. This picture of wrestling closely resembles the carvings in village communal houses and they are admired and studied by a great number of contemporary painters. Farmers are keen and witty observers in the above picture. It depicts a traditional class in former times. The teacher is sitting on a carved bed to check the homework. The pupils are busy boiling water to make tea or rubbing down an ink stick. The schoolboy who does not know the lesson is being punished: he has to carry his classmate on his back while another pupil gives him a whipping.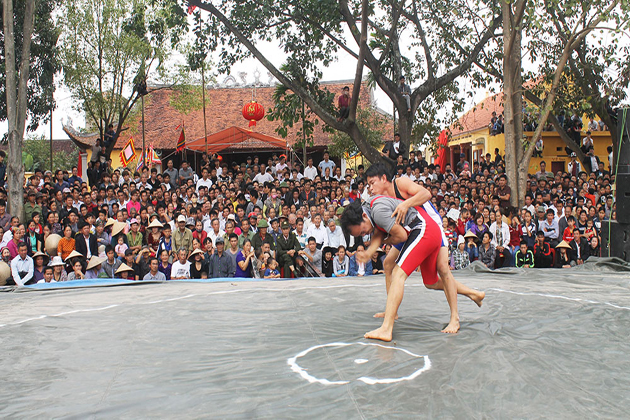 Here is the rose-colored aspiration of a farmer: owning a row of houses with luxuriant verdure, a farmyard swarming with poultry… Everybody enjoys doing farm work e.g. harrowing, rice planting, carrying manure with a pole. Even the ox seems to be fully satisfied. Comment on the picture "Emperor Dinh Tien Hoang": What are the two little boys playing? This is the story of a Vietnamese emperor: Dinh Bo Linh. When he was a boy, he once held a mock battle with flags made of arundinaceous canes. His uncle chased him with a sword in his hand because Dinh Bo Linh had dared to slaughter his buffalo for rewarding his "troops" (the buffalo boys). When he reached a riverbank, a dragon suddenly appeared to ferry him across the river. Seeing this, his uncle hastily planted his sword and gave him a bow as a sign of veneration. The picture is brimming with optimism and gratification.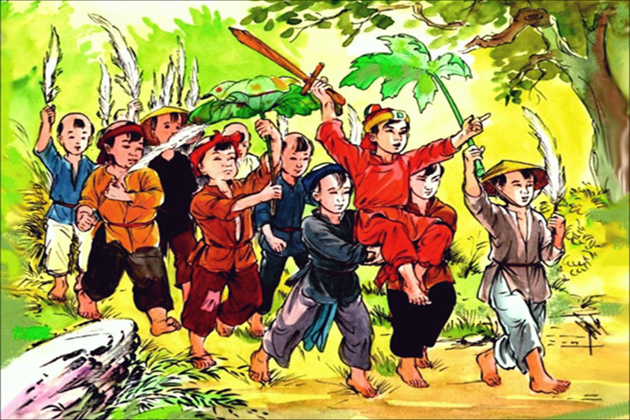 Lady Trieu is both good-looking and solemn whereas her elephant is tame and jovial. She goes to battle without holding any weapon and is resplendent with the beauty of a fairy and the gracefulness of a woman dancer. This reflects two aspects of the farmers' view: what they see and expect from their leader. What an original conception! Pictures portraying scenes of everyday life besides being witty are educational. The buxom wife in this instance is rolling up her skirt "like the strap of a gong" and rushes in with a pair of scissors with a view to cutting her rival's hair while the concubine is bare-breasted, very challenging, and sharp-tongued. The husband is trying to side with one woman and reconcile with the other. A real comedy in ordinary life! This exaggerated description adds a touch of humor to the picture: "Stop getting angry to reconcile yourselves, please! For fear the scandal would abase both parties!" That was the moral device implied in the two verses printed on the drawing.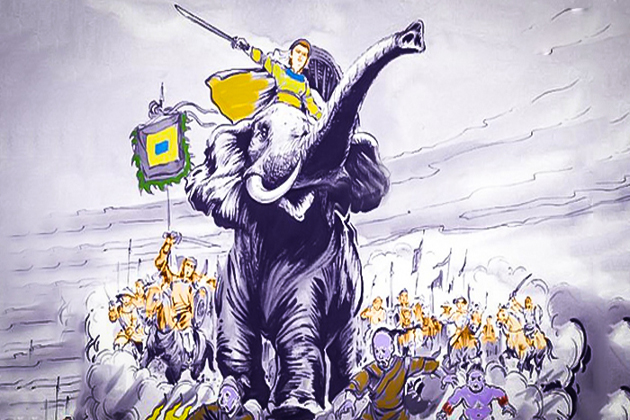 The scene of catching coconuts is also humorous: "Praise is to who had created coconuts, I climb up, you catch them to form a pair that adjusts". The four graphic scrolls "Truyen Kieu" (The Story of Kim Van Kieu) are very impressive. The major details are displayed vertically, from right to left. They link together and intertwine. The personages and scenery in the plot belong to China but Thuy Kieu, Thuy Van, Kim Trong, Tu Hai, Ma Giam Sinh, So Khanh … here are genuine Vietnamese. There exist many other graphic stories in the treasure of Vietnamese folk pictures. Regretfully, such an original genre was not fully developed. In Kim Hoang village (Ha Tay province) there existed a block printing craft for folk pictures dating from the 18th century. They included pictures of different topics e.g. religion, everyday life, greetings… similar to Dong Ho pictures but, since 1915, this craft had died out because the artisans' printing blocks were swept by the floods. After 1945, the villagers did not engage in picture-making any more: a sorrowful instance of the extinction of cultural values.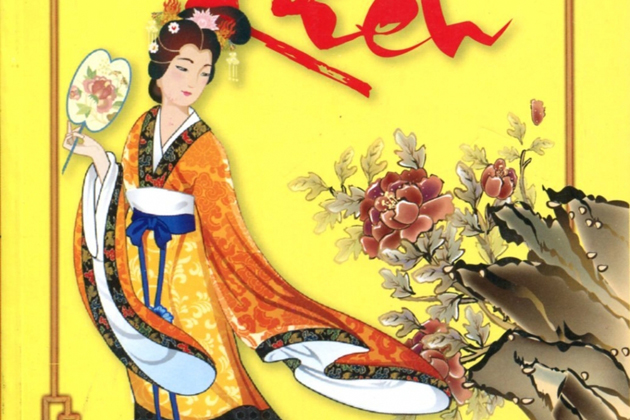 In many localities such as Hue, Ho Chi Minh City (Saigon), Tet pictures for worshipping purposes are also made. And they include color woodcuts as well. Poetess Ho Xuan Huong wrote these verses on the picture "Beautiful girls", the belles who sing and play Vietnamese musical instruments: "How old are you, little darling? You look pretty, so does your sibling. "There is neither saint nor god here, except beauty which is gentle, fresh and so familiar, and also the joy of dance, the hope of music with the four seasons: spring, summer, autumn, and winter. Really a meaningful New Year greeting and spring welcome for everyone. "Tiger", "Carp watching the moon" and "Seven children" are the most famous of Hang Trong pictures. The calving lines look noble, sophisticated, and gracious. The artist just carved a woodblock to print the lines and strokes on paper. Next came the coloring with dyes. The dark and light colors elegantly highlight the figures and shapes of the personages and scenery.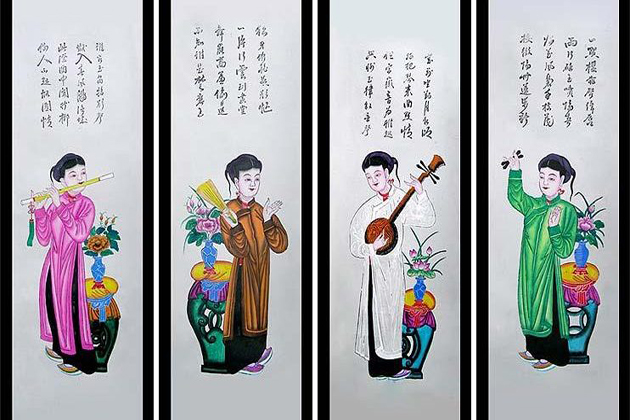 If the characteristic colors in Dong Ho pictures are brown, green, yellow, red – the simple, rustic, and pure colors of rural areas – the hues typical of Hang Trong pictures (whose famous artists were the members of the Le Van clan) are pink and royal blue with urban – styled, refined strokes and lines. It is strange that the above – mentioned colors naturally become the classical ones that are said to characterize the Vietnamese soul. The prominent and profound national character imbued in Tet pictures' content and styles have contributed to giving Vietnamese fine arts an original stamp. Two or three decades ago, "Bo Ho" ('Lakeside') pictures were displayed for sale on Hoan Kiem lakeside and Hang Dao Street. They were very much in demand by street dwellers. The pictures were drawn and colored with dyes on cardboards. The most characteristic of them were the "Five Fruits" pictures, elaborated ornamental scrolls, and naive rural scenery such as "cold blue mountains in the distance and slightly pink clouds". It is a pity that they have ceased to exist now.
Some folk artists also draw pictures on current topics to reflect contemporary life. Any Vietnamese traditional arts will fade away if not duly preserved and developed. This picture of painter Pham Van Don illustrates how a contemporary artist has learned from the tradition of folk Tet Pictures. As society evolves, Tet pictures fall out of use but their artistic value will remain forever. And the folk artists themselves could also do artistic work on new topics while promoting the traditional style of their forefathers.