Khmer Pagodas in Nam Bo (South Vietnam). These are mostly concentrated in Soc Trang and Tra Cu (Cuu Long). They come from Hinayana (Lesser Vehicle). The main orientation depends on oriental pinion.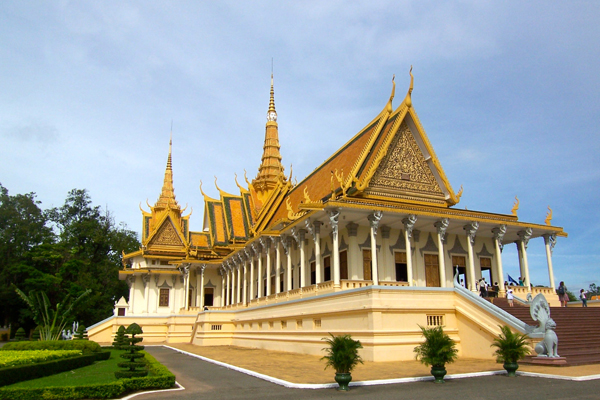 Many roofs with arrises bordered by cobras (tail curved up, head in lower corner). Meaning: dragon-boat carrying Buddha during his apostolic missions. The rectangular pagoda is vast, high and aired. It rests on an elevated basement. It is surrounded by a yard for the rites of circum-ambulation and festivals. Five categories of Sakyamuni statues:
1/ Sitting on snakes, the finger of one hand pointing to the earth.
2/ Preaching.
3/Begging.
4/Meditating.
5/ in Nirvana.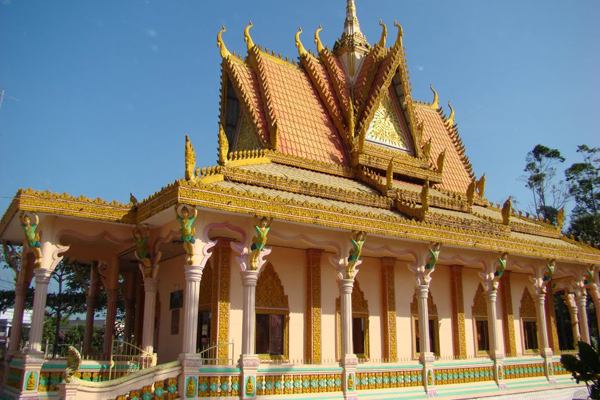 The most ancient statues are found in Ma Toc pagoda (Soc Trang): Buddha preaching (dating back to 1593). Around the pagoda are houses of believers. The friars do not observe vegetarian diet, they can eat meat (except meat of elephant, horse, monkey, dog and rabbit) provided they do not themselves kill the beast. They make up the village intelligentsia.