Tet Holiday – Vietnamese New Year is the most special period of time in a year to Vietnamese people. It is the first day of their calendar based on the moon's movement and marks the arrival of spring. Tet holiday often falls in the months of January and February. In 2019, the holiday falls on February 5th, 2019. During two week prior to Tet, people flock into vibrant markets to shop for plenty of things: food, flowers, decorating items, clothing, and even new furniture. For visitors who are in the Vietnam vacation overlapping with Tet holiday, it will be a great chance to immerse to enjoy Vietnam's largest traditional holiday.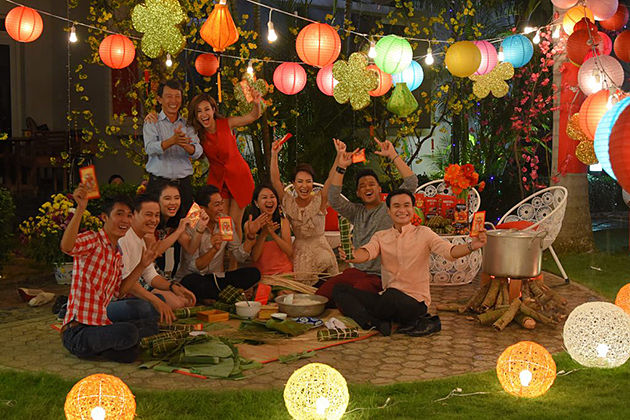 Where to Celebrate Tet holiday in Northern Vietnam?
Visiting Northern Vietnam at Lunar New Year gives you a glimpse of authentic Vietnamese culture and beliefs. You are offered a very special atmosphere when staying in these cities.
Hanoi
As the capital city of Vietnam, Hanoi offers a wide range of options for visitors during the Tet holiday. In spite of the fact that some attractions like museums, monuments, and public service centers will be closed on the holiday, visitors can still take part in the celebrations by walking around well-decorated streets. It will be much more fun if you have a chance to visit a Vietnamese family to have local interaction and get to know about Vietnamese New Year traditions.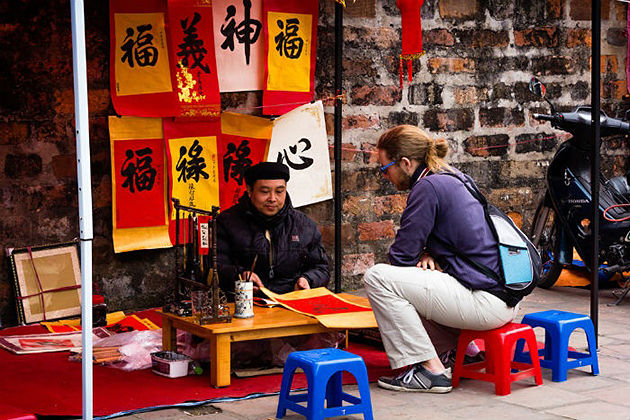 Moc Chau
200 kilometers of Southwest Hanoi, Moc Chau is a lush green attraction that draws lots of visitors to come. Especially Tet holiday is the time for plum blossoms and peach blossoms to bloom beautifully. Further, visitors can admire poetic highland sceneries and unique culture of ethnic groups in this destination. Enjoy local specialties of steamed fish or dried buffalo meat will absolutely be great memories on your Tet holiday in Northern Vietnam.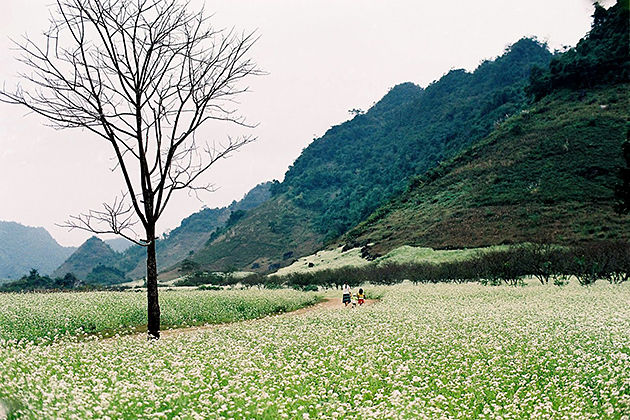 Sapa
Sapa is a flawless place to celebrate Tet holiday in Northern Vietnam, thanks to its distinctive terrain and climate. Experiencing typical Tet atmosphere of Vietnam with peach blossoms spreading out over the town and trekking through rice terraced rice fields to minority villages along Muong Hoa valley give you a remarkable Tet holiday in Vietnam. Enjoying traditional foods at Tet of indigenous people and joining their old-age festivals will leave a deep impression in your mind about the Vietnamese Lunar New Year.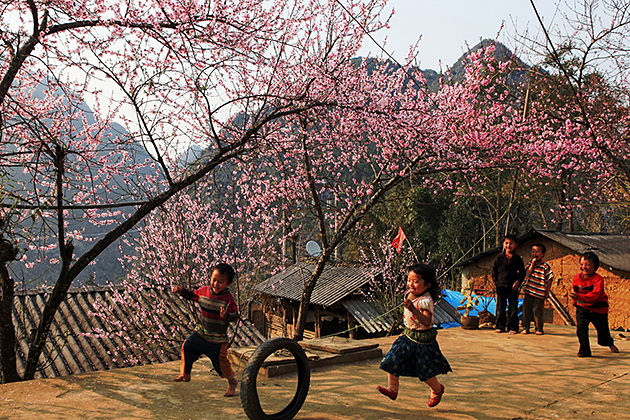 Where to Celebrate Tet holiday in Central Vietnam?
Home to unexplainable attractions, the untouched beauty of Central Vietnam offers appealing destinations for visitors to celebrate Tet Vietnam 2019.
Hue
The majestically royal city of Hue is charmingly located on the graceful Huong river. This central city holds a diversity of historical sites, impressive palaces, ornate pagodas, and temples. There are plenty of interesting activities you should not miss during the Tet holiday such as Hue traditional music show, art flying kites, folklore competitions, martial art performance and lots of traditional festivals.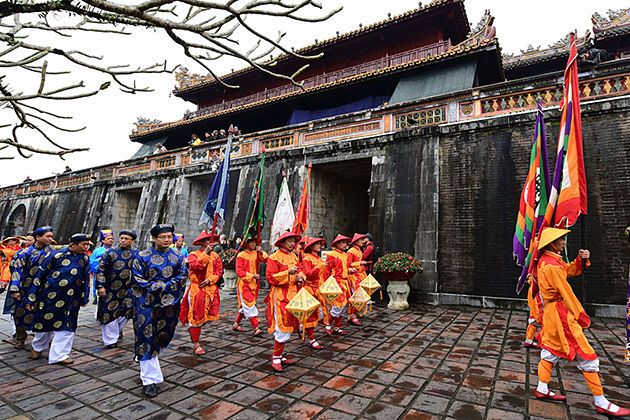 Hoi An
As a bustling port city from the 15th to 19th century, Hoi An is typically a recommendable place to be in Tet holiday 2019. Unlike Hanoi, stores and restaurants open during Tet as usual and many visitors spend their Tet holiday in this city to join the celebrations. Hoi An during Tet is scenic and lively when people could immerse themselves in the glimmering lights by silk lanterns. Visitors should not miss "cao lau" – a delicacy featuring noodles, pork and local greens of Hoi An.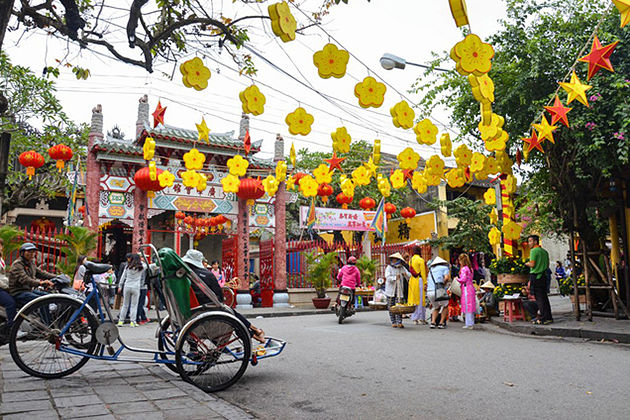 Nha Trang
Being a city of the clear blue water, Nha Trang is definitely an ideal spot to celebrate Tet holiday in Central Vietnam. The city serves freshly local specialties with the flavors of the sea. Local residents often return to their home during Tet, which leaves a peaceful atmosphere to this seaside city. Unwind in beautiful white sand beaches, island hopping, snorkeling or scuba-diving will be amazing things in Nha Trang tours.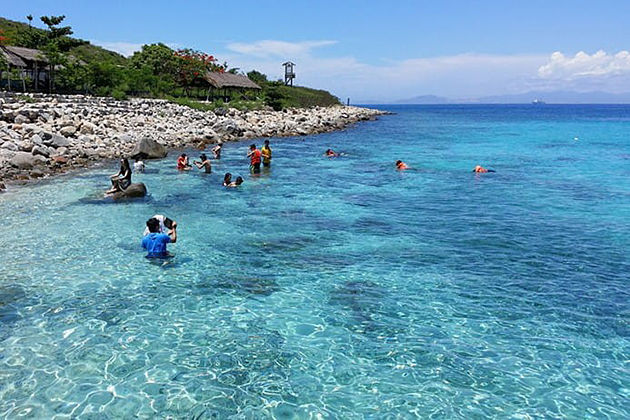 Where to Celebrate Tet holiday in Southern Vietnam?
Ho Chi Minh City
If you are a party person, Ho Chi Minh City (formerly Sai Gon) is absolutely the right place for you to welcome Tet holiday in Southern Vietnam. Considered "the city that never sleeps", the city is well-known for its nightlife with parties, elegant dinners, and fun cocktails. Local people, as well as foreign visitors, stay up all night to celebrate the holiday. Everything is covered in bright yellow and orange flower decorations. Folk music, traditional competition, and delicious food are worth your try at Tet holiday in Saigon.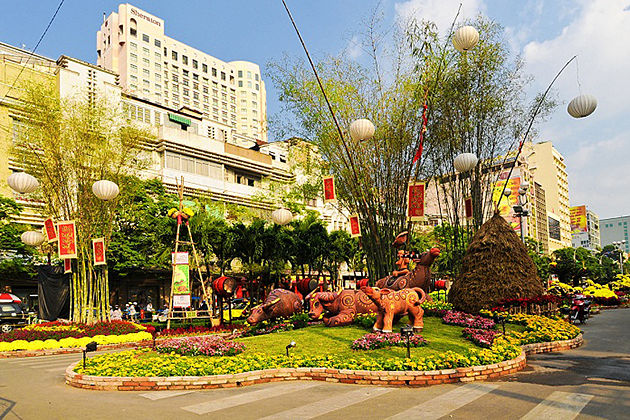 Phu Quoc Island
The secluded and alluring tropical paradise of Phu Quoc Island is an excellent option for many visitors to enjoy Vietnam Tet holidays. Getting massages, swimming in the warm emerald waters, sunbathing, sipping coconut juice, enjoying fresh seafood, scuba-diving, snorkeling and shopping for pearls are striking activities that Phu Quoc offers for visitors during Tet Vietnam.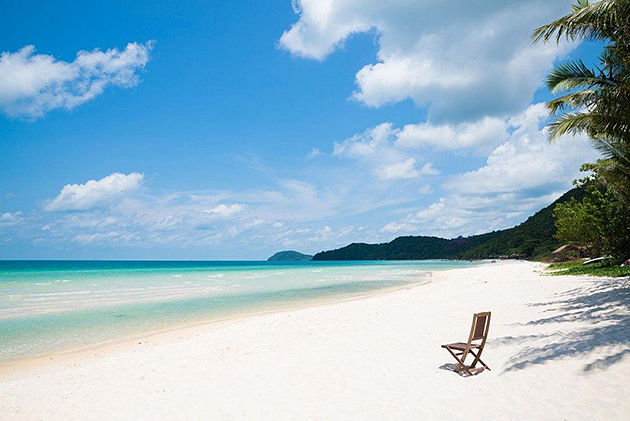 Tips for Traveling in Vietnam during Tet holiday
• Book accommodations and transportations in advance, as local people travel during the holiday and things are possibly fully-booked.
• Ticket prices, coach, trains and planes are a bit increased during Tet holiday, so it is crucial to budget for high costs.
• Many public attractions such as museums, mausoleums, and art houses are closed for four days during Tet.
• Some shops and restaurants in a few cities also stop their business during the holiday.
• You are not able to keep your personal belongings safe and be aware of pickpockets.
Vietnam Lunar New Year is a great festival with full of excitement for many visitors. Plan your Vietnam tours to have a glance at Vietnamese traditions and beliefs.