The Ly dynasty moved its capital from Hoa Lu to Thang Long. It started the golden age of pagoda construction. Pagodas under this dynasty were most enormous. They were built by the government since Buddhism, the state religion, was thriving…
The Ly dynasty moved its capital from Hoa Lu to Thang Long. It started the golden age of pagoda construction. Pagodas under this dynasty were most enormous. They were built by the government since Buddhism, thestate religion, was thriving. However, there remain only historical relics from this monarchy including the planning and various architectural stone and terracotta debris. Large pagodas are generally built half way on the slope of a mountain with a three-or four layer base and a tower tens of meters high. Sculpture and stone decoration playa prominent role…The surrounding nature is precisely the pagoda cradle. Within a scenery background, the Buddhist temple looks like a baby in its mother's lap.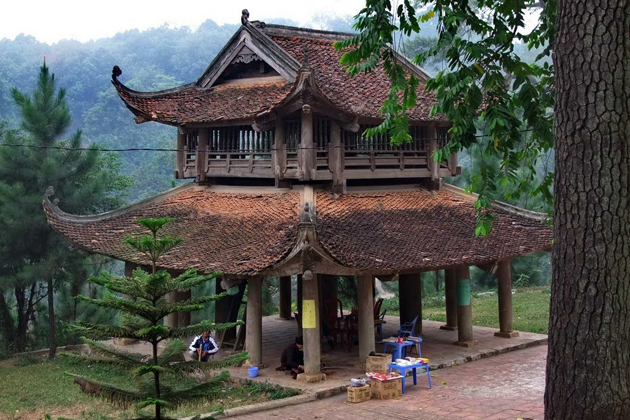 Yen Tu temple complex comprises 10 scattered pagodas lying from the foot to the peak of Yen Tu mount; it is the cradle of Truc Lam Zen sect founded by Emperor Tran Nhan Tong. The Tran sovereigns in their retirement used to become monks and practiced Buddhist rules here.
Con Son pagoda (Hai Duong province) was closely associated with Nguyen Trai in his retirement: "Con Son stream. With its murmur. Serves me as a musical instrument that whispers. Con Son has rocks and stones. Washed by the rain and green with moss. I lie on them on a mat of high gloss…"
"Yesterday I went to Huong Buddhist temple. Grass and plants looked dim in the fog's steam…" (Nguyen Nhuoc Phap). "Public figures and even commoners, if they never come to Huong pagoda. Will commit gross errors!" (Vu Pham Ham). From ancient times up to now, many generations of poets have spent so much ink and paper for this No.1 scenic spot. Huong or Perfume Pagoda is a famous tourist spot in our country. Visitors will take a boat up the river across a Ha Long Bay in miniature to get to Trinh temple. Then they take a second boat to go past Hoi Bridge and embark on Tro river wharf to visit Thien Tru and Tien pagodas. The second temple is noted for a poem written by Lord Trinh Sam in praise of the local scenery, "the best scenic spot under the southern Heaven" in the Lord's view. Though a bit exhausted by walking, everyone is eager to reach the inner pagoda inside Huong Tich grotto: "My feet are dragging, my knees sagging, yet to reach the grotto target, I am still longing!" (Vu Dinh Lien). In fact, a fantastic landscape soon opens out inside the cave: "The entrance when clouds unveiled is clearly visible. Myriads of shapes and thousands of figures. Still sunken in a hazy sleep. Look green as clouds or stand as rocks steadfast and immovable". (Vu Pham Ham). Those who wish to pray for an heir will stay overnight at Hon Co and Hon Cau. The next day, going down the mountain, visitors then head back to Yen Vi river wharf. A leisure trip to Huang pagoda will take a few days if one wishes to relax and be friend to "green mounts and bluish water".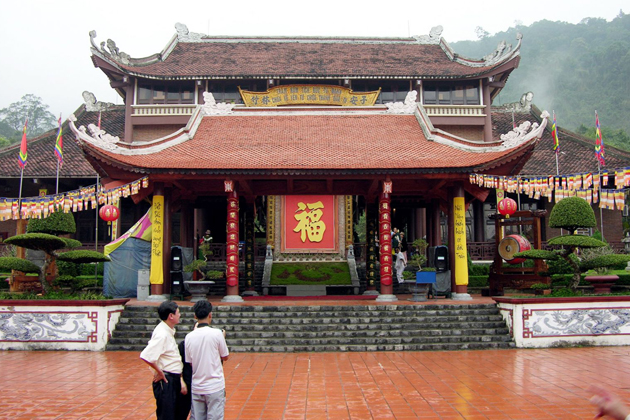 Tram Gian pagoda is thus named because it exactly comprises 100 houses lying half way on the slope of a mountain amidst bustling pine trees, with peaceful hamlets and villages down below. The architecture is original with many fine statues, including that of General Dang Tien Dong of the Tay Son dynasty. Thay pagoda on Sai Son Mountain is celebrated for its beauty. It faces a large lake with a nice pavilion built on its surface. Two tile-covered bridges, Nhat Tien and Nguyet Tien, give uphill access to Ca pagoda. They were built by Trang Bung (No.1 Scholar Phung Khac Khoan) in 1602.
There are three colossal "Three Generation Buddha's" statues – the masterpiece of Vietnamese sculpture – in Ca pagoda (part of the Thay pagoda complex). Besides, there is Zen Master Tu Dao Hanh and Emperor Ly Tran Tong statues (Legend has it that the emperor is Tu Dao Hanh's reincarnation itself). An area of flat land named "the heavenly market" lies on the top surface of the mountain. An about-turn backwards will lead you to Cac Co grotto. "In our uphill walk to Sai Son Mountain, I wonder who has turned the rocks damp and the road slippery. But the mount remains Silent; it does not deign to reply. Alas! Is it true that it does not show any feeling to mine?"
To reach Thuong temple, one has to climb the mountain and go through a grove of frangipanis. Here stand Bo and Gio grottos, next to the one roof pagoda that leans against the mountain cliff and the Phan Huy clan's place of worship (of this family belong two famous Confucian scholars Phan Huy Ich and PhanHuy Chu). In former times, visitors would have a rest here and make an inscription in poetry since: There are grottos, lakes, a heavenly market, a strip of mounts and rivers that merit the name of "the world's wonder". The above parallel scroll at this Buddhist temple sums up our ancestors' sophisticated art of landscape layout. Hence Thay pagoda has served as topics for many works of art. A visit to the pagoda scenery will afford us an artistic pleasure but, regretfully, this has been on several occasions spoiled by superstitious customs. The construction of pagodas also contributes to the development of our architecture. Tay Phuong pagoda (Hanoi), rebuilt in 1794 after the model of Kim Lien pagoda (built in 1792 in Hanoi) had reached the classical standard of Vietnamese pagodas' architecture owing to its well proportioned and harmonious construction of rafters, the roof's curved ends, the interior layout, the reasonable decorative proportion and style. Of particular interest is the natural light distribution inside the pagoda building. It is valued as a good achievement of Vietnamese architecture because the light in the interior is clear, soft, serene and exquisite, similar to that of the master painters' pictures. The temple gate of Kim Lien pagoda (Hanoi) with a single row of pillars is the artistic model of a very original portal style. The pagoda garden is also a characteristic Vietnamese landscape garden entirely different from its Chinese and European counterparts.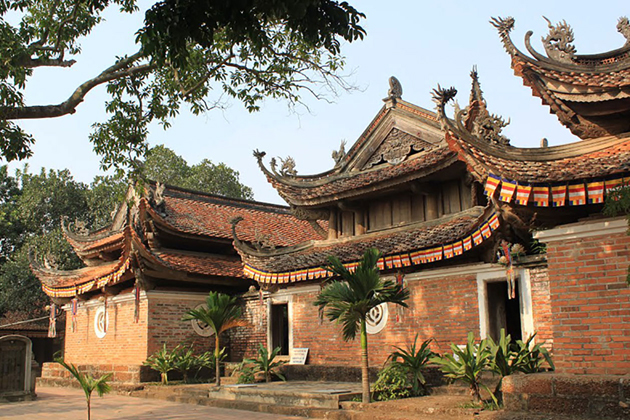 The most typical Buddhist temple in the Red River delta is But Thap pagoda (17th century, Bac Ninh province). It is a vast and grandiose pagoda complex that remains almost intact throughout the centuries. As for the art of tower construction and bell casting, the zenith was attained at Pho Minh, But Thap, Thien Mu and Keo pagodas. Pagodas are manuals and reference books. Villagers contributed their labor and money. Rich men, imperial concubines and queens made donations; the emperor gave mental support by his power and reputation. Intellectuals offered their wisdom and intelligence, master hands their talents and workmen their manual skills. Everyone did his best to embellish the gifts of Nature and create this world's fairyland with the view of satisfying to some extent man's dreams and aspirations. However, the fairyland will not be complete if fairies are absent in this Buddhist scenery. That is the raison d'être that accounts for the best sculptural works. The fairyland is the ideal image of people's ordinary life. The fairy in the Nirvana is our next door neighbor. The village communal house is the centre of the daily public activities. And the pagoda is the best relaxation site that fosters the Vietnamese soul.
But Thap pagoda's stone railings and bridges are decorated with very graceful bas-reliefs. They depict with a characteristic sophisticated style man's closely related natural environment. Even in very small pagodas and poor villages unique sculptural works can also be found. The Buddhas' grotto here appears in the form of a festive day. The collection of wooden vermilion gilded statue best preserved, largest and most coherently realistic is the set of 18 Founder Monks of Tay Phuong pagoda. Based on the personages' personal history after records of the previous periods, the ancient artist had sculpted portraits of different people with divergent destinies. Yet they shared the same opinion with us in expressing the common aspiration for man's salvation from "the sea of sufferings" towards the land of perfect bliss. Without human hands to build pagodas and sculpt statues, Nature is merely wild and desolate mountains and jungles. On the other hand, the scenery will look cold and indifferent if it is not imbued with man's spirit and feelings. Cut off from Nature, even gigantic construction projects will stand in isolation, soulless. Nature and Man then should combine harmoniously in terms of beauty and creativeness: that is precisely the art of Vietnamese scenery, of which Thay pagoda is a good illustrative example: Going to the pagoda, we walk on its architectural layout, contemplate works of art, show our warmest feelings towards men around us and our soul gradually comes back to the history and culture of our country.