General Information
Duration: 23 Days/ 22 Nights
Date: No fixed departure dates. You may go whenever you wish.
Start/ End: Hanoi/ Ho Chi Minh City (Saigon)
Tour Route: Ho Chi Minh City – Mekong Delta – Danang – Hoi An – Hue – Hanoi – Tuyen Quang – Ha Giang – Cao Bang – Lang Son – Hanoi – Mai Chau – Ninh Binh – Halong Bay – Hanoi
Tour Customizable: Definitely! (Tell us your specific requirements in the inquiry form)
Guides: Local Guide (English Speaking Guide, Other Languages upon Request)
Brief Itinerary
Southern Vietnam 
Day 1: Ho Chi Minh City Arrival – Welcome Dinner (D)
Day 2: Ho Chi Minh City – Vespa Tour The Insider Ho Chi Minh City ½ Day (B)
Day 3: Ho Chi Minh City – Mekong Delta Tour (B, L)
Central Vietnam
Day 4: Ho Chi Minh City – Fly to Danang – Transfer to Hoi An – Walking Tour (B)
Day 5: Hoi An – Farming & Fishing Eco Group Tour (B, L)
Day 6: Hoi An – Free Time (B)
Day 7: Hoi An – Hue – ½ City Tour (B)
Northern Vietnam
Day 8: Hue – ½ City Tour – Fly to Hanoi (B)
Day 9: Hanoi City Tour (B, L)
Day 10: Hanoi – Tuyen Quang – Ha Giang – Quan Ba (B, L, D)
Day 11: Quan Ba – Yen Minh – Lung Cu – Dong Van (B, L, D)
Day 12: Dong Van – Meo Vac (B, L, D)
Day 13: Meo Vac – Cao Bang (B, L, D)
Day 14: Cao Bang – Ban Gioc Waterfall – Lang Son (B, L, D)
Day 15: Lang Son – City Tour – Hanoi (B, L)
Day 16: Hanoi – Mai Chau – Thai Village (B, L)
Day 17: Mai Chau – Pom Coong (B, L)
Day 18: Free day in Mai Chau (B)
Day 19: Mai Chau – Ninh Binh – Trang An Complex (B, L)
Day 20: Hoa Lu – Tam Coc – Mua Cave – Hanoi (B, L)
Day 21: Hanoi – Halong Bay – Overnight in cruise (B, L, D)
Day 22: Halong Bay – Hanoi (B, Br)
Day 23: Hanoi Departure (B)
Full Itinerary
Day 1: Ho Chi Minh City Arrival – Welcome Dinner (D)
On arrival at Tan Son Nhat Airport in Ho Chi Minh City, welcome upon arrival by a local tour guide and driver then we transfer to the hotel for check-in. After check-in, we will be free to wander around the hustle and bustle city before enjoying a welcome dinner at a fine local restaurant in town.
Overnight in Ho Chi Minh City
Meals: Dinner
Day 2: Ho Chi Minh City – Vespa Tour The Insider Ho Chi Minh City ½ Day (B)
To have a glimpse of Ho Chi Minh City with its hide-away characters, cultures that are not normally seen on the classic tourist route. Vespa tour will make you see Ho Chi Minh City different eyes.
The tour today start at the hotel by Vespa driver and tour guide then we stop at first at Tao Dan Park to visit the bird lover club which is join here from 6 am to 9 am only. Then we transfer to Thich Quang Duc Monument. Thich Quang Duc was a Vietnamese Mahayana Buddhist monk who burned himself to death at a busy Ho Chi Minh City road intersection on 11 June 1963. He was protesting the persecution of Buddhists by the South Vietnamese government led by Ngô Đình Diệm. Photographs of his self-immolation were circulated widely across the world and brought attention to the policies of the Diệm government. John F. Kennedy said in reference to a photograph of Duc on fire, "No news picture in history has generated so much emotion around the world as that one. After that, the vespa driver will stop at Flower market where we can have some good photos of various flowers selling here.
On our journey today, we also visit Ong Bon Pagoda &Nhi Phu Temple which was built by the Fujian Congregation. This pagoda is full of gilded carvings, burning incenses and local people come here to praise for their good fortune and health… Later we have a walk through the fabric, tailor material alley and before being back to hotel, we visit the Chinese medicine street market where we have idea about "thuocbac". "thuoc tau"….
Overnight in Ho Chi Minh City
Meals: Breakfast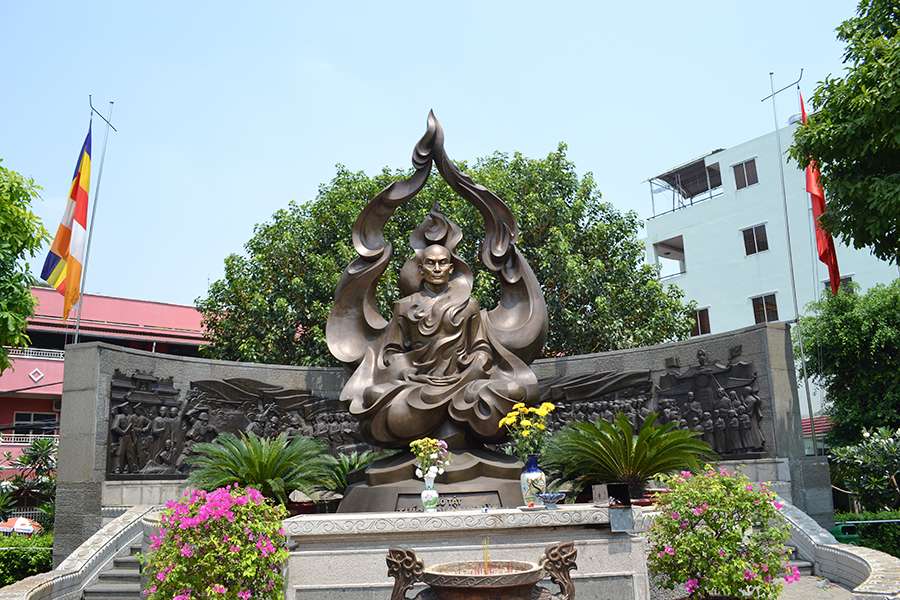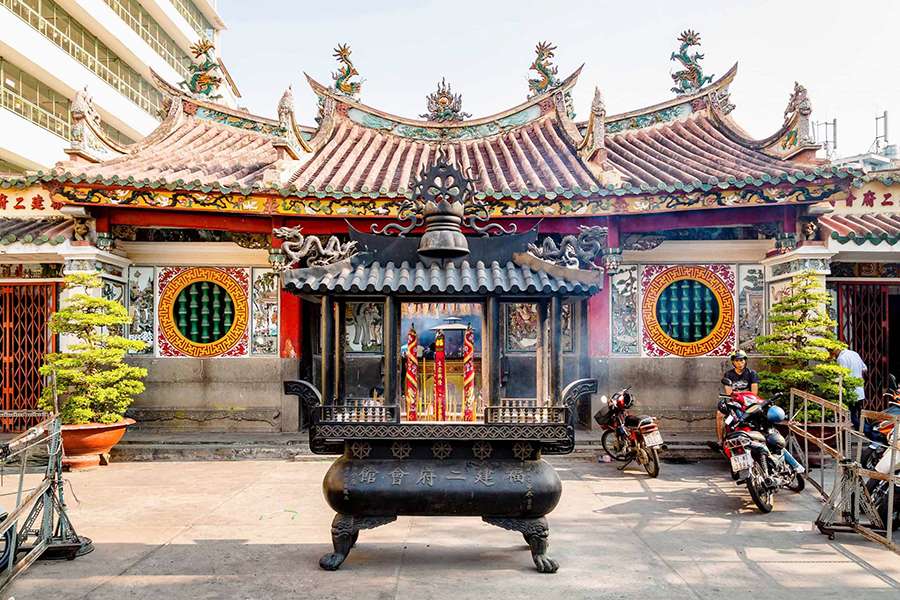 Day 3: Ho Chi Minh City – Mekong Delta Tour (B, L)
Our tour guide will pick you up at your hotel in Ho Chi Minh City and take you to Mekong Delta, where you can enjoy a full-day activity tour in My Tho and Ben Tre provinces, and experience the immensity of the biggest rice bowl of Vietnam. The first sightseeing spots of the Mekong Delta day tour are the floating fish farms and markets on the 4 legendary islets of Dragon, Unicorn, Tortoise and Phoenix. A rowboat will wind you down narrow water palm streams before you switch to a bicycle to cycle approximately 7 miles (12 km) through coconut gardens and along village paths to have a deeper view of the beautiful scenes. We will then move to the local village, where you can experience daily lives of locals, and stop to visit residents' houses or workshops to learn how they make banana and coconut cakes and taste those local specialties. You can try walking across the famous Monkey Bridge (a slender bamboo bridge used in rural Southern Vietnam to cross rivers and canals) to see locals making rice paper cakes and rice wine. Lunch will be served with unique Mekong cuisine before coming back to My Tho City and transfer to Ho Chi Minh City.
Overnight in Ho Chi Minh City
Meals: Breakfast, Lunch
Day 4: Ho Chi Minh City – Fly to Danang – Transfer to Hoi An – Walking Tour (B)
Time will be free until our car arrives at the hotel to take us to the airport in good time to board our flight to Danang without tour guide. Upon arrival in Danang, our guide and car will wait in Danang International airport to transfer you to Hoi An Ancient Town to check-in. Then, we will start our walking tour around the ancient town to visit the Japanese Covered Bridge, the Pottery Museum, Tan Ky's old house, the Cantonese congregation, the silk street of Hoi An, and the temples, and pagodas of Chinese appearance. Then we are back to our hotel and spend the rest of the day relaxing.
Overnight in Hoi An
Meals: Breakfast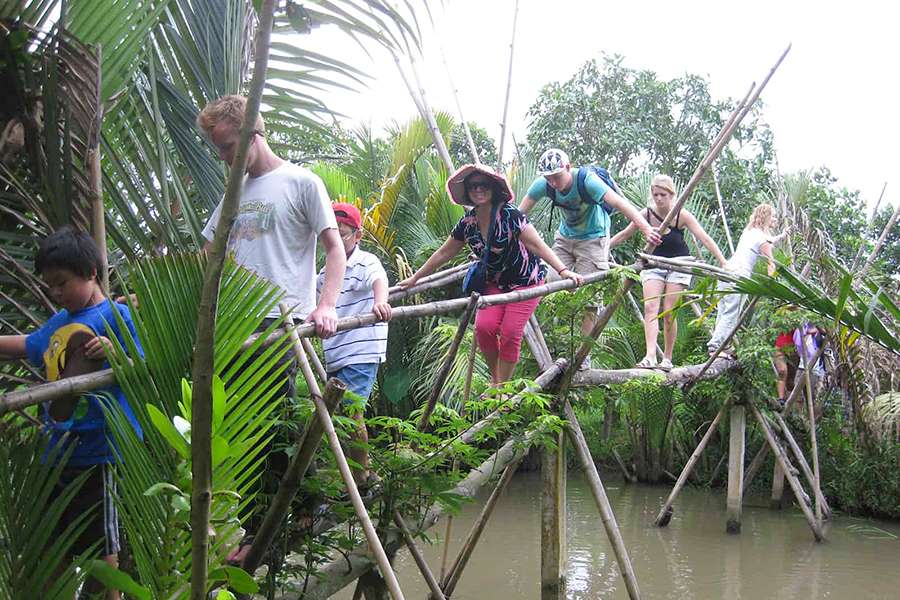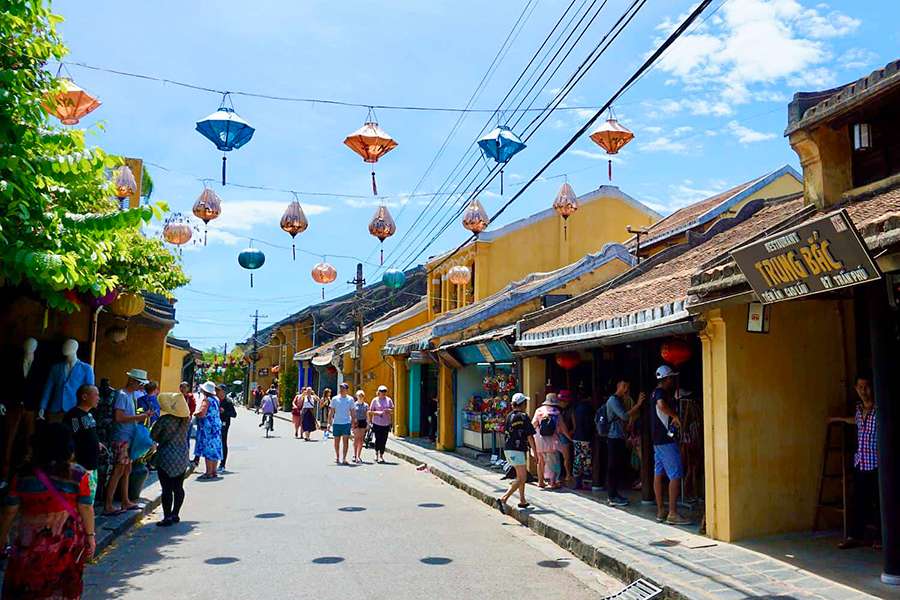 Day 5: Hoi An – Farming & Fishing Eco Group Tour (B, L)
We have an early start this morning as we head off to our Farming & Fishing Life Eco Tour. Starting at Tra Que Village, we will get a personal insight into the local farming communities. We set about joining the farmers in preparing their land for sowing, helping to fertilize the garden using seaweed from the local river and watering it in using huge tin cans strapped to our backs. Following this, we will begin our leisurely cycling tour through the countryside witnessing local Vietnamese rural life first hand. Late morning we will board our Hoi An Eco-tour boat for a river cruise. Here we will meet and witness local fishermen working their craft, before enjoying a hands-on experience of traditional net fishing. We then transfer to a Vietnamese bamboo basket boat for a quick race and ride down a coconut palm lined waterway. Lunch today, is on board our boat, which is prepared using vegetables picked earlier at Tra Que Village.
After lunch, we have some free time to wander around Hoi An town centre before heading back to the hotel.
Overnight in Hoi An
Meals: Breakfast, Lunch
Day 6: Hoi An – Free Time (B)
This morning, the car will pick you up at the hotel (whenever you want) to transfer from Hoi An to Alani Hotel & Spa Danang without tour guide. From this moment of time, you will be free.
Overnight in Hoi An
Meals: Breakfast
Day 7: Hoi An – Hue – ½ City Tour (B)
From Hoi An, we transfer to Hue in 4.5 hours. On arrival, we will be met and driven to our hotel. After that, we will visit The Imperial Citadel where the Nguyen Dynasty ruled between 1802 and 1945, after exploring the ruins of this wonderful monument. We will then depart to the Hue Royal Fine Art Museum, which is housed within the former Dien Long An Royal Palace. We will finish our day with the local Dong Ba Market to see the daily life of local people. We will spend the night in Hue.
Overnight in Hue
Meals: Breakfast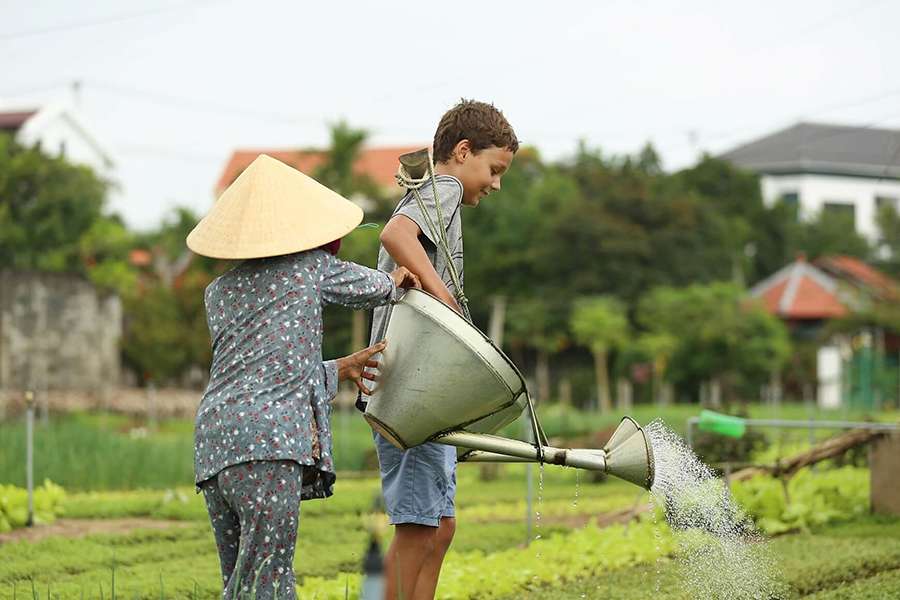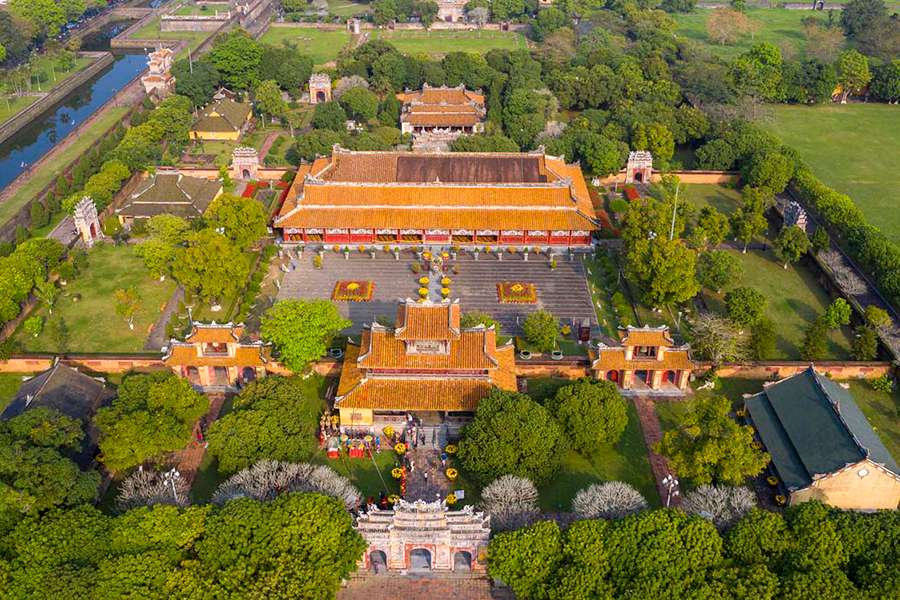 Day 8: Hue – ½ City Tour – Fly to Hanoi (B)
Hue is known as an ancient Capital city of many original historical vestiges. There are more than 100 architectural works to be extremely reflected the life of Emperors and Mandarins under Nguyen's reign. Situated in the middle of hills on the Southern Bank of Perfume River are very beautiful tombs of Nguyen Kings.
At 8:30 a.m., we will be greeted at the hotel by a driver and guide, then board the Dragon Boat on the romantic Perfume River heading out for the countryside. Being the ancient capital, Hue is surrounded with ancient tombs of emperors past, and a visit to the most beautiful tombs will be on the itinerary for today. The charming Lady Pagoda (Thien Mu Pagoda) will be the first stop of the day. We will enjoy a great view on the Perfume River and surrounding area. Thien Mu Pagoda is considered the symbol of Hue, and of Buddhism in Vietnam. From here we rejoin our van and go visit King Khai Dinh's Tomb and King Tu Duc's Tomb.
In the afternoon, we visit one of city's 'garden houses' and then return to our hotel to freshen-up. In the evening, we will have dinner in the pleasant surroundings and a comfortable atmosphere of another of the garden houses. After that, we transfer to airport for flight to Hanoi.
Overnight in Hanoi
Meals: Breakfast
Day 9: Hanoi City Tour (B, L)
Today, our tour will start at 8:30 am by a cup of coffee at Lam/Giang Coffee House. Coffee is one of the famous drink in Hanoi every morning. Then, we enjoy 1-hour cyclo tour of the French inspired "old quarter". We will be free for shopping in the old quarter ranges from markets through to designer boutique stores to amazing contemporary art galleries. After cyclo tour, we will go to Dong Xuan Market, one of the biggest market in Hanoi where you can find everything with lower price than outside. We will spend time to walk around Hanoi Old Quarter and see the activities of people in here. Don't forget to try some salt/sugar dry fruit in Vietnam based on some famous brand of this like: Hồng Lam, Vạn Lợi, Gia Lợi, Tiến Thịnh, etc. Around 10:30 – 11 am, we transfer to St. Joseph's Cathedral in Hanoi before moving to eat Pho Ly Quoc Su as a lunch.
After lunch, we visit the Museum of Ethnology, which is widely acknowledged as the best in the country and has an extensive display dedicated to Vietnam's 54 Ethnic minority peoples and the infamous Hoa Lo Prison Museum. Hoa Lo is also known as the ''Hanoi Hilton'' and was where former US presidential candidate John McCain was incarcerated for over 5 years.
Later this afternoon, we enjoy 1-hour cyclo tour of the French inspired "old quarter". We will be free for shopping in the old quarter ranges from markets through to designer boutique stores to amazing contemporary art galleries. After the tour, we sit down to enjoy a performance of the city's famous Water Puppets.
Remarks:
Ho Chi Minh Mausoleum is not opened on every Monday & Friday.
Museum of Ethnology is closed on every Monday.
The Museum can be moved to your favorite museum in Hanoi.
You might like to consider the following alternatives for your day in Hanoi:
Vietnamese Women's Museum – one of the most interesting museums in Hanoi and voted among '10 Must-see sites in Hanoi' by Tripadvisor. The museum has three main galleries and three main themes: Women in Family, Women in History and Women's Fashion. With more than 1000 materials, photos and objects displayed in the museum show the role the Vietnamese women in History and Family life.
The History, Fine Arts and Army Museum – large, but many interesting exhibits
The Hanoi Citadel – in the process of being released by the Army: two buildings now accessible
The Dong Xuan, Hang Be or Hom markets – large, crowded, but very Vietnamese
St. Joseph's Cathedral – European neo-Gothic (plenty of up-market shops and restaurants nearby)
Overnight in Hanoi
Meals: Breakfast, Lunch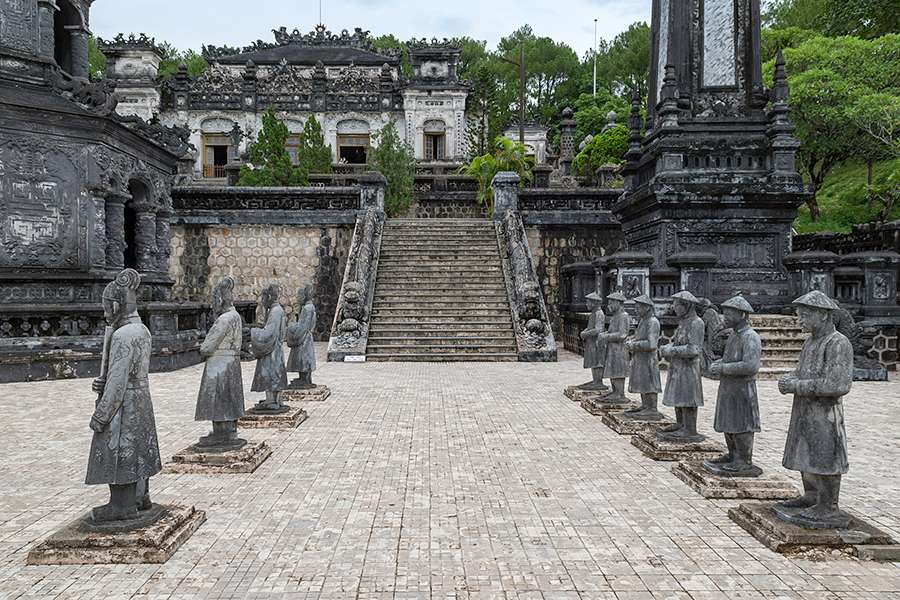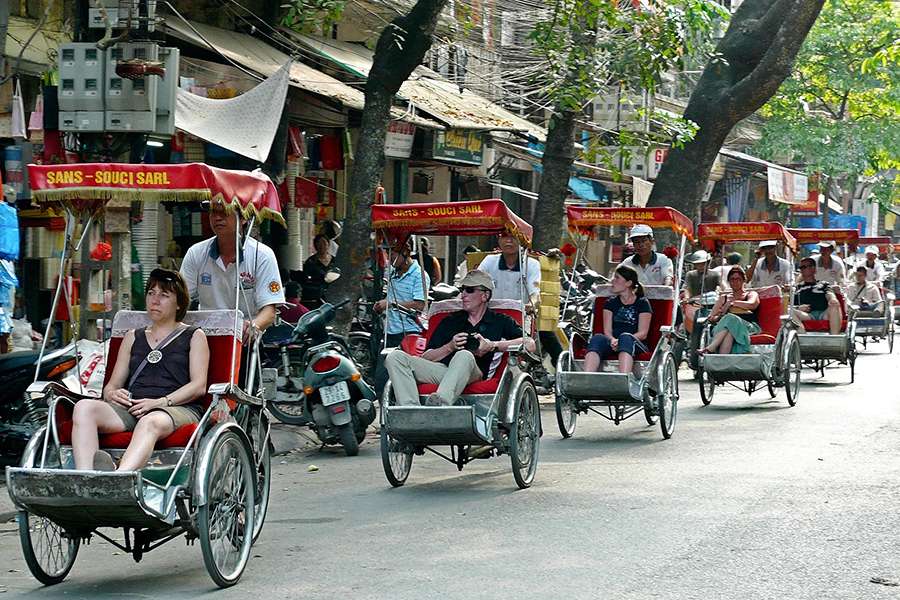 Day 10: Hanoi – Tuyen Quang – Ha Giang – Quan Ba (B, L, D)
Pick up at the hotel in Hanoi in the early morning, take a 291-KM drive north to Ha Giang. The drive takes at least 6 hours passing through the countryside, villages, and towns in far Northeast Vietnam. Along the way, stop to visit Mac Dynasty Citadel in Tuyen Quang Province and a nearby local market.
After lunch in a local restaurant, continue to Ha Giang. On arrival in the mid-afternoon, visit Tha Cultural Village which is 5 Km away from the town center. The village is home to Tay people and surrounded by rice terrace. Back to the town and check-in your hotel which overlooks the river. Dinner and overnight in Quan Ba.
Overnight in Quan Ba
Meals: Lunch, Dinner
Day 11: Quan Ba – Yen Minh – Lung Cu – Dong Van (B, L, D)
After breakfast at the hotel, start our journey by passing through Quan Ba, this is considered one of the most stunning routes in Vietnam. Stop to visit some minority communities en-route and talk with the lovely local children. You can bring them some sweets, candy or snacks but not money. In this route, we spend time to pass by some highlight place as Bac Sum Slope – Quan Ba Heaven's Gate; Quan Ba Twin Moutain Fairy. You will have some time to drink café in the middle of the mountain and watch the amazing view of Ha Giang.
Then, on the way we transfer to Yen Minh, we will pass-by Lung Cu Flag Tower and take a view from here before start the journey to Yen Minh Town and spend the rest of day in here. This day will be end-up by having a dinner after a long day with some local alcohol (rượu ngô – one of the most significant drink in here) if you like.
Distance Ha Giang – Quan Ba: 60km – 2.5 hours
Distance Quan Ba – Yen Minh: 58km – 2.5 hours
Overnight in Dong Van
Meals: Breakfast, Lunch, Dinner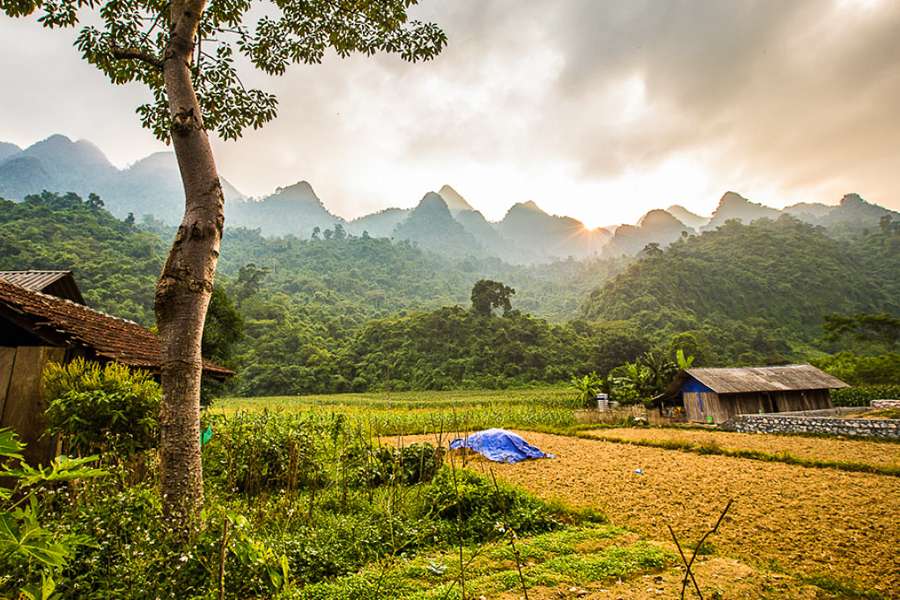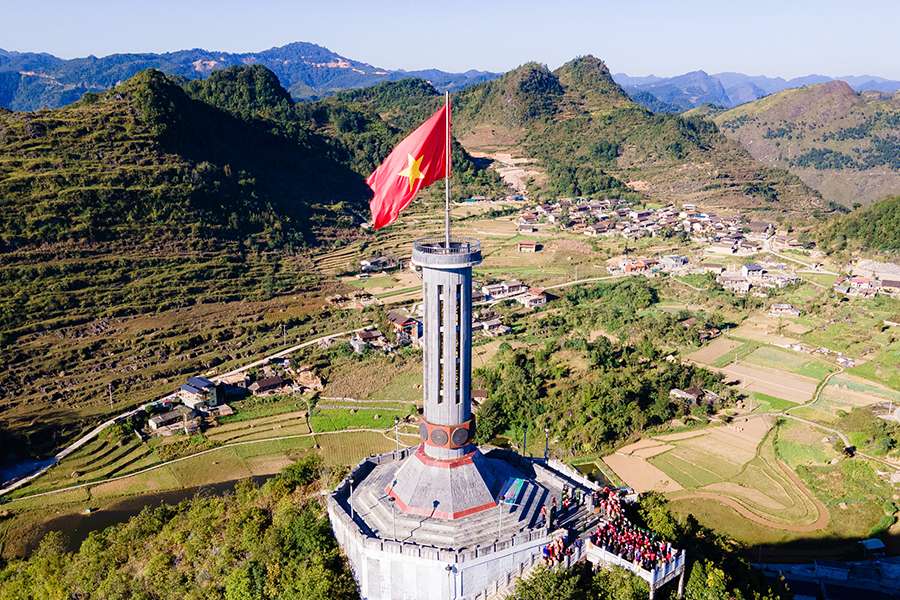 Day 12: Dong Van – Meo Vac (B, L, D)
Every Sunday morning, the weekly ethnic markets here will be held in Dong Van. This market is even more famous than Yen Minh. You will need to wake up from 5-6 am to enjoy the crownd atmostphere with so many colours of traditional customs outfits of ethnic minorities in here with tour guide.
After a local breakfast, our car will move to Meo Vac after spend time to pass by Chin Khoanh Slope (Nine Turning Point Slope); Lung Cam Culture Village (With Film Studio 'Story of Pao'), where live mainly Hmong people and some other ethnic minority groups such as Hoa and Lo Lo etc. For centuries it is there as a "peaceful oasis" inside the beautiful Sung La valley. Architecture of houses in the village, farming practices and customs of the people in Lung Cam village represent the traditional culture of Hmong people in the Dong Van UNESCO Global Geopark. Then, we visit Dinh Vua Mèo (Vuong's Palace) – the ancient villa of Vuong Chinh Duc. The only one recognized by the Ha Giang ethnic people as king of the Hmong People in the beginning of the 20th century, who controlled Quan Ba, Yen Minh, Meo Vac and Dong Van districts.
In the afternoon, we will visit Ma Pi Leng Mountain Pass, Tu San Canyon – Above only, Magical Cliffs – you can see it from the main road to Meo Vac. We will spend the rest of day in here.
Distance Yen Minh – Dong Van: 50km – 2 hours
Distance Dong Van – Meo Vac: 25km – 1 hours
*Optional adventure services in Nho Que River: Go down to Nho Que River by motorbike and have a journey with boat in Ty San Canyon before go-up and continue the journey. With this tour, you will experience the felling of adventure when go down from the top to bottom in around 25 minutes with motorbike
Cost for this tour: $95/this services.
Overnight in Meo Vac
Meals: Breakfast, Lunch, Dinner
Day 13: Meo Vac – Cao Bang (B, L, D)
Today's drive will be through three passes with the beautiful landscape of forest and mountains. Lunch in a local restaurant with specialty and arrive Cao Bang Town in the late afternoon with some stops en-route to visit the local villages. Dinner and overnight in Cao Bang.
Distance Meo Vac – Cao Bang: 200km – 6 hours
Overnight in Cao Bang
Meals: Breakfast, Lunch, Dinner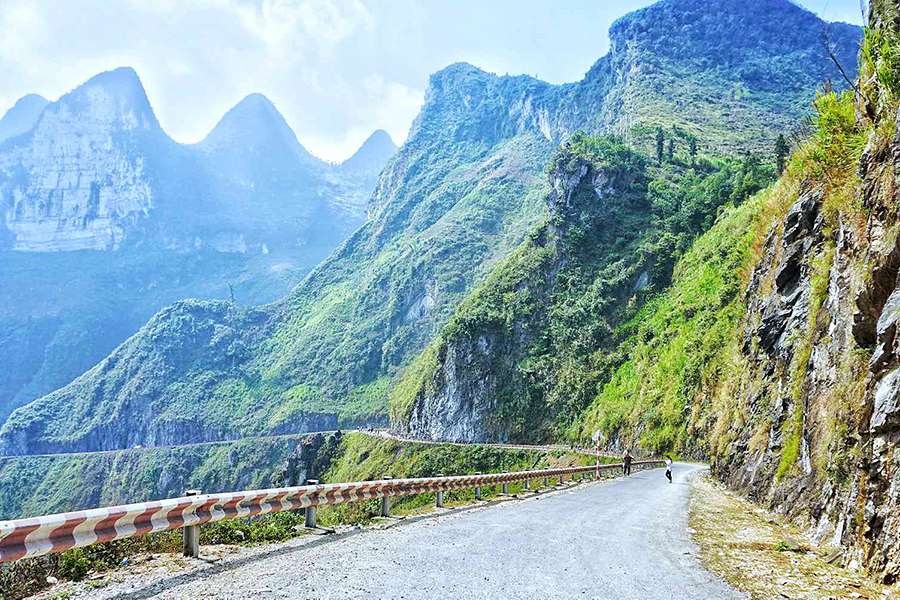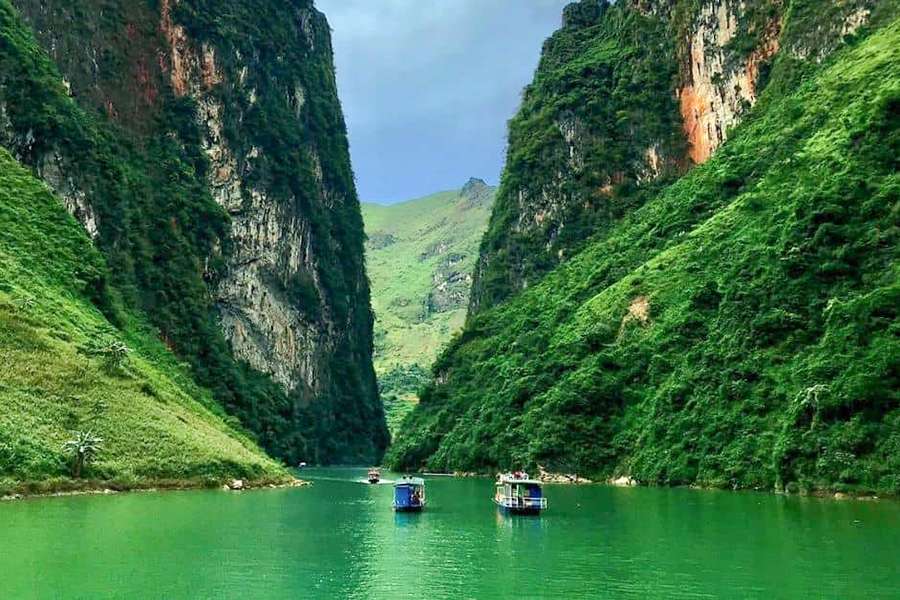 Day 14: Cao Bang – Ban Gioc Waterfall – Lang Son (B, L, D)
After breakfast, visit Ban Gioc Waterfall on the China-Vietnam border which is 85 KM from Cao Bang. Ban Gioc is one of the largest and the most impressive waterfalls in Vietnam, get your eyes amazed by the white water, picturesque blue sky, great limestone mountains, and stunning rice fields – a great chance ever for the photo shoot.
After a picnic lunch, visit Nguom Ngao Cave, one of the largest in the area. It has many fascinating stalactites in different shapes. After that, we run to Lang Son for sleep.
Overnight in Lang Son
Meals: Breakfast, Lunch, Dinner
Day 15: Lang Son – City Tour – Hanoi (B, L)
After breakfast, we will start to discover Lang Son without experiencing famous shopping markets in Lang Son such as Ky Lua Night Market, Dong Kinh Market, Tan Thanh Market … it is a big shortcoming. After that, we spend time to investigate Tam Thanh Pagoda, the most famous landmark of Lang Son. The cave has many natural stalactites with many unique shapes that attract the curiosity of visitors. Tam Thanh pagoda contains many cultural values and in particular still retains many valuable artifacts. Such as the Amitabha Buddha image during Le – Mac dynasty. Then, we go to Mac Dynasty Wall, is a military architectural monument reflecting the feudal period of Vietnam. With the road from the foot of the hill to the city gate with straight steps. Where you will admire the panoramic view of Lang Son City. Eating lunch in local restaurant here before driving back to Hanoi and end the tour at our hotel in the late afternoon. The Northeast Vietnam tour ends.
Distance Cao Bang – Hanoi: 300km – 6.5 hours
Overnight in Hanoi
Meals: Breakfast, Lunch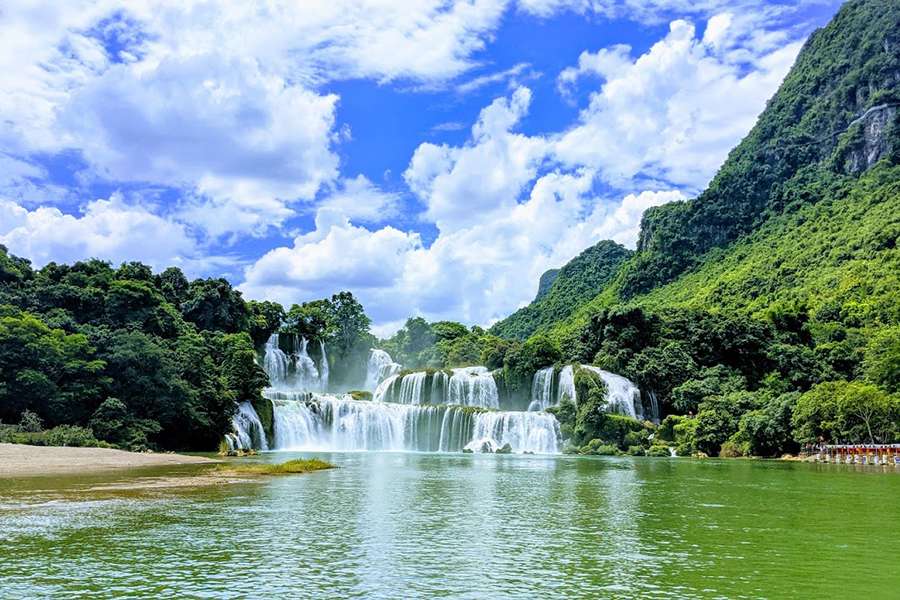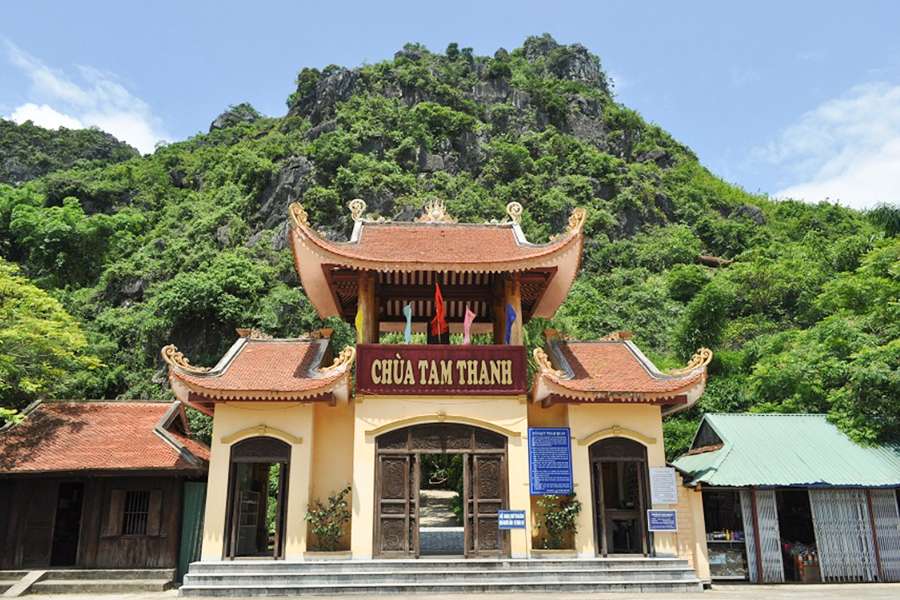 Day 16: Hanoi – Mai Chau – Thai Village (B, L)
After breakfast at hotel, we will drive to Mai Chau in Hoa Binh Province which is 160 KM Northwest of Hanoi. The drive takes around 3.5 hours passing through mountains, fertile valleys and traditional villages. Arrive in the picturesque Mai Chau Valley which is surrounded by spectacular karst rock formations and rice paddies, we will check in our house-on-stilt and have lunch at local Thai house. After lunch, we will walk or cycle to a valley with some steep uphill and downhill. Many villages dot the hillsides and the undulating terrain make for an interesting journey.
Overnight in Mai Chau
Meals: Breakfast, Lunch
Day 17: Mai Chau – Pom Coong (B, L)
Start this morning with a light trek through the Mai Chau Valley. We will be visiting the Mo Luong (Soldier) Cave. Walk to Thai villages of Pom Coong and visit some local homes where we can see the locals weaving the fabric by handcraft, working on the rice fields and doing their daily housework. Continue to Salinh Village (H'mong Ethnic Group) and have a picnic lunch in the house of a local H'mong family. After lunch, time to be free in Mai Chau.
Overnight in Mai Chau
Meals: Breakfast, Lunch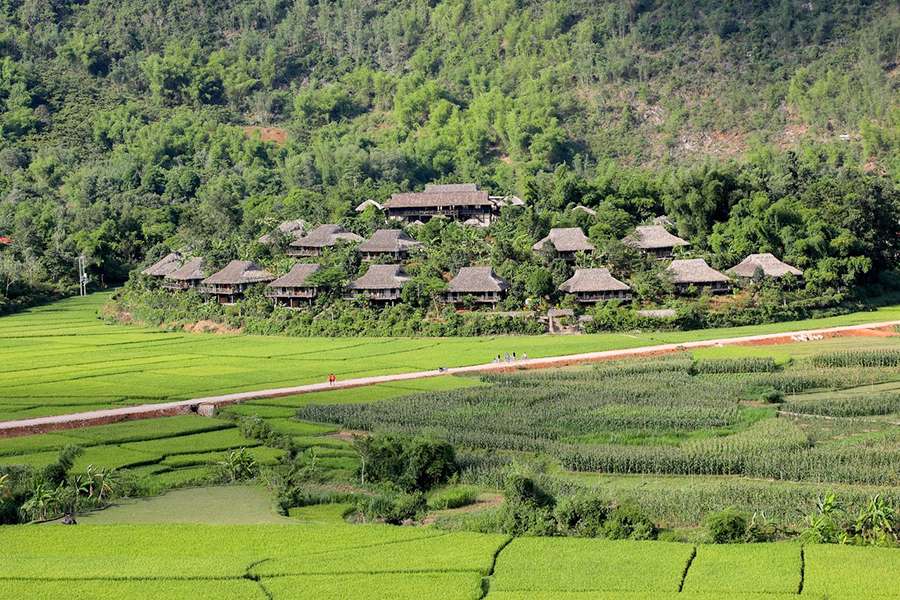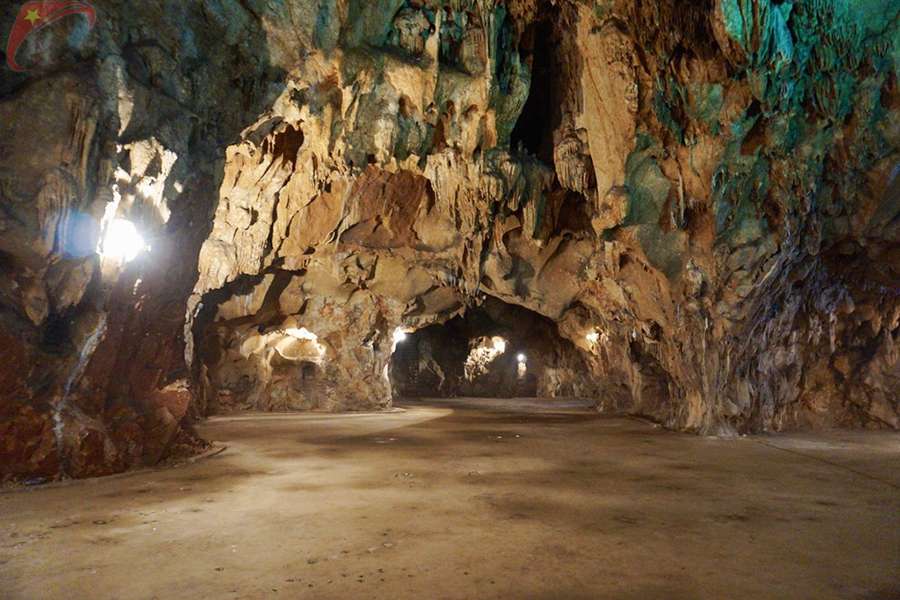 Day 18: Free day in Mai Chau (B)
Free time in Mai Chau.
Overnight in Mai Chau
Meals: Breakfast
Day 19: Mai Chau – Ninh Binh – Trang An Complex (B, L)
After breakfast, we say goodbye to Mai Chau and depart to Ninh Binh. Upon arrival, we will take a pleasant boat rowing in Hoang Long River to visit Trang An Eco-Tourism complex. The complex is surrounded by a picturesque landscape with thousands of hectares with more than 100 caves which can be explored by boat. It is also a home of 600 kinds of flora and over 200 kinds of fauna that many of them in the Red book of Vietnam. It is also a gathering of 31 valleys, 48 cross-water caves and we will visit 3 to 6 of them. On the rowing boat, we can enjoy the fresh air, clean and clear water with under water grass. Experience ourselves the feeling and emotion when we are on the water caves….
Overnight in Ninh Binh
Meals: Breakfast, Lunch
Day 20: Hoa Lu – Tam Coc – Mua Cave – Hanoi (B, L)
After breakfast, we will climb Mua Cave. 500 steps to get to the Peak of Ngoa Long Mountain with an amazing view will definitely an unforgettable memory for you.
After that, we will depart to visit the temple of King Dinh and King Le located at the center of Hoa Lu the ancient capital of Vietnam in the 10th century. Finish your journey, we will leave Hoa Lu and drive straight back to Hanoi.
Overnight in Ninh Binh
Meals: Breakfast, Lunch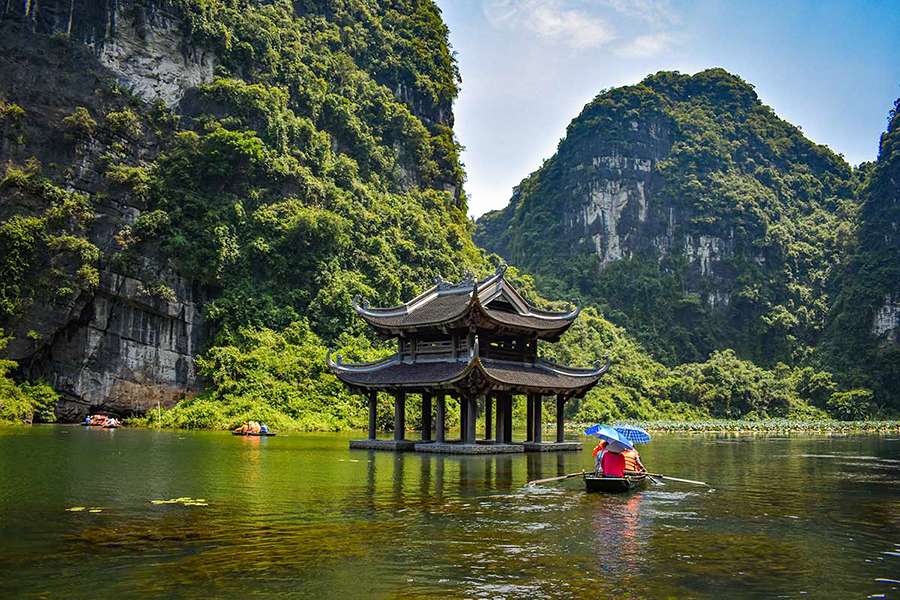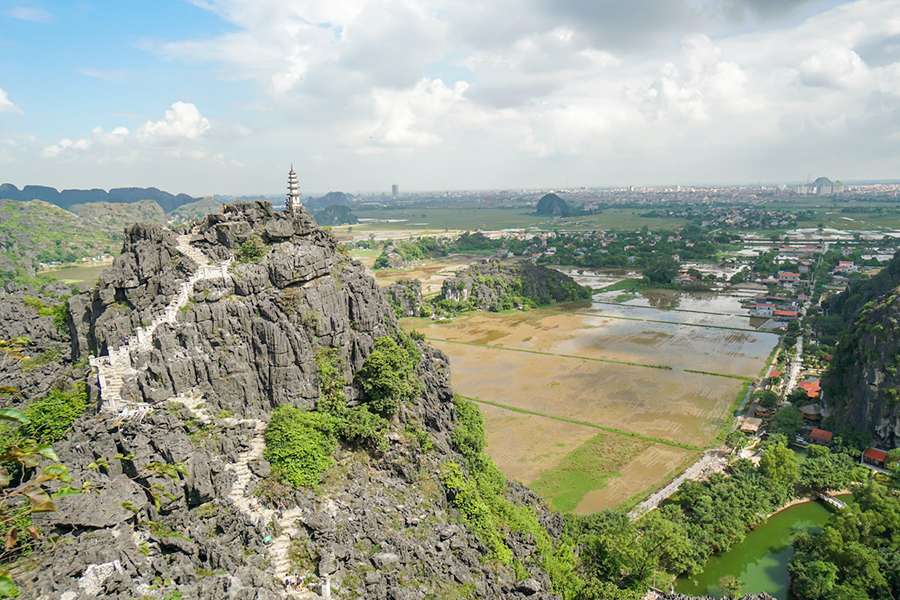 Day 21: Hanoi – Halong Bay – Overnight in cruise (B, L, D)
11:30 Arrive at La Regina Royal waiting lounge – Bai Chay- Ha Long, enjoy welcome drink and express check-in before boarding.
12:30 Check-in aboard with a welcome drink from crew member while manager introduce the safety briefing and the boat cruising forward to Halong Bay.
13:00 Let your vacation start with a delicious lunch set menu in the restaurant.
15:00 Your first excursion is a visit to Luon Cave. This is considered as one of the most ideal places in Halong for kayaking or rowing boat. After that, you can visit Titov Island, where you can go swimming or hike to the top for another stunning, panoramic view of the Bay.
17:00 Come back the cruise for relaxing.
19:00 Enjoy our special dinner in the restaurant. After dinner, it's your choice for a fun squid fishing, spa, karaoke or relaxing.
Overnight on cruise
Meals: Breakfast, Lunch, Dinner
Day 22: Halong Bay – Hanoi (B, Br)
06:00 Greet the new day on the sundeck with Tai Chi session.
06:30 Light breakfast is served at the restaurant.
07:30 After breakfast, Your next excursion is a visit to the magnificent Sung Sot Cave, where you can take in the panoramic views across Halong Bay.
09:00 Check out of the cabin. Vietnamese cuisine buffet is served at the restaurant while the boat heads back to the harbor.
11:00 Disembark at the harbor.
Overnight in Hanoi
Meals: Breakfast, Brunch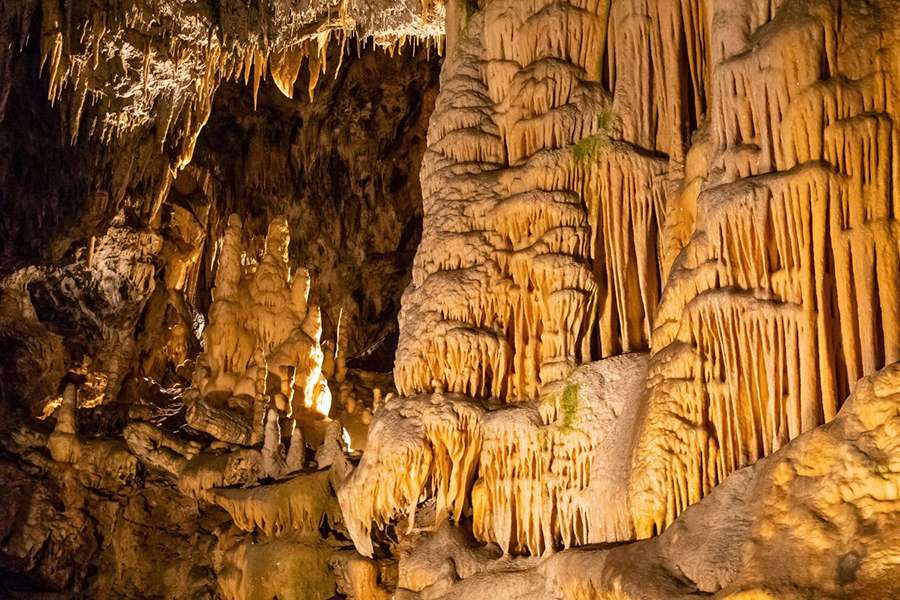 Day 23: Hanoi Departure (B, Br)
After breakfast, we will be free until your driver arrives to take you to Noi Bai airport for your departure flight. Tour ends! See you again in the next Vietnam tour packages.
Meals: Breakfast