Explore the essence of Vietnam – Cambodia – Indonesia covered by breathtaking on Jahan Cruise and deeply traditional values. Visit iconic destinations of these 3 countries from Phnom Penh to Siem Reap, Ho Chi Minh to Bali. Mesmerizing the natural beauty, with an additional touch of comfort, rural lifestyle with friendly local people. Embark into this combination trip provides us to learn about the vicissitudes of history, the culture attached in all of the destinations of these three amazing countries.
General Information
Tour Route: Phnom Penh – Kampong Chhnang – Kampong Cham – Siem Reap – Ho Chi Minh City (Saigon) – Bali
Duration: 15 Days/ 14 Nights
Pick-up/Drop-off: Phnom Penh/ Bali
Date: No fixed departure dates. You may go whenever you wish.
Tour Type: Explore and Experience
Tour Customizable: Absolutely! (Tell us your specific requirements in the inquiry form).
Brief Itinerary
Day 1: Phnom Penh Arrival – Welcome Dinner (D)
Day 2: Phnom Penh – Embark Jahan Cruise (B, L, D)
Day 3: Phnom Penh – Kampong Tralach – Kampong Chhnang (Tonle) (B, L, D)
Day 4: Tonle River – Koh Oknha Tey – Kampong Cham (Mekong) (B, L, D)
Day 5: Kampong Cham (Mekong) (B, L, D)
Day 6: Kampong Cham (Mekong) – Disembark Jahan Cruise in Siem Reap (B)
Day 7: Siem Reap – Angkor Wat (B, L)
Day 8: Siem Reap – Fly to Ho Chi Minh City (B)
Day 9: Half Day City Tour – Cu Chi Tunnels (B, L)
Day 10: Free Day (B)
Day 11: HCM City – Fly to Bali (B)
Day 12: Kintamani – Ubud Tour (B, L)
Day 13: Nusa Penida Island Tour (B, L)
Day 14: Bedugul – Tanah Lot Tour (B, L)
Day 15: Legian – Departure (B)
Full Itinerary
Day 1: Phnom Penh Arrival – Welcome Dinner (D)
Welcome to Phnom Penh! Your tour begins when you are warmly welcomed by our English Speaking Guide at Phnom Penh International Airport. After you have collected your luggage he will then guide you to your hotel for check-in. Then, we spend time eating dinner in the local restaurant before return back to the hotel to sleep. Overnight in Phnom Penh.
Day 2: Phnom Penh – Embark Jahan Cruise (B, L, D)
Our staff offers a friendly welcome aboard in the earlier morning hours as you check-in into your luxurious "home" for the next few days. Welcome to Phnom Penh – the city once named Paris of the East. Despite its rapid development, it has retained a lot of its rustic charm and elegance. It is an amazing town with centuries of incredible history and culture which can still be felt on many street corners. We start with a full sightseeing tour right after breakfast. By bus, we visit the Killing Fields outside the city and afterward the centrally located prison "S21". Both historic sites display the sad and cruel chapter of the country's history when the Khmer Rouge ruled Cambodia with terror and oppression. Those places have not changed much since this horrific time back in the early seventies and it can be quite heart-breaking. Alternatively, you may explore the city on your own in the morning before re-joining the group.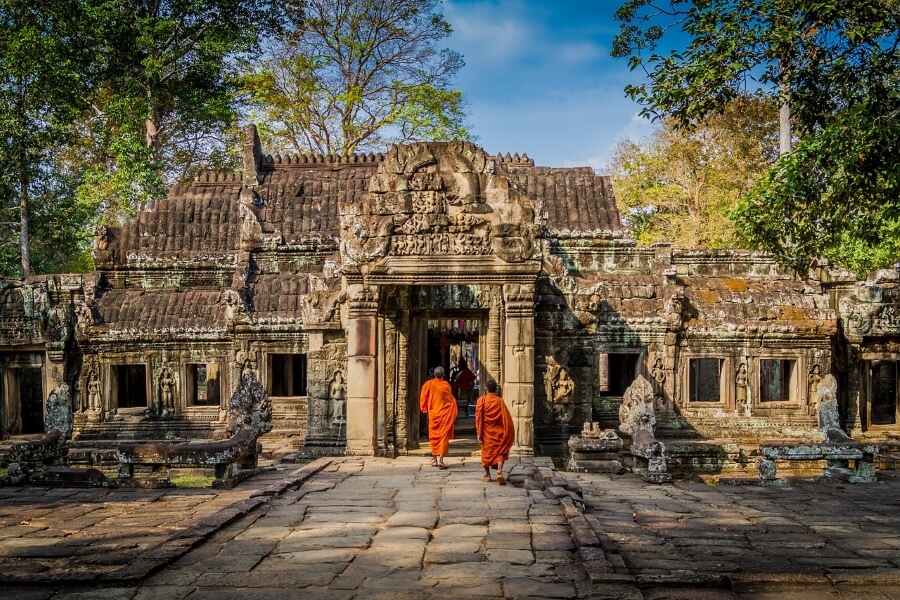 We have lunch at a well-renowned restaurant in town and experience the elegant air Phnom Penh's top addresses are known for. Our exploration of Phnom Penh continues with the cultural highlights of the city's heritage. The golden edifice of the Royal Palace with its Silver Pagoda and the exceptional Khmer crafts at the National Museum top the list of the city's must-sees. The day trip ends with a "cyclo" ride along the bustling streets of downtown Phnom Penh and back to the ship.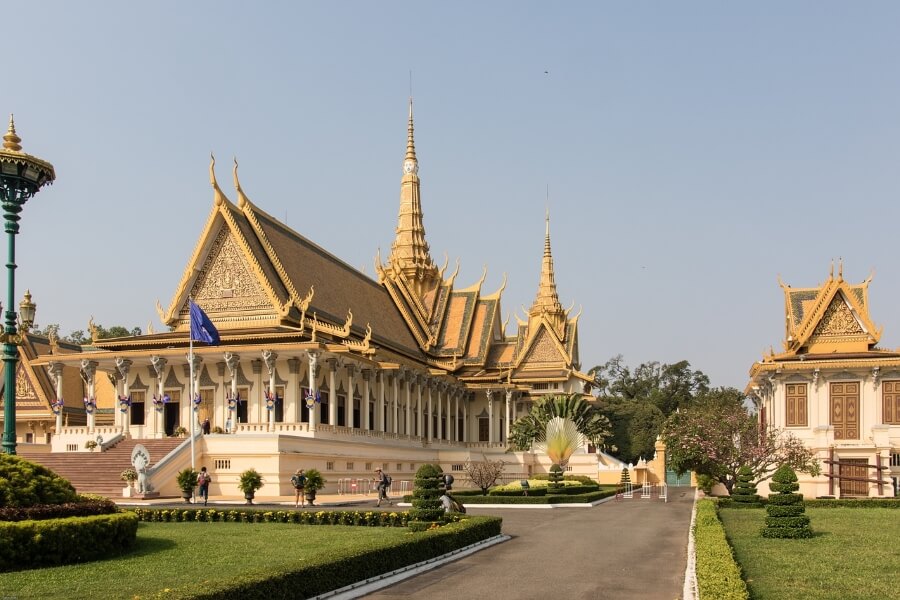 In the early evening, the lounge is set up for an eye- and ear-catching lecture about modern Cambodian history, held by our friend and local expert, Mr Jean-Michel, professor from the Royal University of Phnom Penh. Receiving first-hand knowledge from our lecturer who has studied the subject extensively and in-person is a highlight of this cruise. Take some rest or join fellow passengers at the bar for refreshing drinks. Today's evening is a special one: let us invite you to a wonderful open air gala featuring a barbecue dinner feast. The dinner is accompanied by a classic Apsara dance performance along with other folklore dances. As the evening unwinds, enjoy your supper with a good glass of wine and marvel at the skyline of Phnom Penh and the calming flow of the Tonle River. Overnight on board.
Day 3: Phnom Penh – Kampong Tralach – Kampong Chhnang (Tonle) (B, L, D)
Before the sun peeks over the horizon, the cruiser sets sail towards Kampong Tralach on the Tonle River. This part of the Tonle River is quite interesting to watch from the terrace as the river at certain points is very narrow. The boat glides through leafy swaths of this jungle-like landscape.
We reach Kampong Tralach, where laughing children wave enthusiastically at our arrival and traditional ox carts are still a common means of transportation. Our ox-powered vehicle takes us on a journey along the riverside and through back roads lined with rice-paddy fields until we arrive at a tiny village. Beginning a few short years ago, local underprivileged children have had the opportunity to receive an education at the "Green School", a local project supported by Heritage Line. The students, who are dressed in green shirts, are always happy to meet us every week as the principal gives an introduction to the students and the school.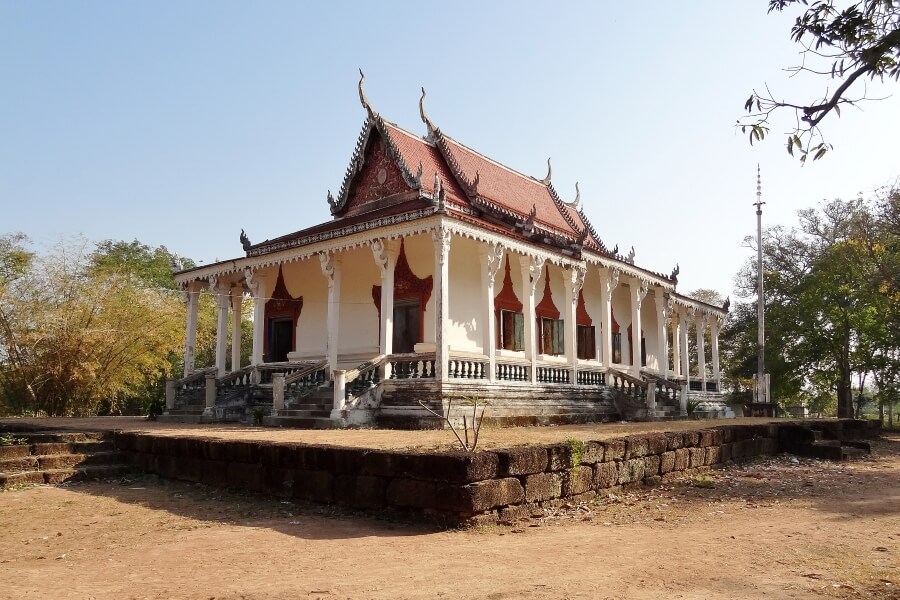 While we sail upstream, lunch is served and afterward, our crew displays a variety of traditional Khmer fashion locals wear on special occasions. Conversely, the Cambodian scarf, the Krama, is a garment worn by people of all ages and walks of life not just around the neck, but also as a bandanna, facemask, belt, swimwear, and even as a hammock to carry children. Later in the day, the ship cruises along the narrow Tonle River towards the most fascinating cruising spot in Cambodia, Kampong Chhnang's "water world", where everything is balanced on sticks in water-rich soil. We take a local boat to the shore and hop on a minibus to reach a nearby, unique rural village to explore the village's specialties – Khmer-style pottery and the process of making of palm sugar from the Cambodian "skor t'not" palm tree.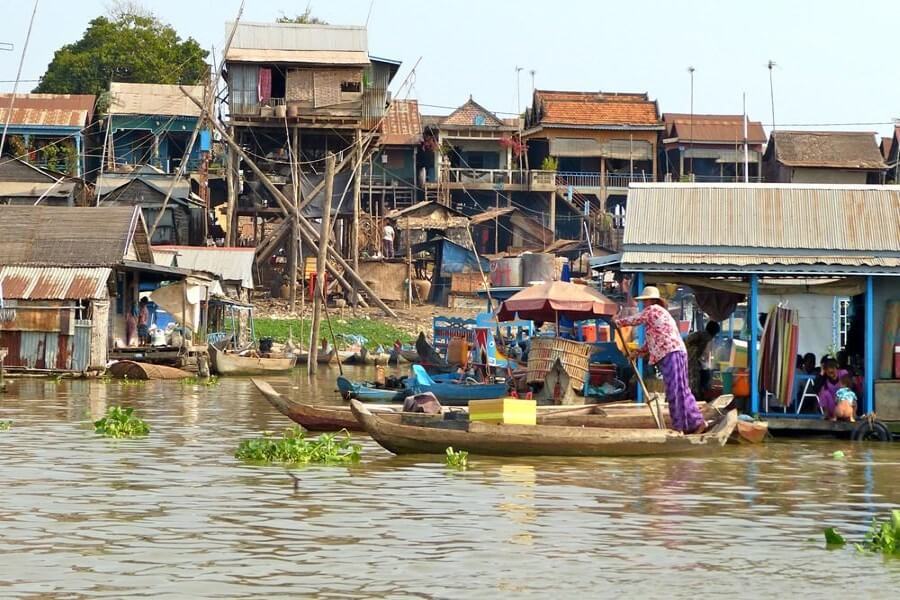 We drive back to the shore where our local boat starts an exploration of nearby floating villages. Although we are in the heartland of Cambodia, the residents of these floating villages are actually of Vietnamese descent who were expelled by the Khmer Rouge and soon returned after the ruling party was overthrown in 1979. No longer having land to settle on, they have since lived "on the water". Once we are back on board, relax until dinner is served and take in the beautiful countryside and its gentle evening sounds. Overnight on board.
Day 4: Tonle River – Koh Oknha Tey – Kampong Cham (Mekong) (B, L, D)
In the early morning, we sail from the lower Tonle River towards the Mekong passing their confluence at Phnom Penh. We arrive at the island of Koh Oknha Tey, which lies in the middle of the Mekong and owes its fame to manufacturing high-class silk products. We go sightseeing along the island's roads a bit via tuk tuk before arriving at the village's workshops and witnessing the curious process of making silk, starting from a tiny silkworm larva to cocoon, then dyeing, spinning and weaving the fibers into high-quality Cambodian silk.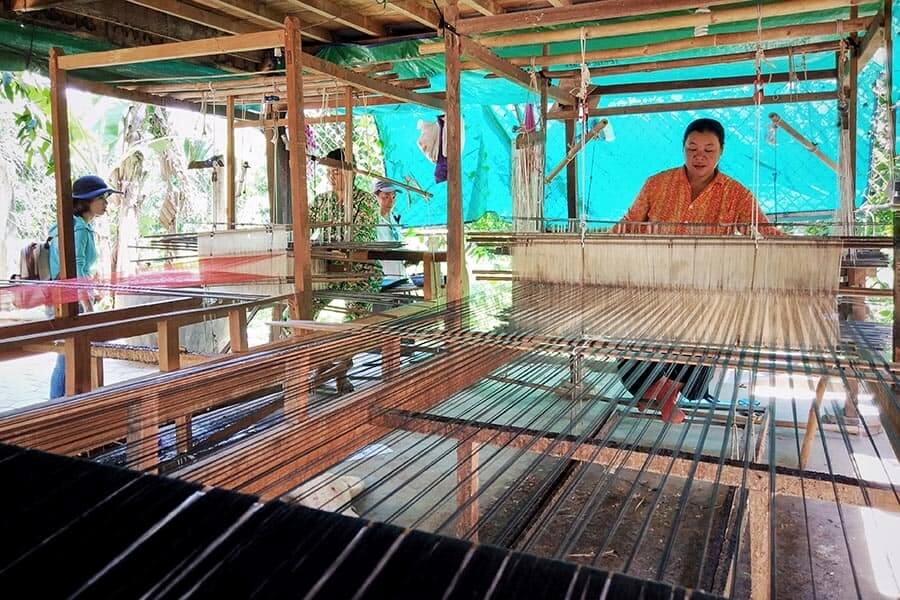 Before lunch, our expert guide holds a presentation about the geography of the Mekong River and Tonle Lake along with the unique attributes of the area. Afterwards, a monks' blessing ceremony delivers spirits and wishes for health and prosperity for all. The ship sails towards the small Angkor Ban village up in the Mekong River. The village is famous for its unspoiled community and beautiful, traditional houses. It feels like being transported back a hundred years, into an era unaffected by modernity where villagers are characterized by their unbridled warmth. The sunsets and the light now bathes everything in a golden hue. The surrounding natural beauty is a perfect backdrop for a riverbank gathering with cocktails and dancing with the crew in this remote, secluded location. We continue cruising while dinner is served and the boat finds its overnight spot at the riverbank of Kampong Cham. Overnight on board.
Day 5: Kampong Cham (Mekong) (B, L, D)
After a sumptuous breakfast, we leave the ship for enchanting pre-Angkorian temple of Wat Hanchey (7th century). Formerly built to honor the Hindu god, Hirahara, the complex is now a Buddhist temple, a testament to the country's past and present religious beliefs. This small complex sits on a hilltop with breathtaking views over the Mekong. Many young, novice monks live on the compound of Wat Hanchey, and we have the chance to observe a bit of their daily lives: eating simple meals, praying, studying, or hanging out and making conversation while in their saffron-colored robes.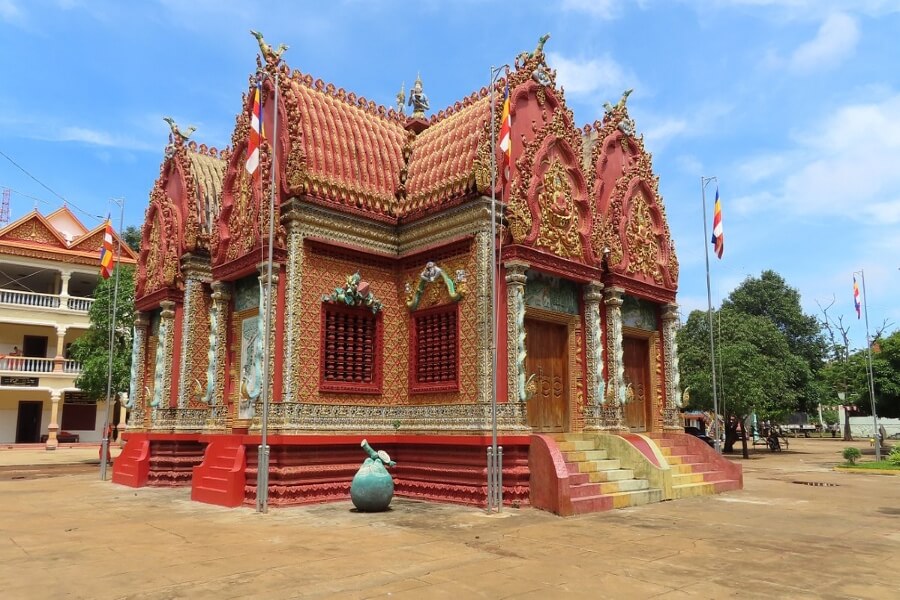 After returning to the ship and partaking in lunch, we stop at the tranquil monastery of Wat Nokor. Although not massive in comparison to the vast complexes of Angkor Wat, Wat Nokor is the largest of its kind in Kampong Cham Province and is distinctive from other temples with its black sandstone walls. Here, we might have the chance to engage in light banter with some of the sociable monks living in the area.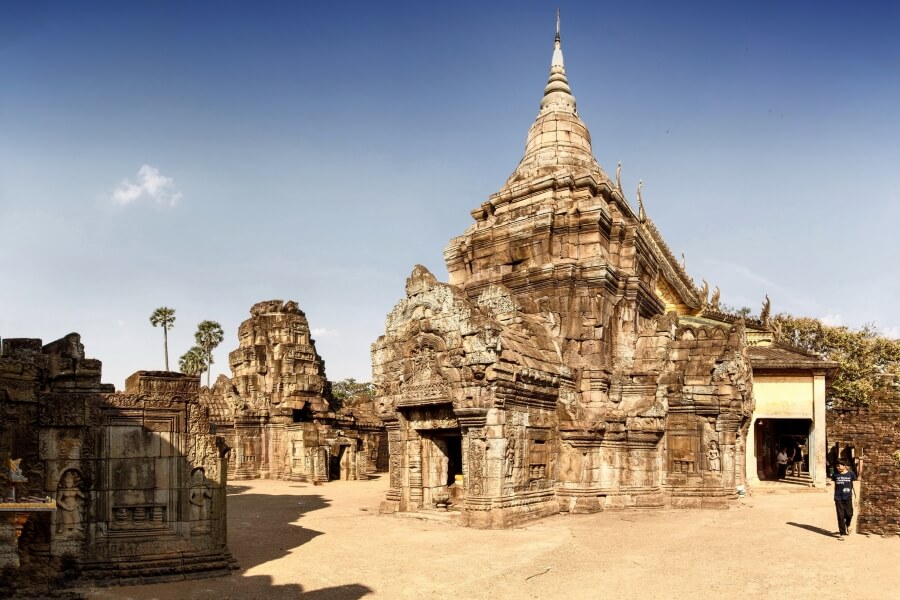 As it is low water season, we may be fortunate enough to visit a nearby spectacle only present during the Mekong's dry months (December to May). The Koh Paen Bamboo Bridge connects the mainland with Koh Paen Island and is rebuilt by the local community every November when water levels drop. We cruise further up the Mekong to visit a local school and learn more about the education of the young Cambodian generation. Children from the Organization for Basic Training (OBT) are provided free, supplemental education in English, maths, and the arts, and they are always excited to show their skills in music and dance. Shower the young performers with applause and in return, you are bestowed upon with the most genuine and happy Cambodian smiles. Overnight on board.
Day 6: Kampong Cham (Mekong) – Disembark Jahan Cruise in Siem Reap (B)
Enjoy your last breakfast on board our floating sanctuary. We disembark the ship for a transfer by bus to the drop off point in Siem Reap. Kampong Cham is an important trade and transportation hub. The highway connecting the town and the capital of Phnom Penh is among the best maintained in Cambodia, and the country's first bridge across the Mekong (Kizuna Bridge) was built here in 2001. The transfer takes approximately 4.5 hours including rest stop. To keep you entertained during the ride, our expert guides share interesting insights about Cambodia and the region we journey through. Snacks are provided during the trip. You will arrive in Siem Reap in the early afternoon. We hope you enjoyed this fascinating river cruise, just as our crew does every single time. Moreover, take the enchanting memories and friendships along with you and share the stories of this amazing river – the Mighty Mekong.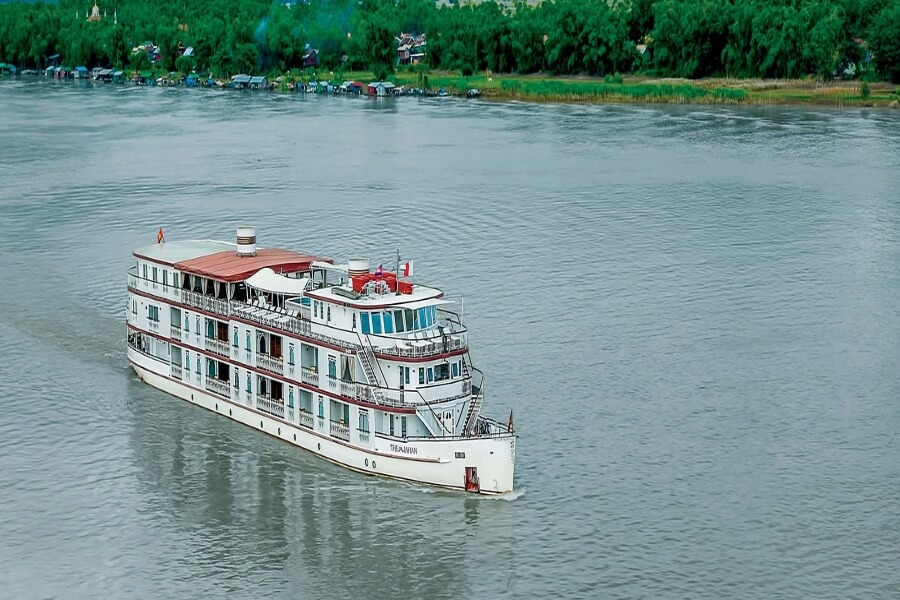 After Jahan Cruise transfer you from the pier to the meeting point in Siem Reap. We will pick you up and transfer you to the hotel in Siem Reap to relaxation. The rest of the day will be spent relaxing. Overnight in Siem Reap.
Day 7: Siem Reap – Angkor Wat (B, L)
After breakfast at the hotel, we will visit the antique capital of Angkor Thom (12 century), known as the South Gate with its huge statues depicting the churning of the ocean of milk. The next destination is the Bayon Temple, unique for its 54 towers decorated with over 200 smiling faces of Avalokitesvara, the Phimeanakas, the Royal Enclosure, the Elephants Terrace, and the Terrace of the Leper King.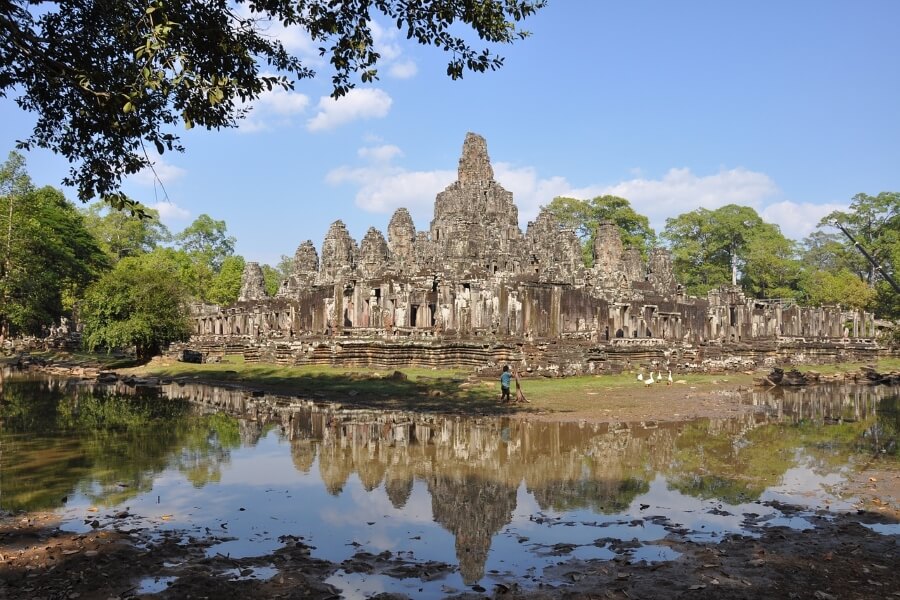 After having lunch, we will visit Ta Prohm, one of the area's most beautiful temples. Ta Prohm has been relatively untouched since it was discovered and retained much of its mystery, and the most famous of all the temples on the plain of Angkor: is Angkor Wat. The temple complex covers 81 hectares and is comparable in size to the Imperial Palace in Beijing. Its distinctive five towers are emblazoned on the Cambodian flag and the 12th-century masterpiece is considered by art historians to be the prime example of classical Khmer art and architecture. Enjoy wonderful sunset from the top of Pre Rup Temple. Overnight in Siem Reap.
Day 8: Siem Reap – Fly to Ho Chi Minh City (B)
This morning, we will transfer to the airport after the breakfast for flight to Ho Chi Minh City. On arrival at Tan Son Nhat airport in Ho Chi Minh City, welcomed upon arrival by a local tour guide and driver then we transfer to the hotel. After check-in, we will be free to wander around the hustle and bustle city on our own.
Day 9: Half Day City Tour – Cu Chi Tunnels (B, L)
Ho Chi Minh City, formerly named Saigon is the largest city in Vietnam. One day tour around today covers almost the major attractions. Understanding more about history in the War Remnants Museum and the Reunification Palace, admire French-colonial architecture at the General Post Office, Opera House, and Notre Dame Cathedral, and explore the longest tunnels made by Vietnamese people during the war…. Depending on the weather and season, we can visit the Cu Chi tunnels in the morning or afternoon.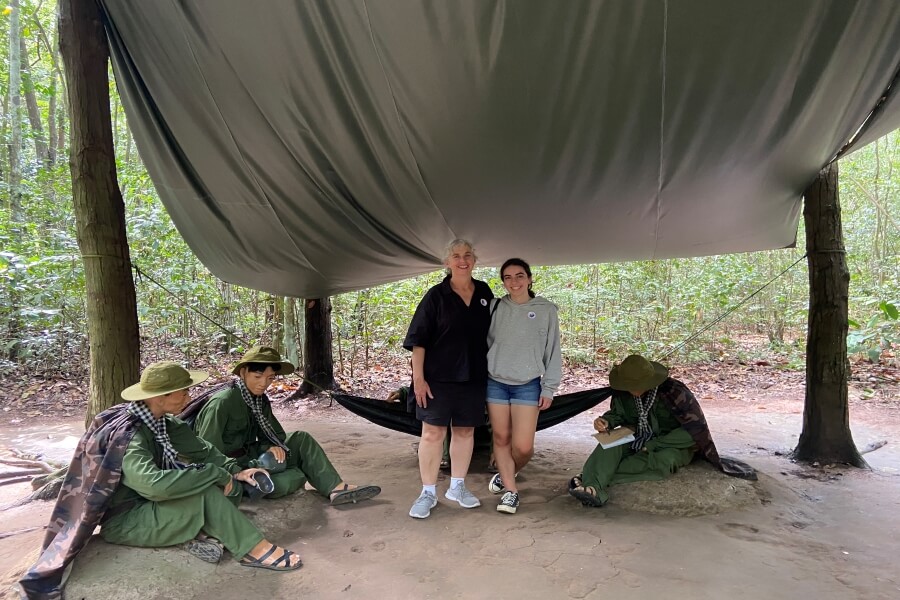 Morning, we head to the Cu Chi tunnels, otherwise known as the "Iron Triangle" or "Iron Land". Before entering the tunnels, we will see a short introductory video showing how they were constructed, followed by an exploration of the maze of tunnels, some of which have been widened to allow tourist access. Also on display are various mantraps and the remains of an American tank as well as numerous bomb craters made by 500lb bombs dropped by B52 bombers. After that we transfer back to Ho Chi Minh city for lunch.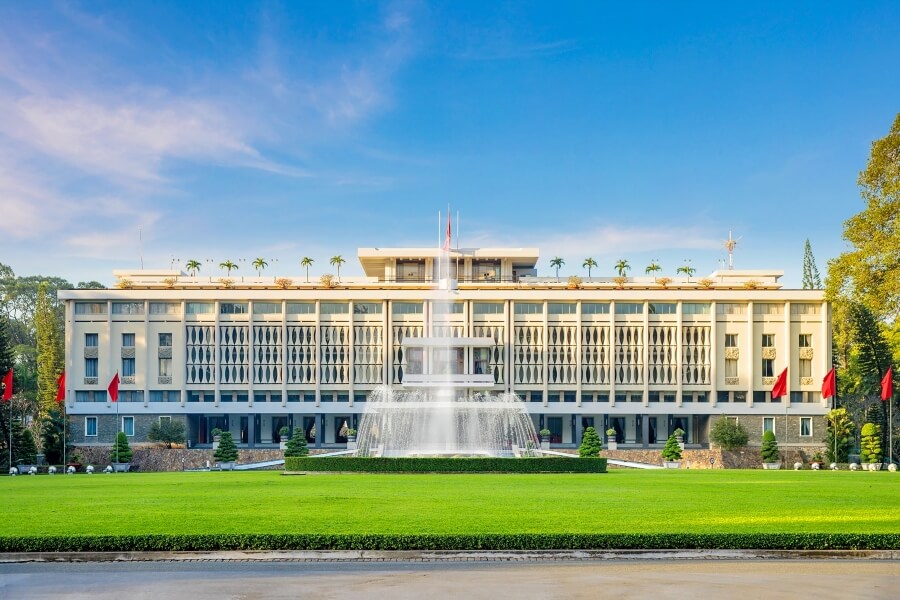 After lunch, we visit the Reunification Palace, the former Presidential Palace for the president of the South of Vietnam. After that, we will visit War Remnant Museum, where we can see countless artifacts, photographs and pictures documenting about the second Indochina war. We also stop at Notre Dame Cathedral and Old Post office to get good shots for our memory of the big, modern city of Vietnam. In the rest of the day, we will visit: Ben Thanh market, and then we will be back to hotel at around 18:00. Overnight in Ho Chi Minh City.
Day 10: Free Day (B)
The day will be free for strolling in the city, shopping, or whatever takes your fancy. We'll spend the night in Ho Chi Minh City. Overnight in Ho Chi Minh City.
Day 11: HCM City – Fly to Bali (B)
Time will be free until our car arrives at the hotel to take us to the airport in good time to board our flight to Bali. On arrival at Bali International Airport, warm welcome by your guide and then transfer to Kuta for your accommodation. Overnight in Bali.
Day 12: Kintamani – Ubud Tour (B, L)
Depart from the hotel. Check out and then depart at 09.00hrs, and the drive visit Goa Gajah 'Elephant Cave' is an archaeological site of significant historical value. Visit the nearby village of Tampaksiring to explore Tirta Empul, a temple famous for its spring water. Then drive further to Kintamani, a volcanic region in the shadow of Mount Batur with breathtaking views. Drive down to Ubud along a different road towards the area of Tegalalang ricefield, which offers a scenic outlook that spreads down before you and away to the rice paddies on the slopes across the valley. Proceed to visit Ubud Monkey Forest, one of Ubud's most popular attractions, a natural forest sanctuary that is home to a horde of grey long-tailed macaques. Finally, visit Puri Saren Royal Ubud Palace, which is one of the most prominent places in Ubud. Overnight in Bali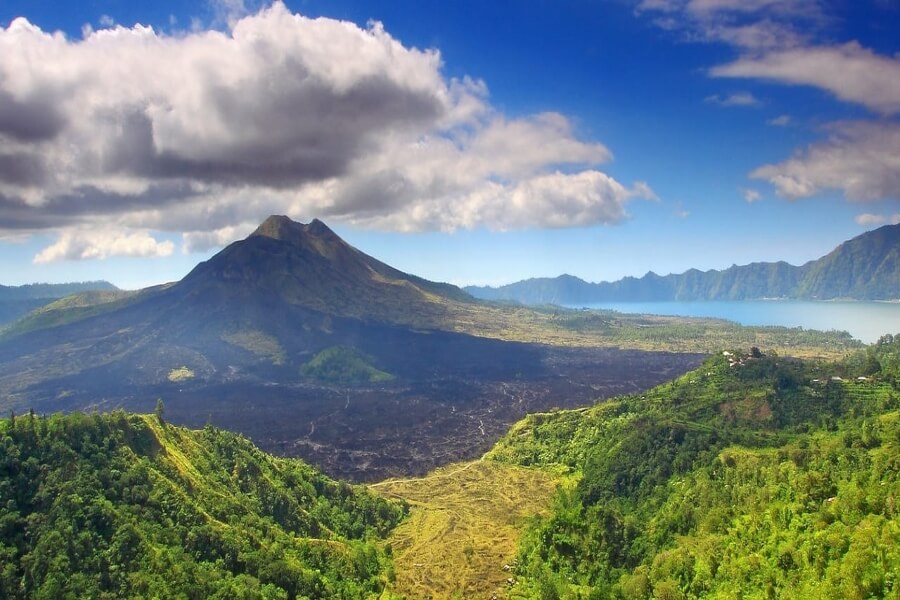 Day 13: Nusa Penida Island Tour (B, L)
Breakfast at the hotel. Pick up by a driver at 06.30 07.00hrs, and then drive to Sanur for onboard and cross to Nusa Penida Island by fast boat. Explore the amazing Nusa Penida island where you can enjoy the stunning views of Kelingking Beach, witness the phenomenal cove with the archway at Broken Beach, and swim in the natural infinity lagoon at Angel's Billabong, and Tosca water at Crystal Bay. (Pick up services from hotel: Included). Overnight in Bali.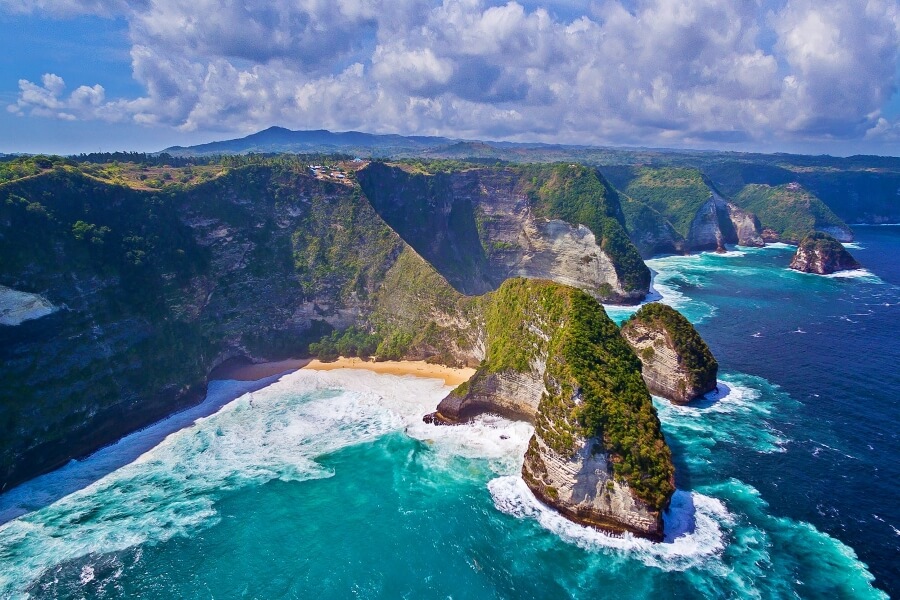 Day 14: Bedugul – Tanah Lot Tour (B, L)
Arrive at Taman Ayun Temple this temple is built on a high tableland and surrounded by ponds. Later, drive to visit Ulun Danu Beratan Temple, also called Bali temple on the lake, because it looks like floating on the water when the water level in the lake is rising. Have lunch at a restaurant in the Bedugul area which is near the temple. This afternoon, take to visit the Candikuning fruit market. The market is located in the mountain area of Bedugul where we can discover plenty of tropical fruits and vegetables.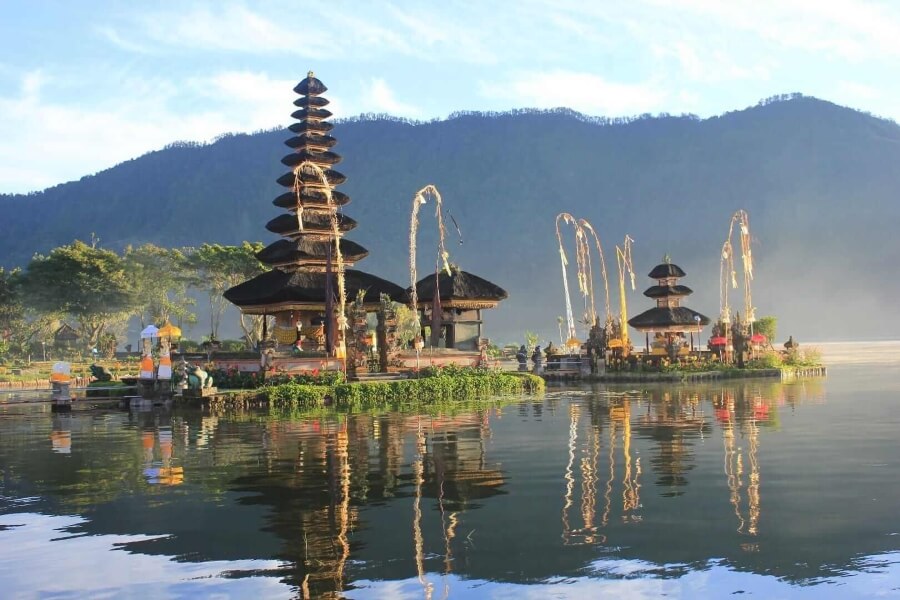 Continue the journey to visit Jatiluwih rice terrace the vast expanses of terraced, green rice paddies are stepped along an entire mountain, from its peak to where its foot meets the sea. Our last destination is visiting Tanah Lot Temple, the temple is built at an irregular reef plain of its angle which is only consisted of one plain yard as Jeroan. Overnight in Bali.
Day 15: Legian – Departure (B)
Breakfast at the hotel. At the appropriate time, check out and then drive to the airport for your flight back to your country. Trip ends. See you in the next  Cambodia – Indonesia & Vietnam tour packages.
Inclusions & Exclusions:
Inclusions:
14-night accommodation with daily breakfast as per detailed itinerary
Transfers by private air-conditioned vehicle with experienced driver
Meals as specified in the itinerary with authentic local food. Western food is available (upon request) (B = Breakfast, L = Lunch, D = Dinner).
Local-stationed English-speaking tour guide
Entrance fees & permits
4-nights Jahan Cruise Route Phnom Penh – Siem Reap
Angkor Temple Ticket 1-Day
Bottle of drinking water
Exclusions:
International flights and airport taxes
Domestic flights and airport taxes
Vietnam Visa stamp
Cambodia Visa stamp
Indonesia Visa
Travel insurance with Covid protection
Other meals which are not indicated above
Surcharge and Compulsory dinners (if any)
Beverages in the restaurants where meals are included
Gratuities to guides and drivers
Personal and other expenses such as porter, bar bills and laundry not stated in the itinerary.
Notes:
Please be aware that hotels and all other logistics, services and days of travel are subject to availability. Where flights are canceled or delayed Viet Vision
Travel will endeavor to secure alternative arrangements of similar value as noted in our booking conditions.
The traveling times mentioned within this dossier are approximations only. These times will vary according to weather, road, traffic or any other prevailing conditions.
This itinerary and supplementary information have been compiled in good faith and were accurate at the time of writing. However, it DOES NOT form part of a contract between the client and Viet Vision Travel.