This 6-day luxury tour in Laos covers the World Heritage City Luang Prabang and the present capital Hanoi. You will have find several special elements that we individually designed for luxury tours such as Traditional Baci ceremony, meetings & city tours with Expats in both Luang Prabang and Vientiane, Eco Camping with elephant trekking…No problem if you want to add a free day in Luang Prabang ỏ Vientiane, just tell us in our Inquiry form.
Tour route: Luang Prabang – Vientiane
Duration: 6 days
Date: No fixed departure dates. You may go whenever you wish.
Start/End: Luang Prabang/Vientiane
Tour type: Culture, Nature and Luxury
Tour Customizable: Absolutely! (Tell us your specific requirements in the inquiry form)
Active level: Easy & comfort
BRIEF ITINERARY
Day 1: Luang Prabang arrival
Day 2: Luang Prabang City Tour with Expert
Day 3: Luang Prabang – Full day Experience with Shangri Laos
Day 4: Luang Prabang – Vientiane
Day 5: Vientiane Textile and Art
Day 6: Vientiane departure
Day 1: Luang Prabang Arrival (B, D)
Arrival the airport in Luang Prabang, you will be welcome and driven to our hotel. Tonight, we will join a welcome ceremony of Baci & welcome dinner at local villager's house. Later, we will explore the Luang Prabang Night Market, where we can find a lovely selection of handmade textiles made by local villagers and the hill tribes surrounding Luang Prabang.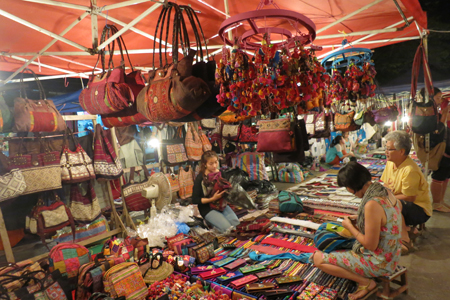 Baci is a traditional Lao ceremony of well wishing, dating back to the times before Buddhism was widely accepted as the main religion of Lao people. It is celebrated on many occasions; for example to please the house spirit, to thank the spirits after a family member recovered from illness, after a woman gave birth to a child and also before one of the family members leaving for a long journey, to marry, to welcome honorable visitor, to farewell visitors, to pay respect to senior age or parents. The Baci is mostly held within the family or in public.
During the ceremony all members of the family as well as invited relatives and friends are sitting around the "Pha Khouan", a traditional bouquet of flowers. An older man of the village is conducting the ceremony by leading preaches and good wishes for health, prosperity, safe travel or whatever may seem important.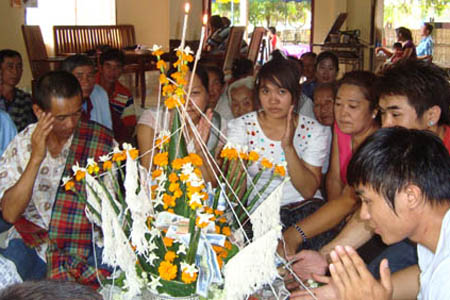 To convey the wishes to you, the white cotton threads are bound around your wrists, called in Lao "Soukhouan". This tradition comes from the old belief that 32 souls are living in the people's body. Wishing all bad souls or bad influences leaving and all 32 good souls staying in the body is accompanying the binding, which finally mean to not let the souls leave the body. The threads should be worn for at least 3 days.
Day 2: Luang Prabang City Tour with Expert (B, L)
Our day will start with a lively 1-hour presentation by Mr. Francis Engelmann in your hotel lobby or at a cafe. Born in Paris in 1947, Mr. Engelmann has been a writer and consultant to UNESCO on Heritage House preservation projects since 1994. Having lived in Laos for over 20 years, he has expertise in the cultural heritage of the country as well as understanding of Lao history and people.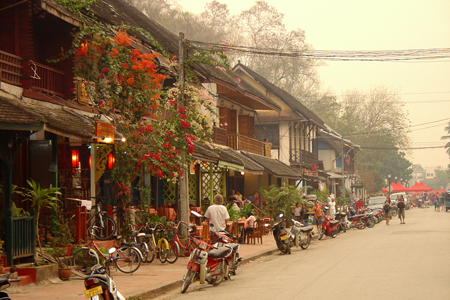 Then say goodbye to Mr. Engelmann and set out on foot for a walking tour with your Lao guide to places and sites off-the-beaten tracks and observe Luang Prabang's distinct architecture. This tour will start at the junction of the Mekong and Khan Rivers. We will wander through small streets and alleys to witness the rural lifestyle that local people have maintained. Continue to another neighborhood which is home to many ponds and traditional houses. We will also visit Boua Kang Bung House for an overview of typical Luang Prabang architecture. We will finish our tour with a stop by a local house, engage in a casual talk with the host and the family and get a glimpse of their daily life in this laid-back town. We will spend the night in Luang Prabang.
Day 3: Luang Prabang – Full day experience with Shangri Laos (B, L)
After breakfast at hotel, we will transfer to Shangri-Lao Explorer camp, about 15km outside of Luang Prabang. On arrival, our guide will brief you some information on the elephants. We can also chat with the on-site veterinarian, feed the elephants and relax by the riverside. Then hop on board and enjoy a 1.5-hour ride on the back of an elephant through teak forests, jungle and over hills to reach Huay Sae Valley. Along the way, we can stop to see the amazing scenery of the Nam Khan River Valley. In the valley, enjoy a local style lunch (including 1 bottle of mineral water and 1 soft drink or beer) which is set up near the waterfall. Weather permits, we can have a swim at the waterfall.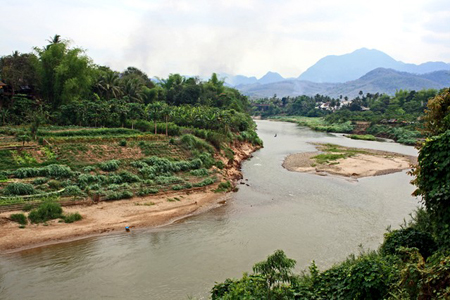 After lunch, we will continue with a 1.5-hour trek on foot along the stream and over bamboo bridges, past waterfalls, fantastic limestone formations and turquoise blue pools. Where the trail leaves the valley, traditional horses from the Hmong hill tribes are waiting for you to carry your bags up a more demanding uphill section (approx. 30min). Finally we reach the Nam Khan river again and cruise by boat back to the camp (1.5 hours). Later transfer back to Luang Prabang (dry season February- July)
Day 4: Luang Prabang – Vientiane (B)
After breakfast at hotel, we will drive to the airport in good time to board a short flight to Vientiane, the capital, economic centre, and largest city of Laos. Upon arrival at the Vientiane airport, we will be welcome by our guide and driven to hotel to check in.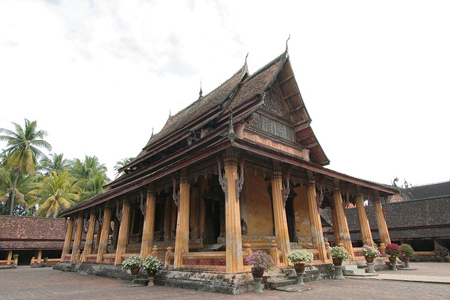 In the afternoon, we will visit Wat Sisaket, which is the only temple left intact after the Siamese invasion of 1828. We will then process to Wat Phra Keo, which houses thousands of Buddha statues. Continue to visit Patouxay monument, Laos' version of the Arc de Triomphe. We will finish the day with a visit to That Luang, regarded to as the holiest site in Laos. Our overnight accommodation will be in Vientiane.
Day 5: Vientiane Textiles and Arts (B, L)
This morning, we will take one-hour drive southeast of the city to the Buddha Park, which was built in 1958. The park is a fanciful sculpture garden full of Buddhist and religious images that appear to be centuries old. Of particular interest is a giant concrete pumpkin, its three-level interior representing hell, earth and heaven. The statues are made of cement and are ornate, and sometimes bizarre in design.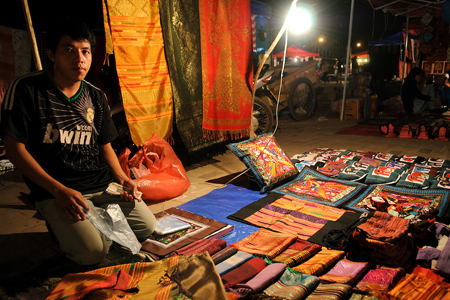 In the afternoon, we will visit the weaving home-studio of Mrs. Carol Cassidy, an American textiles expert who arrived in Vientiane in 1989 as part of a United Nations project to promote traditional weaving. Carol was so impressed by the quality and diversity of weaving throughout Laos that she set up the Lao Textiles Studio in Vientiane. Today the studio employs over 40 local weavers who create naturally dyed and woven silk pieces reflecting traditional Lao designs. (Carol Cassidy's shop is closed Saturday PM and Sunday).
We will finish our day with a visit to the contemporary Villa Cythere gallery which is located in the former home of well-known French painter Marc Leguay. Get to know more about the artists and their backgrounds by chatting with the director of the gallery who will be on-hand during your visit. Overnight in a hotel in Vientiane.
Day 6: Vientiane Departure (B)
Morning is free at leisure until check out of hotel by 1200 noon. Then transfer to the airport for our departure flight. Tour ends.