With more than 2000 miles of coastline and three distinct weather systems changing from North to South, low to high altitude, the weather is one of the most considering things whilst planning vacation packages to Vietnam.
Vietnam Weather Data
Overall, the North of Vietnam (Hanoi, Sapa, Halong Bay, Hai Phong) experience more definite seasons than the rest of the country with four distinct seasons: spring (March to May), summer (June to August), fall (September to November) and winter (December to February). Summer and winter are main seasons with transitional time (Spring and Fall). The weather between June and August is characterized by hot and humid while the weather is cooler, a little bit chilly and foggy sometimes in the winter.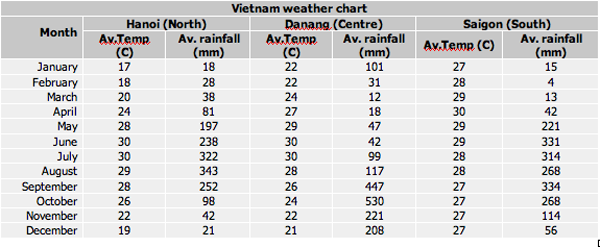 The South (Ho Chi Minh City, Can Tho, and the Mekong Delta) benefits from sunshine and warm weather all year round. In the Southern provinces, there are only two distinct seasons: the dry season and rainy season. The rainy season runs from May to October (with short-lived rains once or twice a day) and a dry season (with sun all day) from November to April.
The weather in Central provinces is divided into two different parts separated by the Truong Son Range. The upper regions' weather like Thanh Hoa, Nghe An, Quang Binh, Quang Tri… is its unpleasant condition during summertime. Moreover, from October to January, Central Vietnam can encounter tropical storms and typhoons but not frequently, therefore other destinations of the Central are recommended to have a great vacation such as lower regions: Nha Trang, or Mui Ne Beach. These regions feature warm weather all year round. While the rainy season starts from the end of September until December. For the tourists who expect to hike and enjoy the temperate atmosphere, Dalat should be listed in your top travel destinations especially from November to March when Dalat is in its best.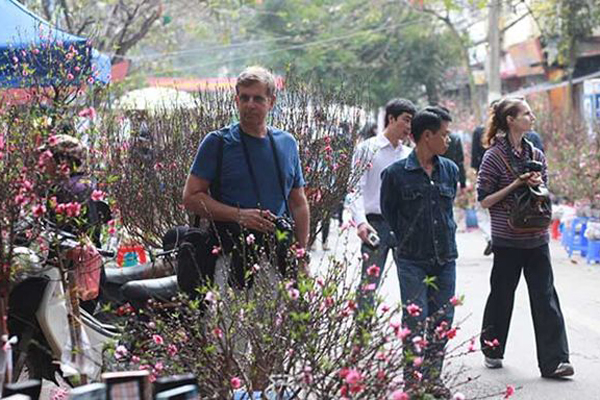 Visit Vietnam in Lunar New Year (Tet holiday) can be an interesting experience to explore Vietnamese culture. Despite the fact that the price during this period time is higher than usual. All buses, trains, and flights are mostly full booked, make sure that you have arranged all the services in advance. There is almost no activity in the markets and shops. Unlike popular myth, accommodation in Vietnam during Tet is available – there is no need to worry about overbooked hotel rooms, note that some hotels or restaurants may not be able to serve you well due to the under-staffed problem and in some cases, the quality of the service may suffer. Even though, it's absolutely a perfect chance for you to go deeply into local lives and Vietnamese tradition.
When is the Best Time to Visit Vietnam?
The country's climate is unpredictable, which varies considerably from region to region, due to its height; at times there has been biting wind in the northern cities whilst the beaches in the south enjoyed 32 °C and sunshine. It pays to imagine the country as three separate destinations when researching weather to have the best preparation for your trip and the following information will hopefully help you.
The best time to visit North Vietnam (Hanoi, Halong Bay, Sapa, Mai Chau, Hai Phong, Ha Giang) is from November to February. Its weather tends to be crisp when temperatures average ranges from 15°C to 20°C and it would be a great time for a city tour, biking or go trekking. However, occasional sunny days will highlight your travel.
The central region (Hue, Hoi An, Danang, Quy Nhon, Dalat, Nha Trang, Mui Ne) reaches the peak of rainfall from October to December. In this period you are advised against traveling since the area is affected by heavy monsoon rains and typhoons that can cause flooding but not frequent. The weather is getting better from December to August, the average temperature is mid-30's °C. To have a perfect holiday, you should plan your vacation from January to September due to the sunny and temperate atmosphere.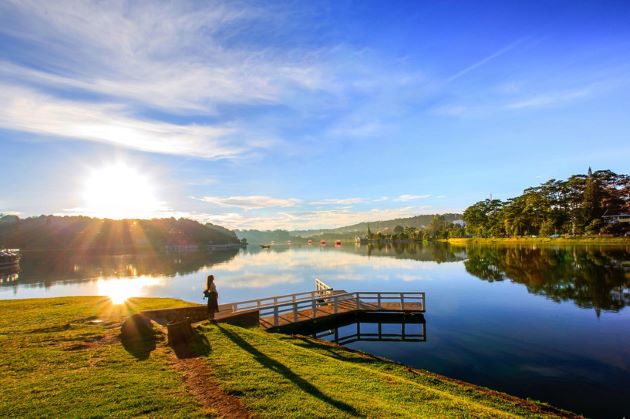 Whilst dry season (November to April), South Vietnam has glorious sunny days that are suitable for Ho Chi Minh City and Mekong Delta, enjoying the white sand beach in Con Dao, Vung Tau, and Phu Quoc. Although not excluding tropical downpours that can suddenly occur but fortunately they are short-lived.
All in all, there is no best or worst time for Vietnam tour packages, each season has its own advantages. November to April will be the best time to cover the country.
What Do You Need in your Case?
Traveling in Northern Vietnam
In the winter, you should prepare demi-season clothes, a jacket and a sweater, a windbreaker for drizzle, wool hat and gloves for the cold nights. If you go to the mountainous area such as Sapa, Mai Chau, Ha Giang, warm clothes, a jacket, gloves, wool hat, hiking boots are necessary. However, in the summer, natural fiber clothing, raincoat or umbrella are recommended. If you are going to visit the higher altitude areas, remember to bring your trek package.
Traveling in Central Vietnam
Unlike the North, Central Vietnam has mild weather during the year. So your case needs thin clothes, sport shoes while thin sweatshirt and scarf should be prepared due to cool weather in the evenings. Raincoat or umbrella is your good friends when traveling in the rainy season.
Traveling in Southern Vietnam
Thin clothes are recommended and remember to bring your raincoat or umbrella if you want to roam around the city and vicinities without being soaked.