Provided that you, unfortunately, get sick during Ho Chi Minh City day trips as well as Vietnam tour packages, the hospital is surely the place you have to find. The list of 5 best international hospitals in Saigon below is hopefully your useful guideline.
Vinmec International Hospital Saigon Central Park
Official operation from 07/01/2012, Vinmec is the brand in the medical field invested and developed by Vingroup – the biggest group in Vietnam.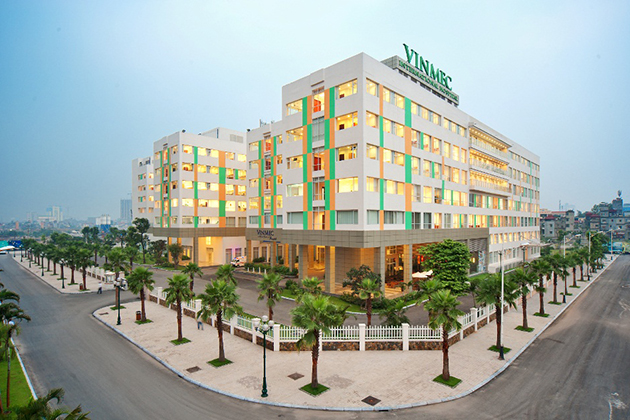 Vinmec Central Park – Ho Chi Minh City is the third international hospital in the Vinmec medical system chain, officially in operation immediately after the facilities in Hanoi and Phu Quoc. Vinmec Central Park International Hospital has 178 beds, 16 specialties (Pediatrics, Pediatrics, Respiratory, Endocrinology, and Orthopedic Trauma), and some specialized centers such as the heart center, and imaging diagnosis. In the future, Vinmec aims to become the leading international hospital in Vietnam both in terms of expertise and technology as long as achieves the highest international standards in quality management and patient safety.
Address: No. 208 Nguyen Huu Canh, Binh Thanh District
France-Vietnam (FV) International Hospital in Saigon
Officially opened in March 2003, FV Hospital is the leading international standard international hospital in Southeast Asia. The hospital is invested 100% foreign capital and founded by a group of 10 French doctors. With a total of 220 beds, 1500 visits per day, FV Hospital provides world-class healthcare of comprehensive medical, consulting, treatment, and care services in more than 30 specialties including health and outpatient clinics, emergency department, internal medicine center, surgery center, obstetrics department, pediatrics ward, and Hy Vong (Hope) cancer treatment center.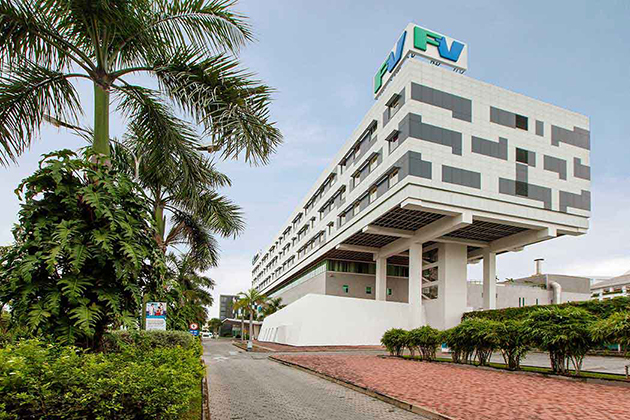 FV Hospital brings together a full-time team of doctors and dentists from France, Belgium, the USA, Korea, and Vietnam. These professionals all have 15 years of experience in key positions at famous international hospitals. One of the doctors in charge of direct examination for customers when coming to FV Hospital is Dr. Le Khac Quyen. He has worked in the Department of General and General Surgery, Tropical Diseases Department at Cho Ray Hospital, currently Chief of Internal Medicine and Family Medicine in FV Hospital.
Address: No. 6 Nguyen Luong Bang St, District 7
City International Hospital in Ho Chi Minh City (CIH)
CIH was established on January 5, 2014, with a capacity of 320 beds, located in the Shangri-La Hi-Tech Medical Park in Ho Chi Minh City. City International Hospital is an international general hospital operated and managed by Singapore's leading medical corporation, Parkway Health.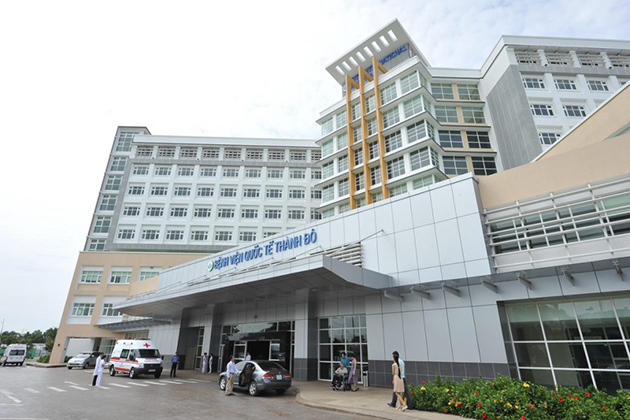 The international hospital has 21 clinical and subclinical clinics with outpatient services, emergency services, rehabilitation, neonatal resuscitation, laboratory, endoscopy, operating rooms, and diagnostic department. The system of modern equipment, including many advanced machines, quickly identifies the disease and has a plan to treat the disease thoroughly for the patient. In particular, the hospital's doctors are experienced ones who have attended the training programs in Vietnam and worldwide.
Address: No. 3, 17A St Binh Tan District
Hanh Phuc International Hospital in Saigon
Hanh Phuc (Happiness) International Hospital was established on January 3, 2011. It is the first hospital in Vietnam to be built according to Singapore Standard, providing high-quality healthcare and medical services for women and children in Vietnam and ASEAN. The international hospital offers a full range of medical, surgical, treatment, diagnostic, and preventive services including specialties such as obstetrics and gynecology, pediatrics and birth control, general health screening, 24-hour clinics, women's cancer center, reproductive health center, fetal assessment center, family counseling center, beauty center, and Media Spa.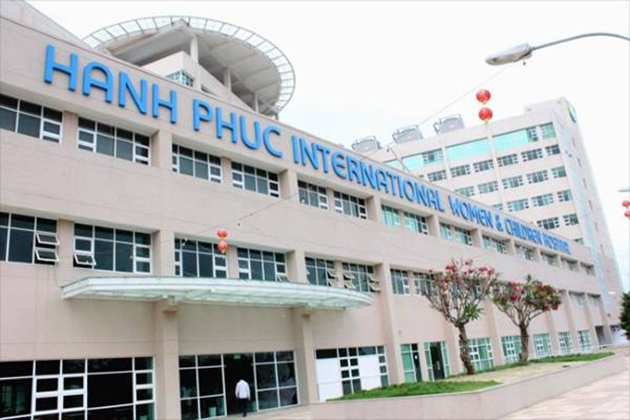 Hanh Phuc International Hospital owns the gathering of doctors with many years of experience from the leading hospitals in Vietnam such as Tu Du Hospital, Children's Hospital, International Hospital of Saigon, Hung Vuong Hospital, FV Hospital. In addition, the hospital also attracts many experts in the field of medical care from France, England, Korea, Singapore, and the USA. The system of modern equipment and modern service for diagnosis, treatment, and intensive care are all concentrated in the same convenient and modern place.
Address: No. 97 Nguyen Thi Minh Khai St, District 1, Ho Chi Minh City
Columbia Asia International Clinic in Saigon
Founded in 1998, Columbia Asia International Clinic – Gia Dinh (the old name of Ho Chi Minh City) is located in the heart of Ho Chi Minh City's commercial center, the first privately owned hospital in Vietnam with 100% foreign invested capital. The 20 beds are set up to serve the daily needs of the patients from medical services, heavy care services, diagnostic services, surgical services, specialty and care services as well as customer cares. The international hospital brings patients advanced medical diagnosis, medical treatment, and personal care individual modern facilities.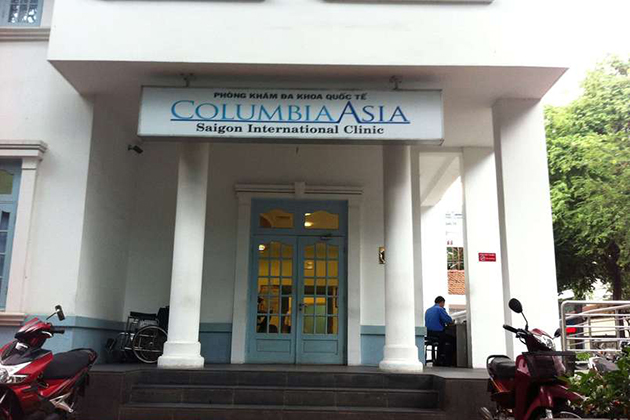 The Department of Surgery at Columbia Asia Clinic – Gia Dinh provides surgical procedures throughout the day and night. The Department performs gastrointestinal surgery, complex rectal aneurysm surgery, and other endoscopic surgical procedures. General ophthalmologists alongside other specialist doctors participate in caring for each patient in the diagnosis of disease and conducting timely surgical interventions for complex conditions.
Address: No. 8 Alexandre de Rhodes St, District 1