Laos is magical land which hides many secrets waiting for tourists to explore and admire. Here is a great mix of sightseeing, culture and adventure activities to do in Laos. Enjoy reading!
Explore the Sacred Temples
The first thing you should do when setting your foot on Laos is visiting many famous temples of this country such as Wat Xieng Thong which located in the old quarter of Luang Prabang. Locals often come to this temple to the monks at prayer. Visiting Wat Xieng Thong, you will be mesmerized by itS impressive architecture. Another highlight you cannot miss in Laos is the stunning Wat Phou. Taking a boat ride down Mekong River and head to Phu Kao mountain in Champasak to admire the beauty of Wat Phou and get the breathtaking mountain views.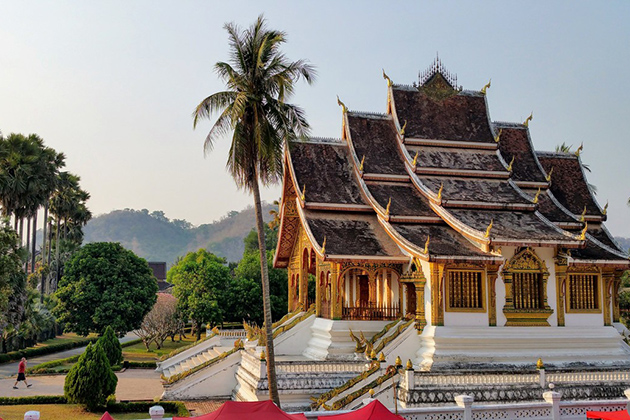 Experience the Alms Giving Ceremony of the Monks
If you are in Luang Prabang, you should get up early to witness the Alms Giving Ceremony right in the heart of the city. If you want to participate in the ceremony, you should prepare for an offering which can be the boxes of rice or biscuits. In case you don't, just sit back and watch in awe. The line of monks will walk through the streets lined receiving offerings from the local people. What the monks get from the people is their food for the day, however, they also give most of it to poor people sitting along the way. Because this is a sacred traditional ceremony, you should dress neatly and don't take pictures unless you ask permission.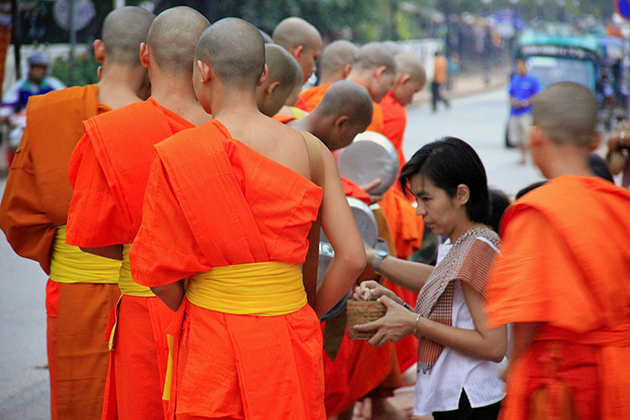 Go Hiking up Mount Phousi
Located between the Thanon Sisavangvong and the Thanon Phousi, Mount Phousi is an ideal destination for adventurous travelers. Climbing up over 300 steps to get the panoramic view of the city with River Mekong to the north, River Khan to its south and east, with all the temples, and surrounding landscape with the mountains has been marked favorite by tourists. Note that, you should go hiking up Mount Phousi in the early morning or the late afternoon to avoid the heat and appreciate the sunrise or sunset when the sky takes on different shades of yellow and red to blue or black. On the way, you can admire the Wat Tham Phousi shrine, featuring a huge-bellied Buddha nestling in a grotto. Do not forget to visit the golden Wat Chomsi, built in 1804 sits on top of Mount Phousi.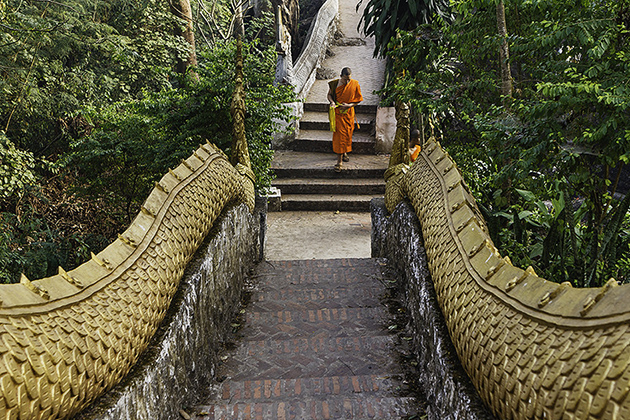 Kayak in Si Phan Don (4000 Islands)
Lying at the bottom tip of Laos where the Mekong River flows through Khone Waterfall before running down into Cambodia, Si Phan Don is a large archipelago which is known as 4000 Islands. This highlight is perfect to explore on a kayak venturing past deserted islands and swaying palm trees. Si Phan Don can be easily reached from Pakse, located about 145 kilometers North. Visiting Si Phan Don, you can relax in a hammock, indulge in many activities include kayaking down the Mekong river, swimming, and making a bicycle tour around the islands to see local village life, rice paddies, sugar cane, and coconut farms. The most visited islands are Don Khon, Don Det, and Don Khong, which is the largest island. Don Det island offers the most choice of accommodation, attracting a large number of backpackers. You also can admire many impressive cascading waterfalls like the Li Phi falls located on the North West corner of Don Khon and the Khone Phapheng falls. Do not skip the Khone Phapheng Falls – the largest waterfall by volume of South East Asia.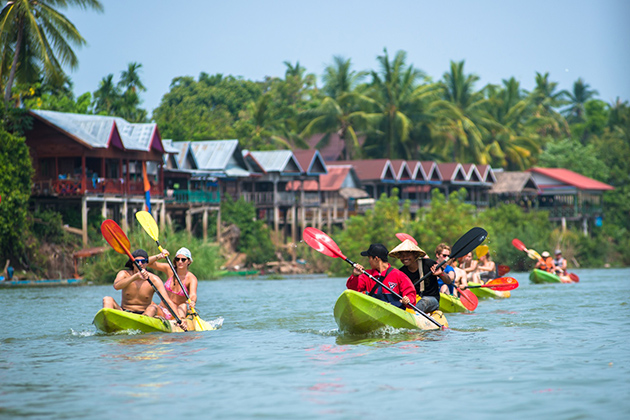 Discover the Plain of Jars
As the most distinctive and enigmatic of all Laos attractions, the Plain of Jars, the third UNESCO World Heritage Site in Laos, is a group of fields containing thousands of stone jars cut out from rock thousands of years ago. Visiting this mysterious archaeological site, you will find many giant heavy stone vessels are scattered over rice paddies and forests, yet no one knows why they were placed there. Dating back over thousands of years, the stones complete and utter mystery and are well worth exploring during any trip to Laos.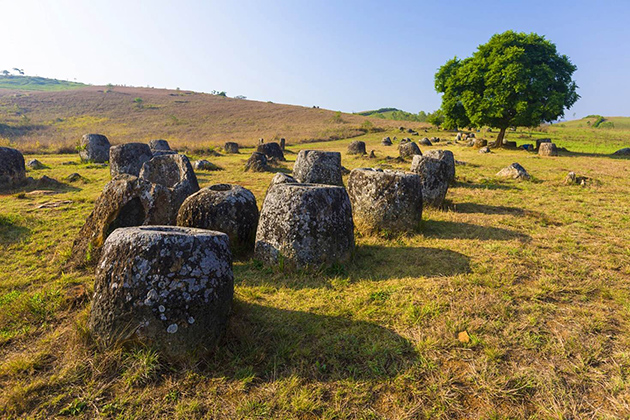 Eat & Shop at the Luang Prabang Night Market
Laos is a heaven where you can find anything you can imagine. Spending a couple of hours to wander around some winding streets and a local night market, you will be impressed with a ton of unique products sold every stall such as vivid handmade scarves, cute T-shirts, and more. Do not forget picking up something as souvenirs and gifts for your family members and friends. After shopping till you drop you can drop by a street-side coffee shop to sip a cup of tasty local coffee. If you are brave enough, you can try rice vodka which includes snakes.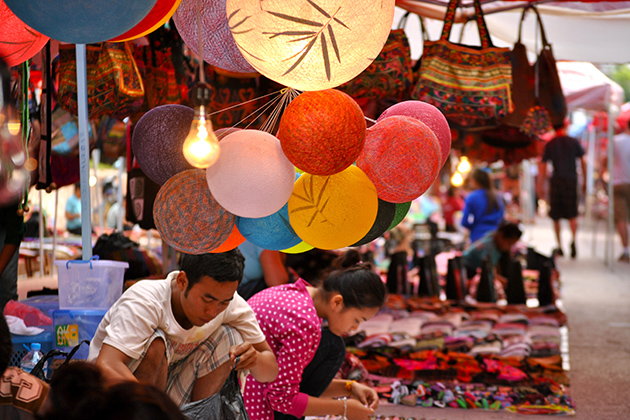 Venture through the Underground River Caves
Laos has a series of amazing caves for you to explore including the Kong Lor Cave which is a new attraction with stunning unspoiled beauty. To discover the mysteries of this cave, you should take a boat trip through the pitch black cave by flashlight before walking through lit passageways. Note that, Vang Vieng is the perfect option for cave lovers. Hire a mountain bike or a cycle and ride to explore the extremely beautiful Vang Vieng caves which are completely natural and undeveloped.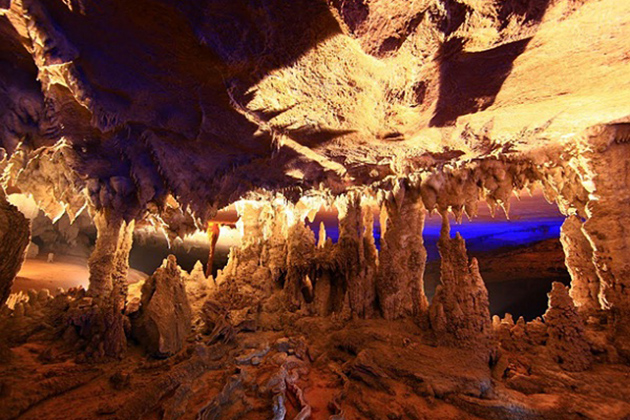 Tubing in Vang Vieng
Vang Vieng is an interesting destination you cannot miss in your Laos vacations. Visit Vang Vieng to get a ton of wonderful experiences such as hiking around the spectacular mountains, discovering magnificent caves and floating down the streams in inflatable tubes.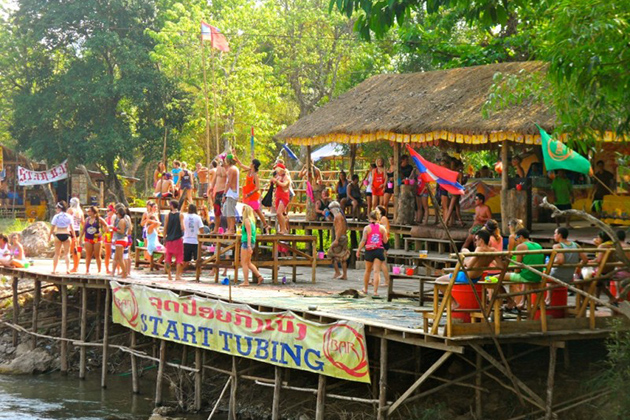 Relax with Laos Massage
After a day of exploring some stunning highlights of Laos, you should relax with the spa and massage services in Laos. This traditional treatment will provide your body a complete relaxation as well as help you to take rest after your hectic journey. These traditional massage services often cost around 50,000-65,000 kip for an hour and are available in many cities and with a wide range of spas, especially in Vientiane and Luang Prabang.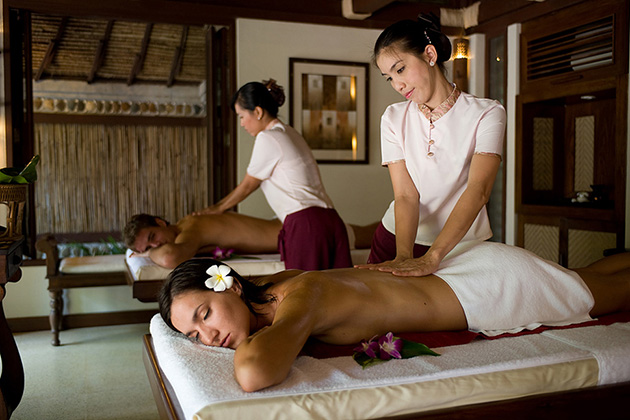 Take a Boat Trip in Mekong River
As the largest river in South East Asia, Mekong River flows through many nations. Thanks to the calm pace and gorgeous scenery, this river is perfect for a gentle boat trip. You can book your slow boat trip through a travel agency to enjoy the beautiful green scenery of Laos. Trust me, this boat journey gives you a different feeling and you can't forget this memory in your life.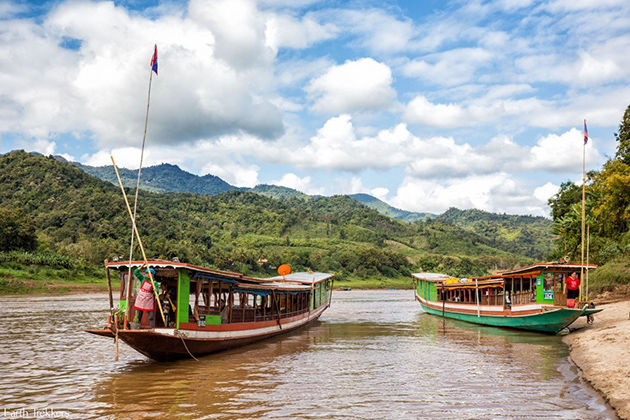 By the way, check out our website if you need more information about Indochina vacation packages!