The charm and poetic Hue endear itself to travelers. One of the most prominent Hue's is that its streets are lined with numerous fashion shops, souvenir shops, and art galleries. It is to say you can obtain the ultimate shopping experience here. There is no better way to sense the unique beauty of Vietnam's former capital imperial is to buy Vietnamese souvenirs. Here are the top recommended souvenirs shops in Hue that would meet your wants.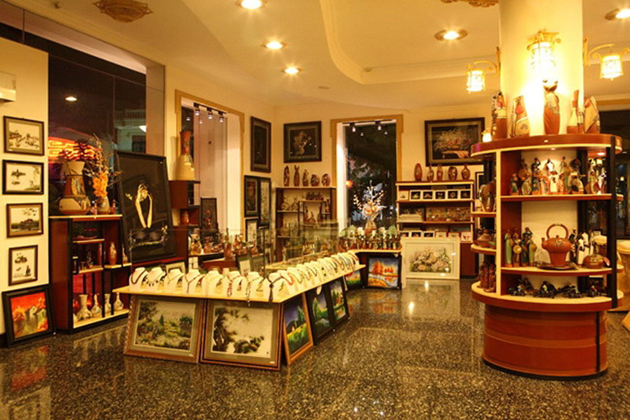 Dong Ba Lacquerware Store
Dong Ba lacquerware store is one of the most popular souvenir shops in Hue specializing in beautiful lacquerware as well as handicraft products.
Address: 47 Tran Hung Dao Street, Hue
Tel: +84 54 3522 359
Nguyen Phuc Long
Nguyen Phuc Long is an ideal place for those who are keen on beautiful painting, copper statues as well as a poster. Head to this already well-known shop and purchase some souvenirs for your family and friends.
Address: 8 Hung Vuong, Hue
Hue
Also located in Hung Vuong Street, Hue is another popular souvenir shop in the region alluring both domestic and overseas visitors. Come here and buy some amazing souvenirs.
Address: 7 Hung Vuong, Hue
Truong Tien
Located in the main street of Hue, Truong Tien is a favorite souvenir shop of both local and foreign visitors. Here, you can find a wide variety of lacquer and handicrafts and a number of nice Hue souvenirs. Buy some and carry home.
Address: 51 Tran Hung Dao Street, Hue
Huong Duong
Huong Duong souvenir shop is also a good place to buy great items ranging from handicrafts products to paintings.
Address: 59 Phan Dang Luu, Hue
Dong Ba Market
This Hue's most popular market is the home to a number of souvenir items. While wandering along the bank of Perfume River, take time to walk to Dong Ba Market to buy some lovely T-shirts and souvenirs items. All are at reasonable prices.
Address: Tran Hung Dao Street, Hue
Mai Anh Shop
Along Hung Vuong Street, there exist myriad little souvenir shops and the Mai Anh shop is one of them. The shop offers a wide collection of wonderful paintings and colorful and high-quality silk products. For sure, you will be spoilt your choice.
Address: 7 Hung Vuong, Hue
Trang Tien
Along with Truong Tien and Dong Ba lacquerware in Tran Hung Dao Street, Trang Tien contributes its name to the multicolor picture of souvenir shops of the region. Come here and purchase some souvenirs as well as lovely children's toys.
Address: 47 Tran Hung Dao, Hue
Tinh Hoa Art Shop
Tinh Hoa Art Shop, as its name depicts, is an amazing shop for buying souvenir items. It is such a wonderful shop offering a huge selection of uniquely beautiful products. When traveling to Hue, remember to drop a visit to buy meaningful souvenirs here.
Address: 6B, Vo Thi Sau, Hue
Tel: +84 54 3932 992
SnC Souvenir Shop
Another worth-visit shop is Snc Souvenir where you can buy great souvenir items.
Address: 70 Han Thuyen, Hue
Tel: 0123 612 0999