The Blue Pavilion
(Excerpt of Kieu's Story, Nguyen Du)
Poet: Nguyen Du
Kieu's family suffer sudden disaster so they arrange a hasty match for her. The husband, however, turns out to be an elaborately disguised pimp who hands her over to a brothel. Finding herself trapped in this horrible life, she attempts to kill herself, but is saved and subsequently held in solitary confinement in the Blue Pavilion.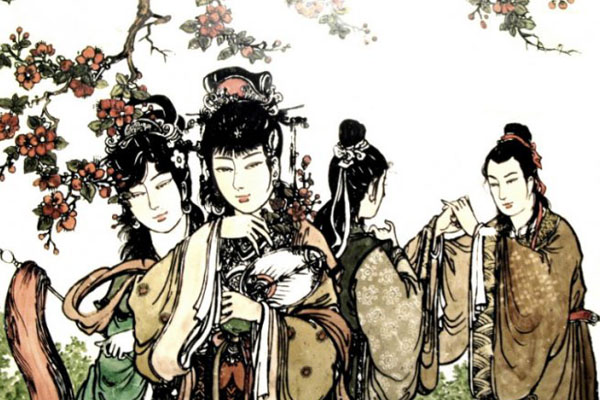 A prisoner now she must remain,
Locked in the Blue Pavilion and alone
In her young beauty. Only the distant mountains,
Though so far, she felt as friends, and the near moon
Watched at her window. All about, below around
The sand dunes, ochre tinged and barren, spread afar,
Dust from the roads blew a red restless mist.
Morning in the heavens piled bright clouds,
At night the lamp's lone fluttering flame danced in her eyes.
All that she saw, all that she thought and felt
Turned in confusion in her troubled heart
Where is he now who drank love's cup with me?
Day after day he waits for news of me
In vain, in that lost country, under the skies of home.
Love fresh, red and living in my heart still waits…
My cherished parents… How I remember them.
With pity!… morning and evening at the door, scanning the road
Anxious, without a hope. Who now will care,
On hot days to fan them or cover them from cold?
In the courtyard of my home how many times
Has the sun cast his blaze, has the rain wept?
And there the catalpa trees now growing old
Inert with sorrow at the fall of night she watched the waters far,
On the estuary the small sails came and went
Bearing who knows what travelers.
Grieving she watched the running of the tides.
Those tossed flowers on the waves; when will they rest?
Grieving she watched the grass withering on the dunes
Sky and earth met there in a green that was only dusk
Grieving she saw how the land-wind toss the waters of the bay
The clamorous waves came leaping to the walls of her lonely room.