Your trip to the northwest of Vietnam would not be complete without climbing Lung Cu peak which is Vietnam's northernmost point. There is a saying that 'Peace did not come without a price'. It is not exaggerate to claim that Vietnam is a heroic country going through a lot of changes filled with both glories and sufferings. Come to Lung Cu and head to Lung Cu peak and admire the Vietnamese national flag hanging up there proudly.
For centuries, Lung Cu – a commune in Dong Van district, the northern province of Ha Giang – is the home to Vietnam's several ethnic minorities living on growing maize – the main agricultural products here. Therefore, the region is also called 'Corn valley'. When mentioning Lung Cu, the image of the national flag waving proudly to demonstrate Vietnamese people's patriotism accompanied with national pride as well as the concerted effort of the whole country to protect the nation. Stop at Lung Cu, without delay, explore Lung Cu flag tower which best portrays the taste of the region and obtain ultimate experience.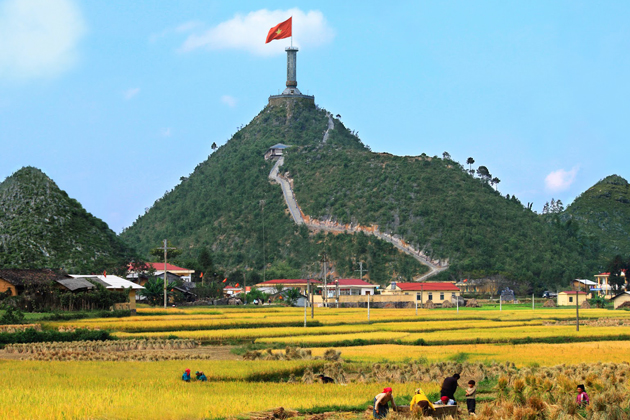 In order to reach its summit, you need to take a 389-stone-step and 140-iron-staircase-step walk. Here is where Lung Cu national flag tower locates with a height of 33.15 meters including a 9-meter-high and 6-meter-wide flag, obviously illustrating the multicolor picture of Vietnam's 54 ethnic groups living together at peace and declaring Vietnam's independence and sovereignty.
In all kind of weather, Lung Cu national flag waves on the summit of Lung Cu mountain to show Vietnam's will and great attempt to protect the nation from being attacked by foreign invaders. Stand on the peak, you can capture a panoramic view of the whole landscape surrounded by tranquil and peaceful rustic villages where local people inhabit.