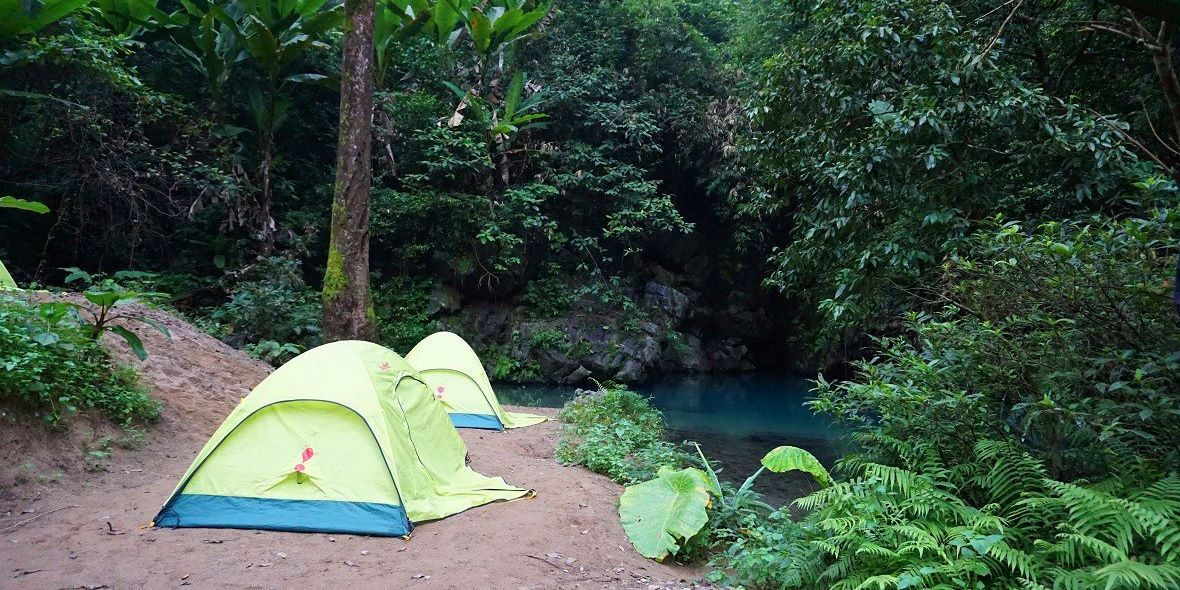 This trekking and night camping in Quang Binh will bring you special inspirations and feelings. The rewards for those who face challenges and difficulties in pristine nature are always amazing. Start your journey now!
Duration: 2 days 1 night
Date: Daily join-in-group tour
Tour Type: Trekking – Exploration – Night Camping
Tour Category: Quang Binh Tours
Depart: at Dong Hoi from 8.00 am/ Phong Nha from 9.00 am
Drop off: from 4.00 pm next day at your hotel
Hiking Grade: 4 or 5 – Moderate to Strenuous
Transportation: Van or car to trailhead depending on group size
Meals: Breakfasts (day 2), Picnic lunch (day 1) and lunch (day 2), BBQ dinner (day 1), fruit snack, purified drinking water. Please note one day in advance if you have special dietary/ vegetarian requirements.
Highlights of this tour
Please make sure that your health is suitable for these activities with ease.
12km jungle and mountain trekking
Elevation change up to 150m – 300m
Short swim inside the cave
800m caving
01-night camping in jungle and caves
Minimum Age: 10 years old
Group size: from 02 to 15 person
Please inform us of any medical conditions like asthma, epilepsy, etc.
Full Itinerary
Price & Inclusion
Photos
You will be subjected to a decent amount of trekking with 12km of jungle terrain covered and swimming. You will also explore the jungle exit of Dark cave, clambering over sharp rocks and experiencing complete 800m darkness in the depths of the cave.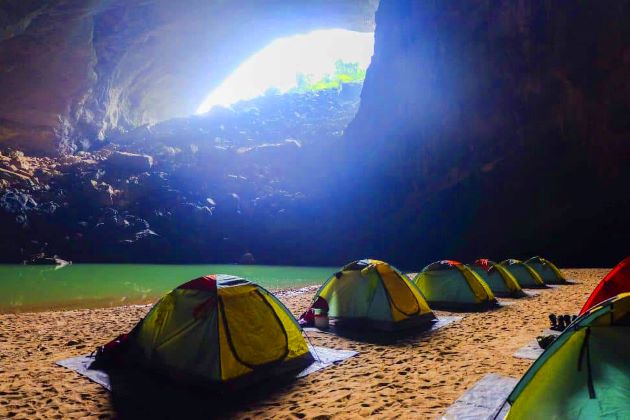 Once the day's adventures are over get ready for a night in the jungle at our amazing E Cave campsite located by a beautiful stream. You'll enjoy a delicious BBQ beside the campfire before turning in to the sounds of jungle critters and murmuring waters of the nearby stream. With climbing,
trekking, swimming through river caves, and camping in the jungle, will surely be a highlight of your Vietnam vacation.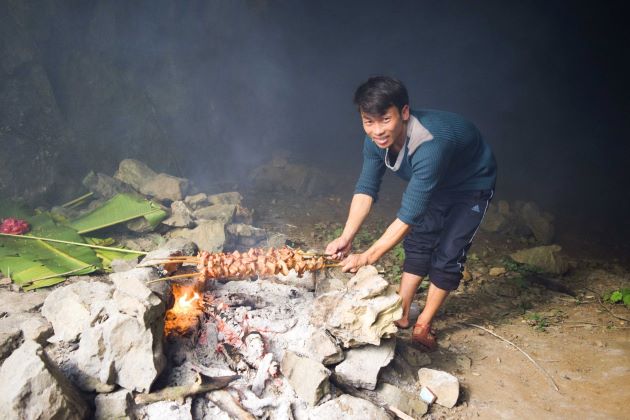 Day 1: Abandoned Valley Exploration & Camping
We will pick you up at your hotel in Dong Hoi City or Phong Nha town from 8.00 am – 9.00 am. At our Moc Nam headquarters, we will familiarize ourselves with the rules and regulations of the camping tour as well before we trek the way up to the first destination – E Cave. On the way there, we will trek through the jungle and have an opportunity to immerse ourselves among hundreds of massive trees, descend down narrow paths with shimmy around boulders and under low-hanging vines.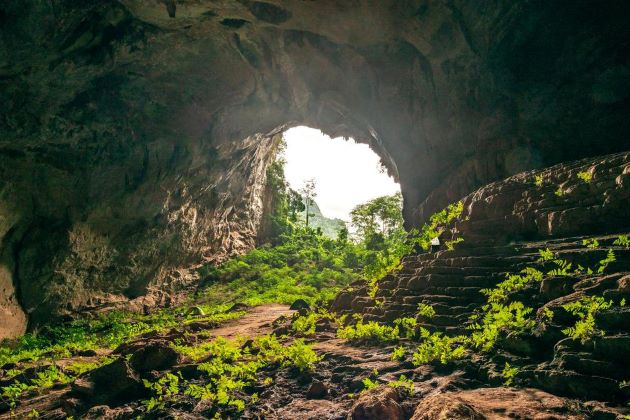 Feast on a picnic lunch which takes place shortly afterward at about 12.00 – 1.00 pm at E Cave (also called the Water Palace). You will have time to swim and enjoy a sweet cocktail in the cool crystal clear natural spring and explore E Cave with magnificent and beautiful landscapes. Swimming deep inside the cave, we will be amazed at the beauty of nature, the beauty, and the unique architecture of stalactites. Then, it is time to set up camp, enjoy BBQ beside the campfire, playing mini-games, and sleeping under the brilliant stars before retreating for tomorrow.
Day 2: Dark Cave Adventure
Waking up first thing in the morning, you will start your day with some trekking from E Cave to over to streams, head toward, and proceed with the adventure of Dark Cave. After a brief rest at the lookout spot, we spend the next hour exploring the jungle exit of Dark cave, clambering over sharp rocks and experiencing complete 800m darkness in the depths of the cave. The next couple of hours will be filled with your return trekking to Moc Nam Headquater and having lunch at Moc Nam Restaurant at 12.00 – 1.00 pm.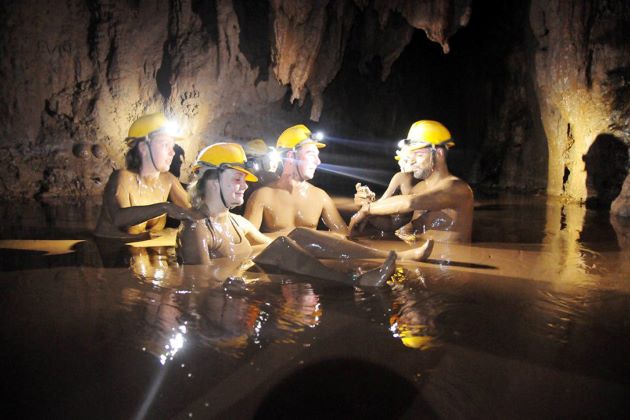 You will get back to the hotel around 3.00 pm – 4.00 pm. Your tour ends.
Inclusions
Pick-up & English speaking guide
Porter team to carry all camping gear and prepare all meals (as listed)
Camping gear: tent, camp light, sleeping bag, mattresses, pillow
Caving safety gear: caving helmet, caving headlight, gloves, life jacket.
Light PVC backpack (if you do not want to take your own, as it will get wet)
Semi-dry bag (for clothing and personal belongings excl. electronics) for inside the (light PVC) backpack
Basic canvas trekking boots (only if you do not have your own pair) sizes 36 – 46
Shared dry box for phones and small cameras (limited availability for larger cameras). A dry box is prepared in case of a high water level
First Aid Kit and Medical Rescue Equipment
All necessary forest and tourist permits
Secure Storage Facility at our Headquarters to store any luggage you will not be taking on the trek
You will need:
1 long pants (quick-dry) and 1 long-sleeved shirt (quick-dry) (highly recommend avoiding leeches and poison ivies)
1 pair of shorts and a t-shirt to wear at the campsite plus your swimsuit.
1 pair of trekking boots/shoes – difficult terrain, good footwear necessary. Gore-Tex/waterproof boots are NOT recommended as they do not drain well (if you prefer your own comfortable pair)
1 pair of flip flop (sandals) for a campsite
1 change of clothes for after the tour 2 – 3 pair of calf-length densely woven socks (not ankle socks)
Personal items: mosquito repellent, sunglasses, hat, waterproof camera, underwear, toiletries, sunscreen, towel and swimsuit (if desired), comfortable walking shoes such as sports shoes or hiking boots. Sandals are not recommended.