Moving from Hanoi to Ha Giang day tours and take the left turn at Tan Quang intersection to 60km, you will encounter Hoang Su Phi district – a wild paradise situated in western Ha Giang. The region was separated from the mainstream culture until recently. Though being one of the least touristic sites in Vietnam, Hoang Su Phi possesses unspoiled natural beauty and diverse local culture. If you are planning your Vietnam vacation, Hoang Su Phi might be an ideal attraction for your discovery in this S-shaped country.
Best Things to Do & See in Hoang Su Phi, Vietnam
First set your foot in Hoang Su Phi, you will be enchanted by the pristine natural landscape of the wild mountains and authentic tradition of ethnic minority groups.
Hoang Su Phi Rice Terraced Fields
Hoang Su Phi rice terraces are one of the most recommended attractions you should not miss in your trip to the region. Located at the average altitude of 800 meters above sea level and strongly separated by high mountains, rice terraces spreading extensively cross six stunning communes: Ban Luoc, San Sa Ho, Ban Phung, Ho Thau, Nam Ty, and Thong Nguyen, create a picturesque landscape across the district. The epic landscape shows the architecture of the rice fields created by man and nature over thousands of years. Visitors will be dazzled by the awe-inspiring beauty of smiling faces of local people and tiny traditional houses dotted on the immense fields.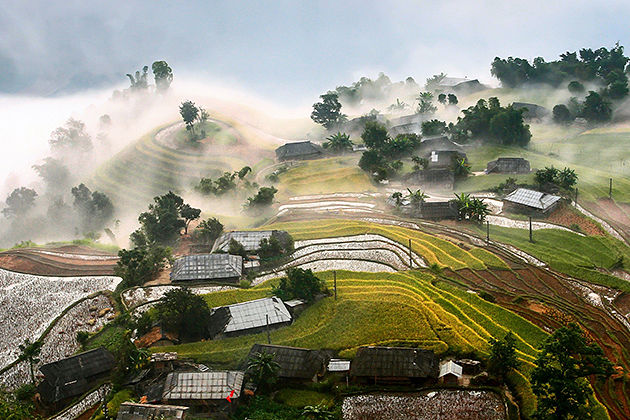 Chieu Lau Thi Peak
In Vietnamese, Chieu Lau Thi means "the nine steps of cloud" – the majestic mountain in Ho Thau commune, Hoang Su Phi. With the height of 2412 meters, Chieu Lau Thi is considered as the third highest mountain of Vietnam, after Fanxipan and Tay Con Linh peaks. Conquering the mountain will be a unique experience for every traveler. Admiring sunset from the peak is a rewarding moment after an exhausting walk. From the peak, the sky seems to be closer with so many low floating clouds to nurture the imagination.
Hoang Su Phi Trekking
Hoang Su Phi is one of the best places in Vietnam for trekking lovers. Throughout the districts, there are splendid miles surrounded by lush mountains that give you incredible trekking route. In trekking tours, you will have opportunities to experience a stunning landscape, meet interesting hill tribes, stay at homestays of ethnic people.
Hoang Su Phi Sunday Market
Once a week on Sunday morning, local people hold a traditional market which spreads along main street, a few kilometers long, at the center town of Vinh Quang. The market has played an import role in the idyllic life of ethnic people of the Mong, Dao, Tay, Nung and La Chi who are living on the Tay Con Linh Mountain Range. Besides functioning as a trading place, the market is the site in which people meet and chat with others.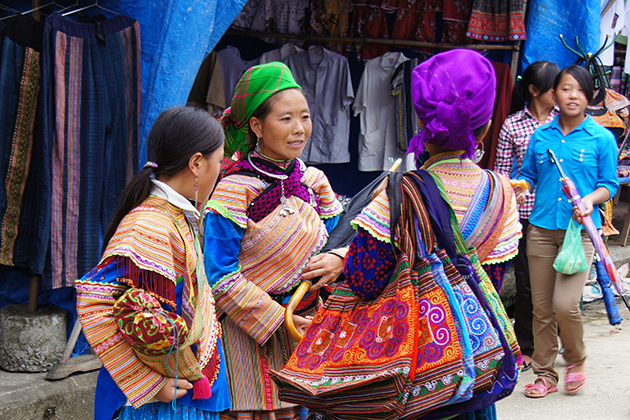 Hence, the weekly market in Hoang Su Phi still preserves many unique cultural features of a traditional market in mountainous areas. Ethnic people from remote hamlets leave their houses before the cock crows and pass over a long stretch of dozens of kilometers of mountainous roads to sell products vegetables, fruits and chickens which grown in the terraced fields or fetched from the forest. Hoang Su Phi market is a fascinating destination for those who want to learn about distinctive local cultures and customs of ethnic groups in the mountainous area of Ha Giang.
What to Eat in Hoang Su Phi
Hoang Su Phi is a district which belongs to Ha Giang province, so these people share the same some kinds of specialties.
Fried Stream Fish
Stream fishes are deep-fried in hot oil is a must-try dish in Hoang Su Phi. A dip made into fish sauce, a little chili, onion and lime juice, the crispy fish with its tasty flesh attracts all who visit. Accompanying the fish are coriander leaves and basil freshly picked from the garden.
Five-Color Sticky Rice
This unique dish in the Northern mountainous areas catches the eyes of visitors not only by its colorful garnish but also the flavor. Five vivid colors made from natural materials create a perfect masterpiece of sticky rice. Those ingredients are Gac to make the red color, local tree leaves to create green, pureed turmeric to generate yellow, and Sau leaves to make purple.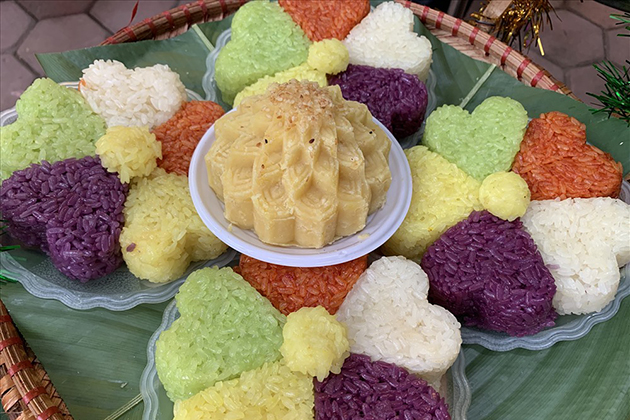 Firstly, glutinous rice is soaked in water for 8 hours. After that, people separate the rice into five parts and each of them is mixed with one color and steam for hours. It is an important dish of almost all ethnic groups in the mountainous regions of Northern Vietnam, especially on festivals or special occasions, women make this special and interesting cuisine.
Shan Tuyet Tea
100-year-old tea trees with moss all over their trunks are grown at a height of more than 2,000 m above the sea level. The tea leaves get wind and fog for four seasons, sprouting valuable leaves used for people's health. The region itself is full of extremely old tea trees although nobody knows exactly how old the oldest trees are. Green tea is kind of the lifeblood of the Northern region in Vietnam. It will be a cool experience if you have a talk over a cup of hot tea with locals and see how they process raw tea leaves.
Hoang Su Phi Travel Guide
Best Time to Travel to Hoang Su Phi
Visitors have chances to capture vivid pictures of rice terraced fields with color changed seasonally during the crop from June to October: the pouring water season in June and the autumn harvest in late September to early October.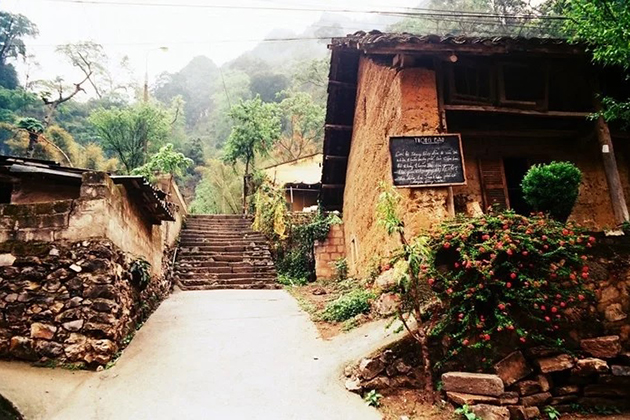 In June, people lead water from the top of mountains to terraces creating colossal mirrors that reflect the clear sky and drifting blue clouds.
Greenish paddy layers mixed with golden ripen rice layers in September and October make up a special magnificent beautiful picture that any visitor must give praise.
How to Get to Hoang Su Phi
By Motorbike
The most convenient way is to follow the National Highway 2 (Quoc lo 2) to Tan Quang Commune (Xa Tan Quang). Then turn onto the road DT177 and continue driving until you arrive Hoang Su Phi. The total distance from Tan Quang to Hoang Su Phi is 66 kilometers.
By Coach
From Hanoi
It often takes you 7 hours to reach Hoang Su Phi from Hanoi by buses. You are recommended to take a night sleeper bus at My Dinh Bus Station at No.20 Pham Hung, Hanoi to save your traveling time. There are a few companies operating their buses from Hanoi to Ha Giang and vice versa, the average bus fare ranges from 200,000 VND to 300,000 VND per person a turn.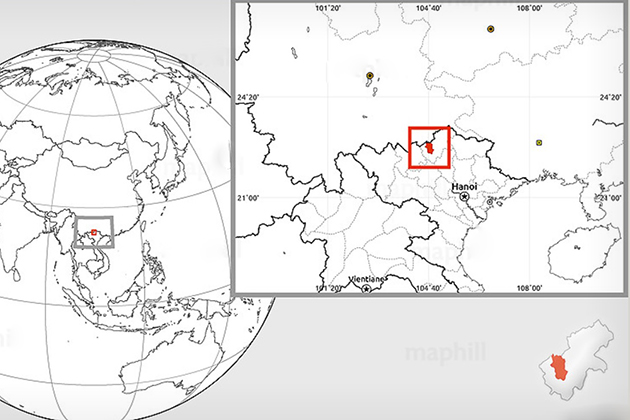 Hung Thanh Bus
Departure time: 9.00, 14.00, 20.30
Tel: 0243 9036 036
Hai Van Bus
Departure time: 21.00
Tel: 1900 6776
Cau Me Bus
Departure time: 7.30, 9.30, 21.00
Tel: 0946 445369
Ngoc Cuong (Limousine)
Departure time: 7.00, 11.00, 13.00, 16.00, 20.00, 21.00
Tel: 0904366279
On the way, ask the driver to let you get off at Nga ba Tan Quang ( Tan Quang T-junction). To reach Hoang Su Phi, you can take local buses, the ticket is 50,000 VND per person a turn. From Tan Quang, there are only two trips to Hoang Su Phi at 7 am and 1 pm every day. Hence you should arrange a reasonable plan so that you do not have to wait for too long.
From Lao Cai
If you want to take advantages of your Sapa tours to visit Hoang Su Phi, you can also easily move from Bac Ha, Lao Cai via Xin Man to Hoang Su Phi. Bear in mind that the road is a bit rugged and serpentine, so watch out your driving.
Hoang Su Phi Accommodations
The main type of accommodation in Hoang Su Phi are homestays of ethnic minority people. They run their house as homestays for visitors to admire the breathtaking sceneries of their homeland. Therefore, the price is very affordable. Below are beautiful places for your reference.
Ecolodge Panhou Village
Punahou Village set up houses inspired by the traditional local houses in the Tay garden. Twenty-three rooms including their private showroom are supplied by a solar panel system.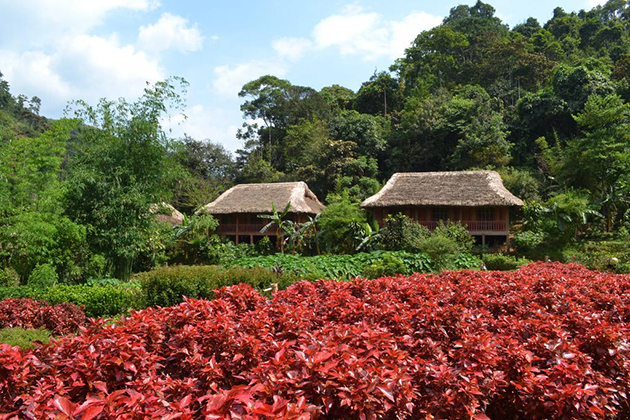 Add: Thong Nguyen, Hoang Su Phi
Tel: 0219 3833 535
Nam Soong Homestay
Owned by a couple of Tay ethnic group, this is a pretty and tiny house located between magnificent mountains. They can welcome 15 guests at once; further, the owner is a great chef who can serve delicious local food that you have never tasted.
Add: Nam Son, Hoang Su Phi
Tel: 0374 995 234
Chan Mui Homestay
This accommodation in Ho Thau commune is home to a Red Dao family who is extremely friendly, keep valuable local cultures and serve nice meals and beds. The view from is homestay to surrounding lush mountains is just incredible.
Add: Ho Thau, Hoang Su Phi
Tel: 0355 891 217
Canh Homestay
The passed-down house of Canh homestay lies romantically in the middle of an imposing landscape. In this place, you have the chance to enjoy pristine sceneries and get to know the life of Black Dao group with interesting customs.
Add: Ban Luoc, Hoang Su Phi
Tel: 0834 844 926