Nha Nhac – Vietnamese court music is the traditional art performance of dances and opera mostly used in important worshiping ceremonies, national court, and entertainment activities for Kings and Royal families. Nha Nhac or royal court music in Hue was recognized by UNESCO as the masterpiece of oral tradition and Cultural Intangible World Heritage in 2003. Vietnamese court music is an inheritance since the orchestras including many royal instruments appeared in the form of reliefs on the pedestal of the Ly pagoda from the 12th century to the last king of the Nguyen Dynasty in the mid-twentieth century.
History of Nha Nhac – Hue Royal Court Music
Nha Nhac in the period of Nguyen Lords
From the 30s of the 17th century, the great cultist Dao Duy Tu (1572 – 1634) was the author of a number of traditional songs, dances, and theatrical plays helped Lord Nguyen Phuc Nguyen (1623 – 1634) of Dang Trong (in southern Vietnam) set up a new music festival system. At the beginning of the 18th century, the court music of Dang Trong was quite complete, diverse, and attractive, according to the records and evaluation of Chinese monk Dai San, the guest of Lord Nguyen Phuc Chu (1692 – 1725) after his visit to Dang Trong and Phu Xuan (Capital of Dang Trong).
Nha Nhac in Nguyen Dynasty
Nha Nhac had its golden age in the 19th century, epically in the period of King Tu Duc (1841-1883). The Minh Khiem Theater built in 1864 was the place for Royal families as well as head officials enjoying immortal performances performed by outstanding artists.
However, when French took the control from Nguyen Kings in the 20th century, Vietnamese court music also gradually died off. 1942 is the last time Nguyen Dynasty let artists perform Nha Nhac publicly. In 1945, the last king of the Nguyen Dynasty resigned leading to the disbandment of Vietnamese court music.
Nha Nhac in the Period of Independence
Until the 1980s, Nha Nhac attracted its attention from the Ministry of Culture Vietnam and local authorities before returning to its renaissance in the 1990s. After that, Hue Court Music has been introduced widely to the masses.
The Features of Nha Nhac – Hue Royal Court Music
Types of Nha Nhac
Nowadays, Hue Court Music includes worshiping ritual music, court ritual music, court dance, chamber music and opera (royal classical opera or "Tuong"). However, in the period of establishment, it also had other different genres with the highlights of Giao Nhac used in the sacrifice ceremony to the Heaven and the Earth; Mieu Nhac used in worshipping ceremonies at the temples of meritorious ancestors of the Nguyen clan, Confucius, Nguyen Dynasty's literature doctors, national heroes; Ngu Tu Nhac used in Than Nong, Thanh Hoang, Xa Tac worshiping ceremonies; Dai Trieu Nhac used in great ceremonies or receptions of foreign ambassadors; Thuong Trieu Nhac used in ordinary court ceremonies; Yen Nhac used in great royal banquets; Cung Nhac (or Cung Trung Nhac) used inside the royal palaces.
Types of Dances in Nha Nhac
Hue Court Music also is various in dance performances. Currently, there are 11 types of court dances including Bat Dat (used in Giao, Mieu, Xa Tac, historical kings and Confucius worshipping ceremonies); Luc cung, Tam tinh, Bat tien, Dau Chien thang Phat, Tu Linh, Tam quoc Tay Du (used in Van tho – King's birthday, Thanh tho – birthday of King's mother, Tien tho – birthday of Hoang Thai Phi (the imperial concubine of King's late father) and the Mu – a Fairy or Guardian angel worshipping ceremonies); and Thien xuan (birthday of the prince); Trinh tuong tap khanh (used ceremonies for wealthy people and powerful country); Nu tuong xuat quan (used on the Days of Victory, Nguyen Dynasty's Enthroning Day, and at great night banquets and receptions of foreign ambassadors); Vu phien (devoted to the King's Mother, princesses at Royal weddings); Luc triet hoa ma dang (on Nguyen Dynasty's Enthroning Day).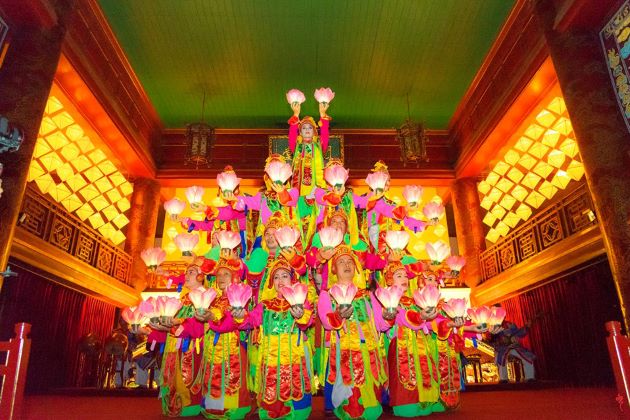 Types of Musical Instruments in Vietnamese Court Music
Depending on the types of royal rituals and entertainment, Nguyen Dynasty court orchestras have many kinds of instruments. They are Nha Nhac, Huyen nhac, Ti truc te nhac, Tieu nhac, Dai nhac, Co xuy dai nhac, Nhac thieu, Bat am, Ty chung, Ty khanh and Ty co, etc.
Nha Nhac – Vietnamese Court Music is the priceless heritage showing the long-established Vietnamese history which extremely needs the preservation of the community.