Land of temples is not only famous for mysterious, ancient Angkor Wat, Angkor Thom but also has the "holy place" Kulen of the ancient Khmer and legends around it. Located near the equator, therefore, the finest time to travel in Cambodia starts from November to April. At this time, the weather is fresh in Siem Reap and expedient for travelers and pilgrims to experience the grandeur of Mount Kulen National Park.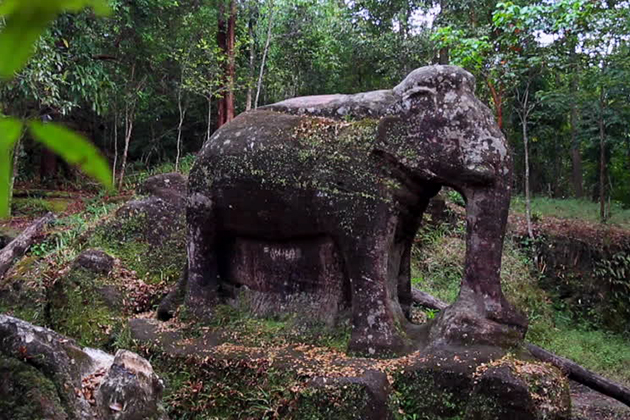 Far away 50 km toward the northeast of Angkor Wat and the beautiful town of Siem Reap with the height 300m, the Kulen mountain has become "holy ground" with the Cambodian. In the 9th century, the King Jayavarman II chose Kulen to become the first capital of the ancient Khmer empire starting splendid Angkor era. Therefore, there is nothing interesting than subdue the Kulen mountain by trekking through the primeval forest to enjoy the whole view of the ancient capital of Angkor from the Mahendara top and cool off in pristine water of Phnom Kulen waterfall.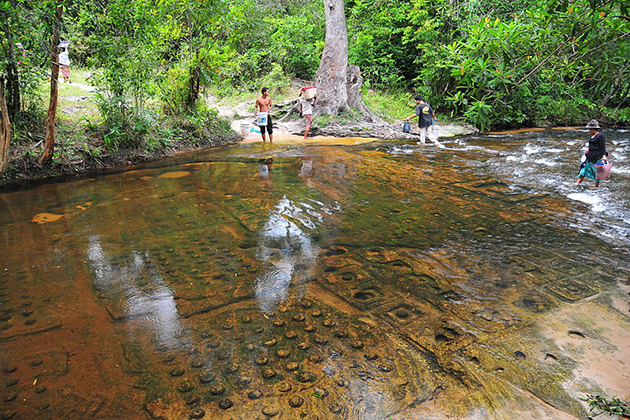 According to the documents recorded, there have 37 ancient temples, pagodas with thousands of years in the Kulen Mountains National Park, but more striking is the Paang Thom pagoda, also known as Big Buddha pagoda. From the big Buddha pagoda, weaving between the primeval tropical forest, through the rocky areas undulating, bumpy, visitors will discover a divine stream Linga or Stung Kbal Spean stream.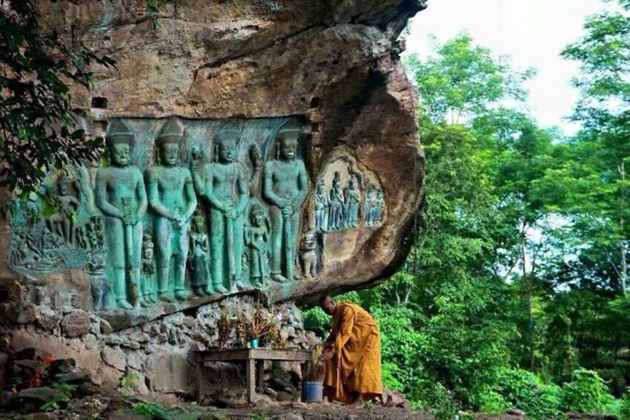 This stream has many beautiful waterfalls with cool crystal spring running through the woods, along with the steep winding trail. In 1054, the king Hashavarman III ordered to the dam and implemented a unique project, turning lapidary river-bed into a masterpiece of stone massive sculpture.
Thousands of Linga and Yoni statues with multiple sizes such as Deva gods, Apsara fairies carved into the rocks below the stream. The architectural and sculptural style is not only Hindus but also have the stamp of Buddhism. Many people respect the Linga and Yoni sit on praying for power to eliminate all the mistakes, embrace luck. Especially on holidays and moonlit nights, guests flock to the festival to dance or divide into small groups to the tower to pray.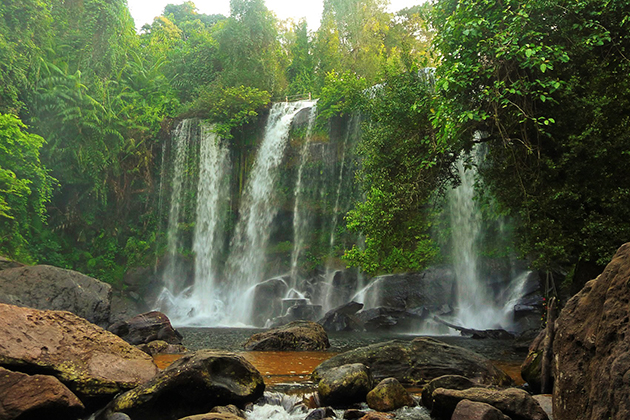 National Park Mount Kulen promises to be the destination of pilgrimage filled attractiveness with many mysteries to explore. Though thousands of years the Linga spring still can not erode the stone sculpture masterpieces but contrary to make them become more shimmering, mysterious.