Water Splash festival is one of the traditional cultural festivals of the Southeast Asian countries. The Laotians call Bunpimay, the Thais call Songkran, is Chol Chnam Thmey with the Cambodians and Thingyan in Myanmar.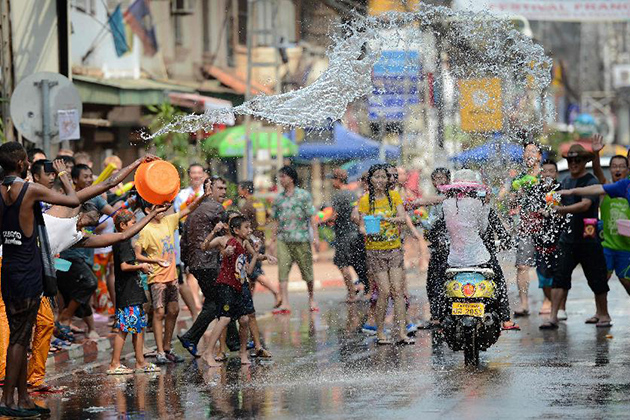 The festival means to bring the cool, prosperity for the universe, purifies the human life. In these days, people are splashing together to bless, pray for good weather, a prosperous and happy New Year. Festival in Laos is often referred to as the "Bun" meaning doing good to be blessed.
Tet Bunpimay usually involves in three days April 13, 14 and 15 annual Buddhist calendar.
The first day is also the last day of the old year, people clean in the whole house, prepare scented water and flowers. In the afternoon, villagers gather in a pagoda to sacrifice, listen to the monks preach, pray for health and happiness. After that they pick up a statue to the private compartment in three days and open for everyone can go bathing Buddha. Scented water after sprinkling to the Buddha statue will be caught to take home to anoint the body.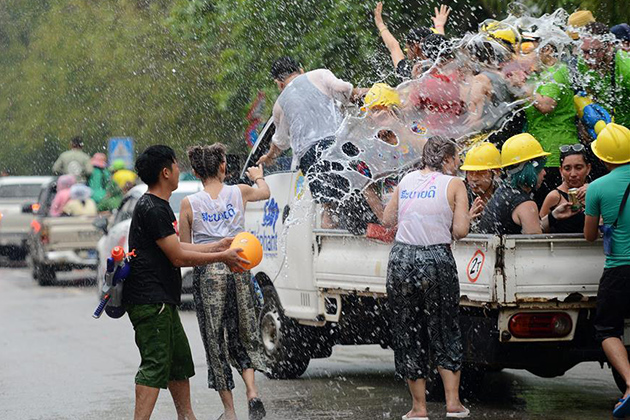 The second day is not counted because it is the moment of the transition between the old year and the New Year.
The third day is the last day with many jubilant activities in everywhere. Before participating in water – splashing battle, people always give the best wishes to the other. They do not just splash on the others but also on housing, worshiping, animal and production tools, the Laotian believe that water will wash away the bad things, illness and pray for New Year safe and sound. Who get wet more, will be happier.
They make towers by sand, decorate with flags, flowers, wire cloth and sprinkle scented water. In these days, people set free animals such as turtles, fish, crabs, birds to get blessed.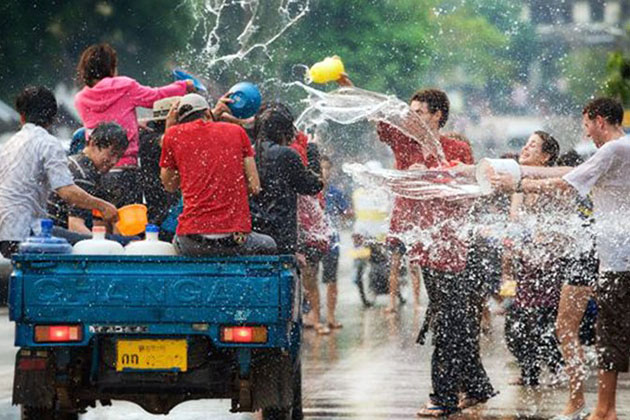 Water Splashing Festival is held across Laos, but the most fun is in Luang Prabang and Vang Vieng. In Luang Prabang, where has many temples and is a popular tourist area, the foreign guests enjoy the festive atmosphere with lots of exciting games.
During Tet, people liked to eat Laos with hot sticky. There are also a lot of delicacies for the gourmets as dried buffalo meat, roasted chicken and so on.
If go in Laos during the New Year's Day, you are ready to receive the blessing by water. The Laotians are very friendly, if you're driving or walking on the street, they will just throw water at the friend. Do not be angry, they do it to wish you a good health throughout life and think themselves to be healthy as well as you are.