Muong Hum Market convenes every Sundays from about 7 a.m to 2 p.m. which is the most animated days in Bat Xat – Lao Cai, 44km from Lao Cai city.
Muong Hum is located in a small valley, next to a crystal stream and surrounded by majestic mountains. This is the place where a number of tribal groups including Ha Nhi, H'Mong, Hoa, Giay, Dao Do, Dao Tuyen and Han meet, communicate, trade and entertain after an industriously working week. The market is always hustle and bustle and is crowded with different ethnic girls in colorful clothes, making a highland-identified fair.
The way leading to the market is quite dangerous because of many sloping passes but it also wins tourists favour due to the stunning terrace paddy field spreading all around the hills.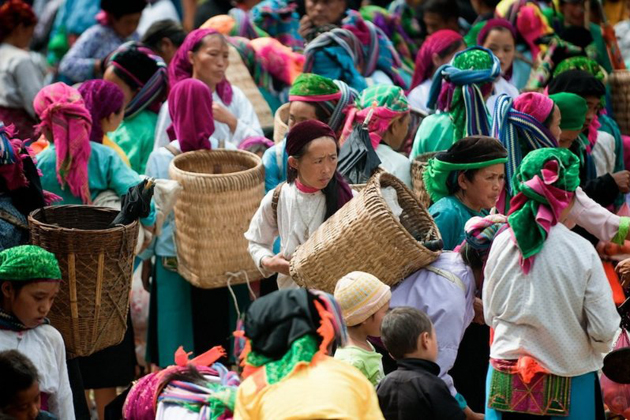 Muong Hum is always full of specialties provided to tourists. You can buy jungle vegetables, rare mushrooms, herbs, or small but exquisite gifts as souvenirs. Besides, you can also try all the special dishes right in the market to discover the cuisine of local people. "Thang co", barbecues, corn alcohol, apple alcohol or bamboo-tube rice, etc., all of these dishes will offer you a nutrient and indigenous-like meal.
In not-convened days, visitors will be charmed by the romantic and picture-like Muong Hum, but in fair days, the most eye-catching scene is the stream next to the market. On the bank of the stream, the herd of horses with colorful furs is waiting for their owners. The scene is even livelier when the horses sometimes neigh loudly.
In the noisy and populated market, visitors will be amazed by the stunning clothes of ethnic girls and boys. Those teenagers coming to the market is not only for trading but also for communicating, entertaining and dating; therefore, everyone make up like they are going to a festival.
Visiting Muong Hum, tourists can not only feel the beauty of nature but also witness the peaceful and lively life of local residents. And you will surely wish to come back here again.