Along with Long Xuyen City, Chau Doc is one of the two cities in An Giang province that is quite important in the economic development and tourism of the Mekong Delta. Sharing the border with Phnom Penh, Cambodia, Chau Doc becomes a vibrant city of trade, purchase, and transportation of Vietnam Cambodia vacation. Tourists on their Vietnam tour packages often spend some days exploring this interesting land specialized by Vietnam-Cambodia cultures, architecture, and spectacular sceneries in Mekong Delta.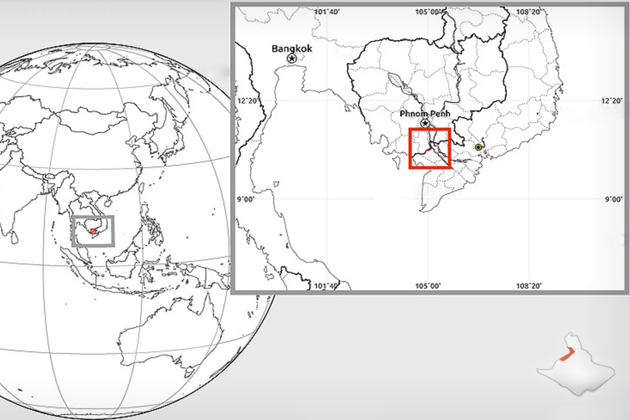 Top 6 Things to Do in Chau Doc Vietnam
Sam Mountain
With an area of about 280ha and moderate height of 241m, Sam mountain is a very popular tourist destination that anyone when visiting Chau Doc has to visit. The mountain is covered with shady trees all year round. In the summer, Sam mountain with the red color of flamboyant flowers nestled among the winding canals around. Sam Mountain is a gathering place for a system of ancient temples, pagodas, and interesting caves, creating a scenic, charming in the fertile plains.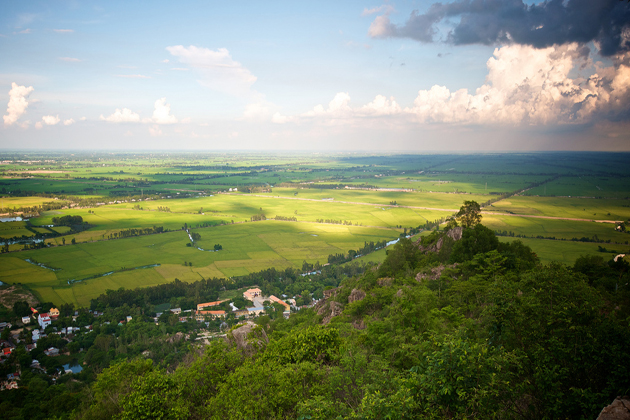 Ba Chua Xu Temple
The temple was built in 1820 at the foot of Sam Mountain to worship Ba Chua Xu (a local goddess). The local goddess is so scared that your wishes will come true if you offer incense to her. Therefore, in the festival held at Ba Chua Xu Temple from the 23rd to the 27th of April (Lunar calendar), a huge number of pilgrims flocks to the temple. There are 4 rites taken place during the ceremonies with a lot of cultural and traditional activities.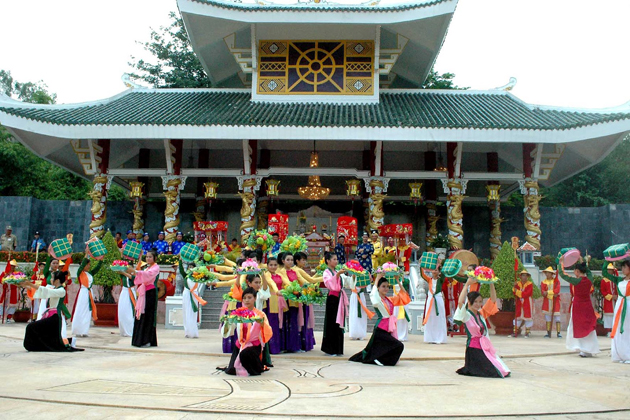 Chau Doc Floating Market
In Mekong Delta tours, visitors definitely must visit Chau Doc floating market with the unique ancient features of the An Giang river. For local people, they rarely use the phrase "Chau Doc floating market" but only familiar with the words "take a boat". These are short words to refer to the exchange, trading in Chau Doc floating market. Especially when coming to this market, the owner of the boat does not offer the goods by sales pitch, but by hanging the products, they plug the pole into the river and hang the product up so that the buyer can easily find what they are looking for. The most abundant and characterized in Chau Doc floating market is tropical garden fruit. You should remember to get up early to attend the market when it's most crowded between 6 – 7 am.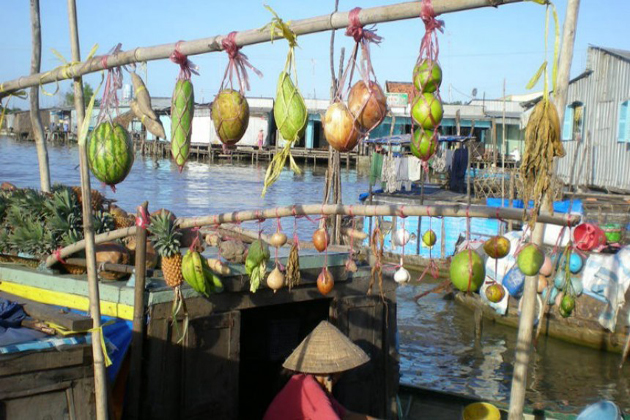 Chau Giang Cham Village
Chau Giang Cham Village is a famous village of the Cham community in An Giang province, not only attracted by the ethnic character but also by the cultural beauty of the land of gods. For those who want to learn about Cham ethnic culture and people, this must be the destination that cannot be ignored in their trip to Vietnam. Chau Giang Cham Village stands out with the unique architecture of its wooden stilt houses. The stilt houses here are usually small and made of precious wood which has very high durability. In front of the house, there is a wooden ladder and the entrance door is often lower than the guest's head, which implies that the guest must bow to the house and the host before entering.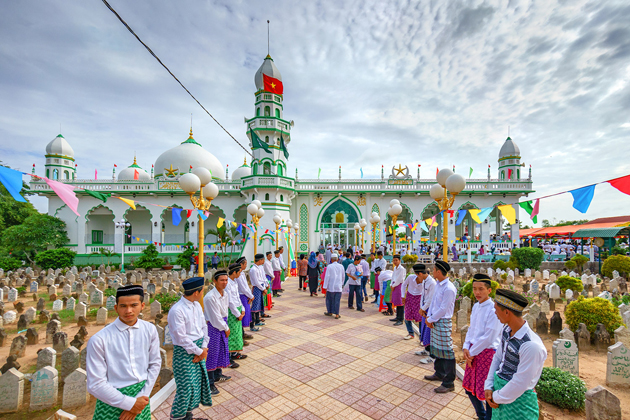 Most of the villagers are Muslim so the cathedral is also a destination bearing bold Cham character in Chau Giang Cham Village. After passing through Chau Giang ferry landing, visitors can visit the historic cathedral Mubarak, which is a high-value place that is prominent for these cultural beliefs.
Tra Su Indigo Forest
Referring to the Mekong River is referring to Melaleuca forests, and it would be a great omission if you missed the Tra Su indigo forest, a great ecotourism destination with many rare animals. What is better than having nothing to think, just drop yourself in the boat floating in the water stream and immerse under the shade of indigo. In Tra Su indigo forest, nature is like embracing the human heart by bringing the peace that you hardly find in the crowded city.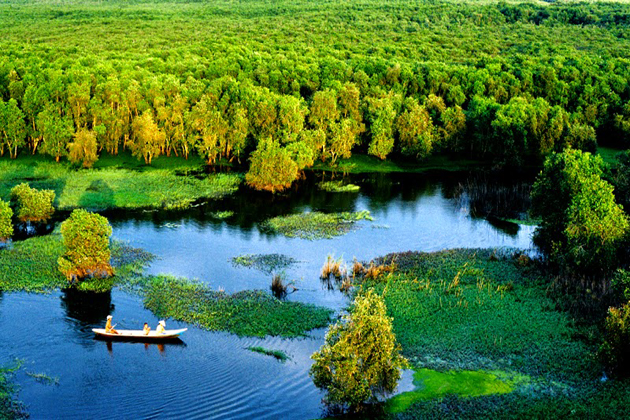 Cam Moutain (Forbidden Moutain)
Cam Mountain, also known as Thien Cam Son, is located in An Hao Commune, Tinh Bien district, with an altitude of about 710m above sea level. With a cool year-round climate, Cam Mountain is always covered by the green forests and countless blooming flowers. You can choose to spend a night at Cam Mountain to fully enjoy the peaceful silence and the cool breeze of the mountainous areas.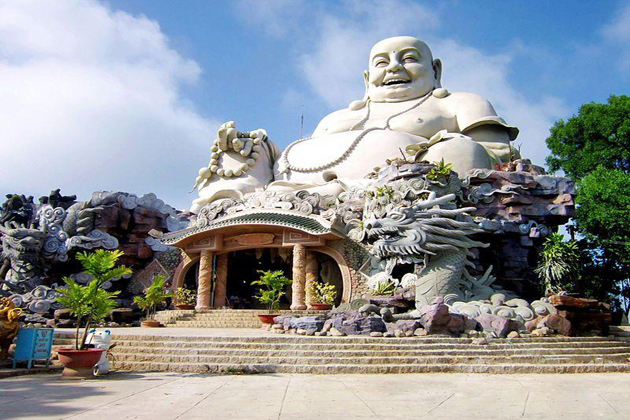 In addition, the mountain also owns religious architecture as big as Asia's largest Maitreya Buddha, Van Linh Pagoda,  or Large Buddhist Temple…
Chau Doc Travel Guides
Best Time to Travel Chau Doc
The harmonious weather makes Chau Doc be a favorite destination at any time of the year. May is the beginning of the rainy season. If you want to enjoy fully the life of the Mekong Delta areas, the time from August to November will be the most suitable time for the typical activities of the water season as Chau Doc floating market. However, if you want to reduce the risk of price increases then you should avoid the time of Tet because of the crowded population, which easily leads to higher prices.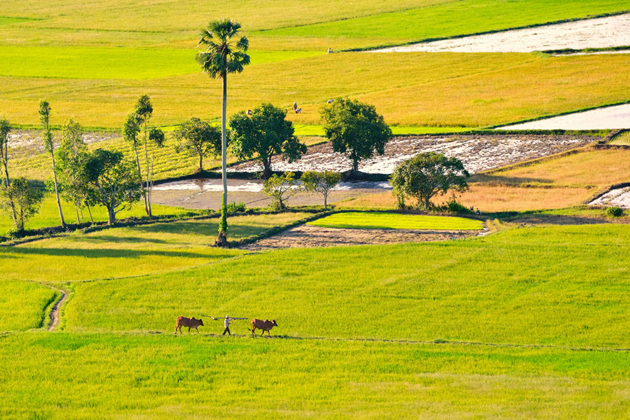 How to Get to Chau Doc
From Ho Chi Minh City, you will take about 6 hours to Chau Doc. There are many bus companies running this route, so it is very easy to buy tickets at Mien Tay Bus Station- 395 Kinh Duong Vuong Street, An Lac Ward Binh Tan Dist., Tel: (08) 38.752.953 – 38.776.594.
Some bus manufacturers for reference:
Phuong Trang bus: In TP. Ho Chi Minh City: 08 38333468. In Chau Doc: 076 3565333
Vĩnh An bus: in TP. Ho Chi Minh: 08 38369229. In Chau Doc: 076 3866495
Kim Kim Mai bus: In TP. Ho Chi Minh: 08 54052575. In Chau Doc: 076 3550900 – 076 3603888
Ticket prices from Ho Chi Minh City to Chau Doc range from 120,000 to 150,000 VND.
You can also rent a car from Ho Chi Minh City to Chau Doc if you go in a group.
From some provinces and cities such as Da Lat, Nha Trang, Phan Thiet, Vung Tau, Phan Rang, if visitors want to go to Chau Doc, they often have to pick up passenger cars from this place to Ho Chi Minh City then pick up the bus to Chau Doc.
From Da Nang, Hanoi: You can book an airplane ticket to Ho Chi Minh City, or take the train to Ho Chi Minh City, then take the car to Chau Doc.
What to Eat in Chau Doc
Chau Doc Snakehead Fish Noodles
Anyone who comes to the Mekong Delta can surely never forget the taste of snakehead fish noodles here, which are characteristic of Chau Doc. The sweetness of fresh snakehead fish, the delicious smell of noodles, and sesban flowers have made the bowl of western fish noodles so passionate.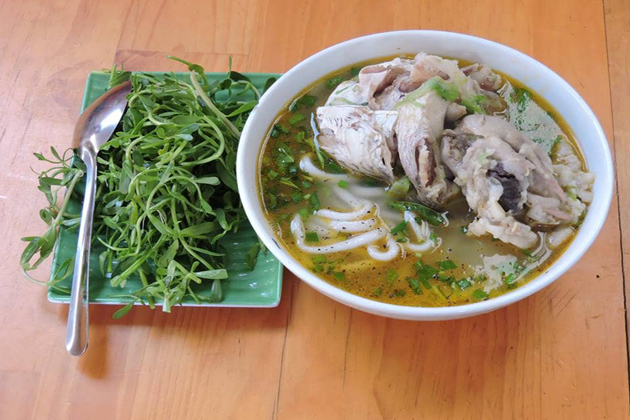 Banh Bo Thot Not (Sponge Cake With Toddy Palm Sugar)
Toddy Palm ( Thot Not) is a unique specialty of the Mekong Delta area, which is processed into many different extraordinary dishes. Western Vietnamese people choose the old Thot Not fruit to mash for water and mix with rice flour. In addition, the sugar uses in the sponge cake should be toddy palm sugar in order to make a dark yellow layer for the cake's coat. After steaming, Banh Bo Thot Not will be spongy and redolent of toddy palm sugar and coconut milk, which makes tourist cannot resist.
Seven Beef Dishes
Seven beef dishes of Sam Moutain include boiled beef, baked beef, mixed beef, beef porridge, fried beef, beef rattles, and beefsteak. The typical feature of making seven beef dishes is that the cook does not buy ready-to-eat meat at the market but does the whole live steer or calf.
Things to buy in Chau Doc
Mam
"Mam" is a kind of sauce made of fermented ingredients including fish or shrimp. Unlike the more familiar fish sauce, "mam" is powerfully pungent, similar to shrimp paste. Locals often eat "Mam" with rice, vegetables or use it to spice up some dishes. You should go to Chau Doc Market, the busy market with a variety of "mam" for you to choose.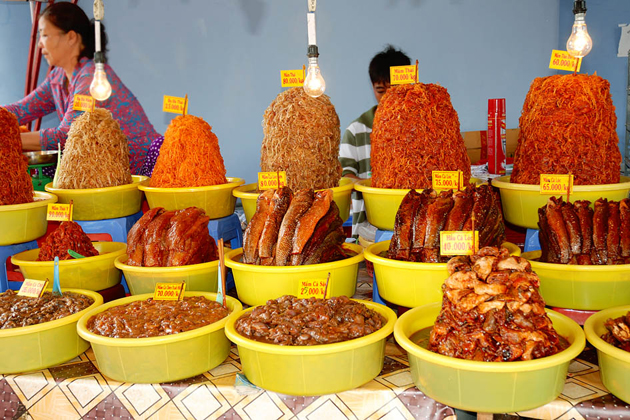 Toddy Palm Sugar
In the trip to Chau Doc, tourists should buy delicious Chau Doc toddy palm sugar as a special regional gift.
Tamarind and Rattan Fruit
In Chau Doc, tourists are easily "enchanted" by the fresh and delicious tamarind, which are sold everywhere. Along the roads to Chau Doc, visitors will encounter many fruit stalls selling rattan fruit (also known as Thai rattan), a rare fruit that is only popular in An Giang.
Chau Doc Hotels & Accommodation
Accommodation in Chau Doc is multiform with different types of prices depending on the needs of visitors. However, visitors should book early when going on peak occasions such as Lunar New Year to have reasonable prices.
Some recommended hotels in Chau Doc:
Victoria Nui Sam Lodge
Standard: 3*
Address: Vinh Dong 1, Sam Mountain, Chau Doc City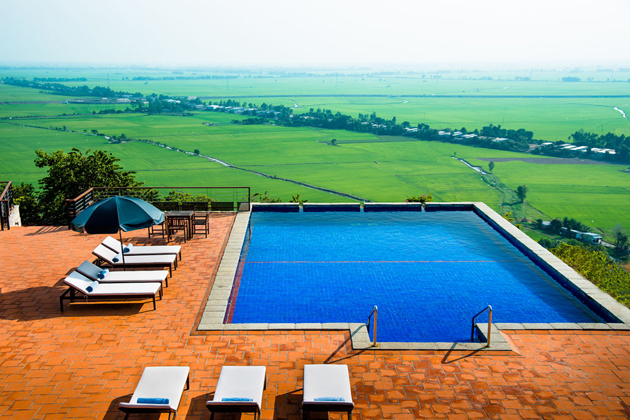 Victoria Chau Doc Hotel
Standard: 4*
Address: No. 1 Le Loi St, Chau Doc City