Best Things to Do & See in Cambodia Family Tours
Visit Religious Sites in Phnom Penh
Phnom Penh is the capital of Cambodia where the religions and beliefs of people are clearly revealed through plenty of sacred sites scattered along the city. The Royal Palace is the main attraction with gild roofs designed following the classic Khmer architecture style. Nearby, the Silver Pagoda is well-known for its 90-kilograms solid Emerald Buddha statue sparkling by over 9000 diamonds.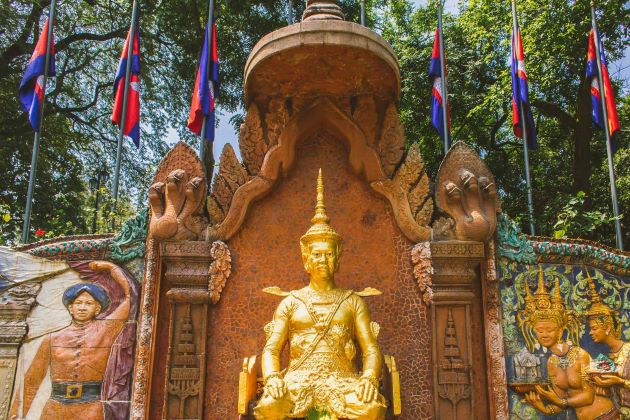 Discover the Nature in Mondulkiri
This place is blessed by the Mother of Nature with beautiful sceneries created by lush green mountains, thick tropical forests, spectacular waterfalls, and grassy rolling hills. Due to its lack of tourism development, Mondulkiri can be heaven for those who want to sample off the beaten life with the rich ecosystem and rustic atmosphere. Spend a few days stay in hand-built wooden houses to learn about the tribe lifestyle of ethnic minorities, have real experience in planting rice, fruit trees, vegetables and then collect fresh strawberries, coffee, and cashew nuts. After having a delicious dinner, enjoy an exciting night with folk songs performed by local people.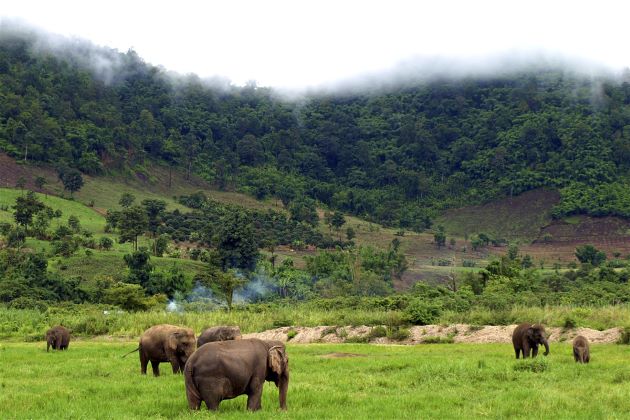 Treasure Hunting in Angkor Wat Complex
Be printed in the national flag of Cambodia, the Angkor Wat is the most attractive destination in any Cambodia tours and tour packages. This place is a complex of temples and pagodas included Angkor Wat, Bayon, Ta Prohm, Angkor Thom and more. The Angkor Wat Temple was formerly built for expressing the wealth and power of the old Khmer empire with the images of Khmer's daily life and Saints carved into the bas-reliefs. With the different designs, the feature of Bayon Temple is huge smiling faces which are told to be the combination of the King and Buddha carved into the rock. While the other temples are marked with their man-made design, Ta Prohm hiding in the jungle has its own special blessed from nature - massive tree roots engulf the ruins. Then head to the temple of Banteay Srei, or known as the temple of women. With the main material is pink sandstone and several delicate statues, this temple is considered as a jewel in the ancient Khmer art.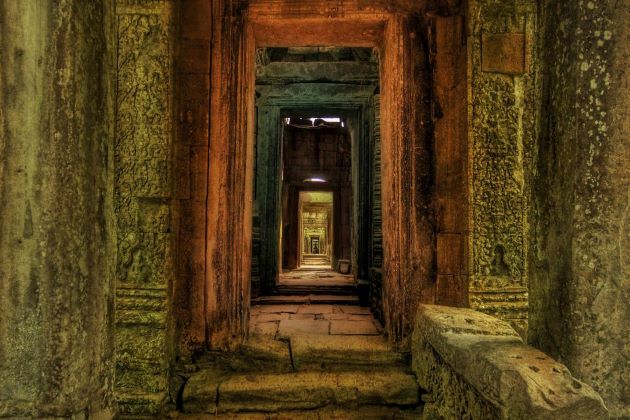 Floating Market in Tonle Sap Lake
Angkor Wat may be the most, but not the only attractive destination to visit in Cambodia tours to Siem Reap. Tonle Sap Lake is special with many floating villages such as Kampong Phluk and Kampong Khleang. The Kampong Phluk is mainly full of stilted houses. Due to the mangrove, almost all the villager's work is catching fish and shrimp, and farming crops in the dry season. Another village is Kampong Khleang which is the furthest from Siem Reap, but also the most suitable for those who want a pure experience. The village has both stilted, floating houses, and buildings provide the chance to hop on a tuk-tuk around the village land or ride a boat to explore the mangrove ecosystem. Moreover, different than other villages, Kampong Khleang's tourism service is owned and run by locals, which means that your money is total spending for supporting the village community.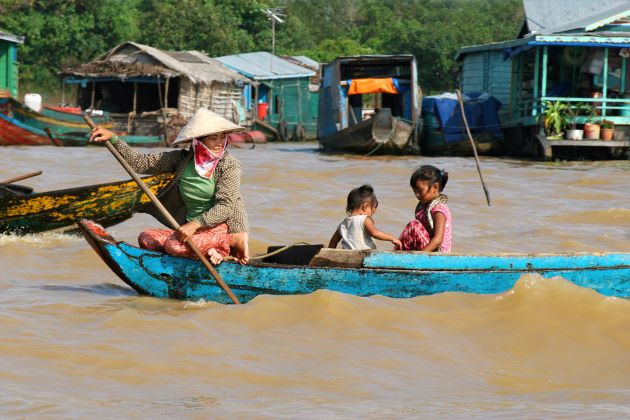 Explore the Beaches of Kep
Kep beaches maybe not exactly what you imaged, but it is probably a new experience who is too boring with the usual stunning white-sand beach. Koh Tonsay Island is surrounded by flotsam beaches with chickens and wandering cows walking like their own playground. Enjoy the spectacular scenery showing the beauty of nature by lines after lines of coconut trees on the banks of fresh swallow water. Another activity when hop on a Kep itinerary is visiting Kep National Park. Trekking along the trails, immersed in the thick tropical forest, and enjoy the fresh clean air that you can't see in any bustling city.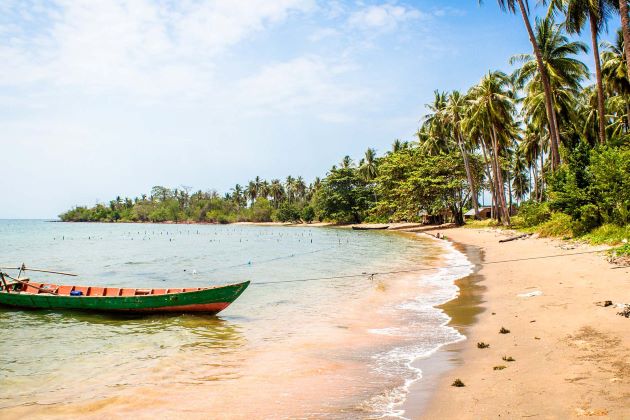 Guide for Family Travel with Kids in Cambodia
Prepare your Luggage
Cambodia is an authentic land, but that does not mean there is no modern technology or advanced facilities here. Don't worry too much, you don't need to bring all the things in your house before hop on a Cambodia vacation or tour. However, there are some important things you should put into your luggage, especially travel documents such as passport, visas, travel insurance certificate, air tickets, and tour voucher. Visitors from Laos, Malaysia, Philippines, Singapore, Vietnam, Thailand, Indonesia, Brunei, and Myanmar do not need a tourist visa and can have 21 or 30 days staying varies by country. Make sure that you bring 2 passport photos. You should purchase a number of Cambodia Riel for convenient, and credit card for more money to enjoy a comfortable vacation. You should prepare some kinds of medicine in case of injuring or catching a fever. Cambodia has a tropical climate is the reason for comfortable and cool clothes are recommended. However, the country has lots of mosquitoes, so long pants and shirts covering shoulder are needed if your tour included a visit to the jungle, forest or national park. To capture beautiful sceneries of a featured land in Indochina, a camera or a good mobile phone can't be forgotten. Remember to prepare some favorite snacks for your children.
Notice the Tropical Climate
The tropical climate is the quaintest type of climate that exists. In Cambodia, the weather patterns surprisingly change varies from place to place. You should learn about the weather of Cambodia for choosing the most suitable time to worth a visit. The peak time to visit this country is the cool season from November to February that is warm enough to enjoy the country highlights. This time in Cambodia is completely not cold, you can admire people wearing short clothes stroll along the streets. Otherwise, the hot season from March to May is suited with tours to religious sites when the temperature is average 34°C. Witness these ancient Khmer masterpieces in the sunshine is a wonderful experience, and taking photos with the stunning light is always the best condition for any memorial family photo. If you love sunbathing, move to Koh Tonsay Island in Kep, or Sihanoukville for an interesting beach vacation. Finally, the rainy season from July to October is only for a visit to several floating villages in Tonle Sap Lake. You can hop on a boat cruise to explore the mangrove ecosystem.
Clarify Exactly Your Family Need
The country can be a huge complex that you can easily choose where to go and what to do. All you need to find out is what your family exactly needs, and remember to notice your children's suggestion. Cambodia is a country with several religious sites, especially Angkor Wat which is printed in the national flag. A tour to visit sacred temples is a good idea for learning about the traditional old Khmer culture. In case your kids may feel boring with a day only rolling in a strange religion, a cyclo sightseeing tours through several popular sites in the urban area is an interesting experience. Listen to the harmony of wind blowing, and witness the beautiful creature following Khmer architecture and conventionality. Not only the mainland, but the beaches of Cambodia can also bring a new image for those who too boring with usual sparkling white-sand beaches. Seaside towns in Cambodia are biodiversity with the beaches lined up by coconut trees and animals scattering on the sand. Nearby, the National Park is well-known for its wild jungle with plenty of animal species.
Choose the Suitable Tour Operator
A good tour operator is really important for all Cambodia or even Indochina tours and vacations. They will provide lots of useful information and tips in every sector such as weather, money, places to go, things to do and food to eat. A good travel firm will take care of every customer, share travel advice and design a variety of perfect itineraries which save your time and money. Viet Vision Travel is a good idea to create an unforgettable Cambodia tour and vacation package.