You will be able to take delicious Lao flavours home with you after attending a tasty, aromatic and healthy Luang Prabang cooking class. Attend a whole day class, or for those with less time, evening classes are available. Have fun learning more about Lao cuisine and surprising your family and friends when you cook your favorite dishes at home. Learn how to cook spicy Lao papaya salad with our experienced local chefs.
Duration: 7 days
Date: No fixed departure dates. You may go whenever you wish.
Start/End: Vientiane/Luang Prabang
Tour type: Classic
Tour Customizable: Absolutely! (Tell us your specific requirements in the inquiry form)
BRIEF ITINERARY
Day 1: Arrival – Vientiane
Day 2: Vientiane – Luang Prabang – Half day city tour
Day 3: Luang Prabang – Cooking Class
Day 4: Luang Prabang – Elephant Village + Kuang Si Fall
Day 5: Luang Prabang – Ethnology Centre – Ock Pop Tok
Day 6: Luang Prabang – Living Land Farm
Day 7: Luang Prabang – Departure
Day 1: Arrival – Vientiane
Upon arrival at Wattay International Airport, you will be met by your local guide and transferred to your hotel.
If time permitting (depending on your arrival time) your half day city tour enables you to see the major temples of Vientiane including the oldest, WatSisaket, with it's thousands of miniature Buddha statues, and the former royal temple of WatPrakeo, which housed the famous Emerald Buddha Image. We also visit the National icon of Laos, That Luang Stupa, stopping along the way to take some pictures of the imposing Patuxay Monument, which is Vientiane's own Arc de Triumph. Overnight in Vientiane.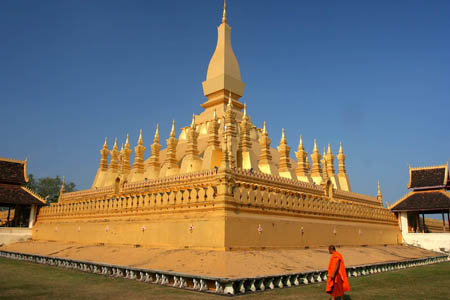 Day 2: Vientiane – Luang Prabang – Half day city tour (B )
This morning you will be transferred to Wattay Airport for your flight to Luang Prabang. On arrival, you will be met by your Local Guide and transferred to your hotel. We will give you time to rest and freshen up before we head off on bicycles to see some of the highlights of Luang Prabang including a visit to the Royal Palace Museum, which hosts the city's oldest temples, the magnificent Wat Xiengthong with its roof sweeping low to the ground, representing classical Lao architecture, the impressive stupa of WatVisoun and the shrine of Wat Aham.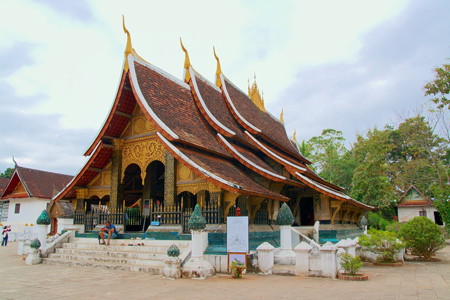 We end the day by climbing up Mount Phousi to explore the sacred gilded stupa and to enjoy the panoramic view of the city and the sun setting over the Mekong River. Descenting the mountain your will be in the midst of the famous Luang Prabang Night Market, where you can find a unique selection of handmade textiles and handicrafts locally made by both ethnic Lao and hill tribe people surrounding Luang Prabang. Overnight in LuangPrabang .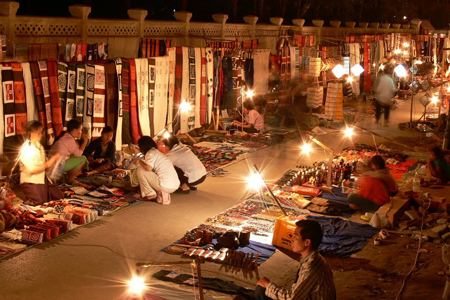 Day 3: Luang Prabang – Cooking Class (B, L,D )
Optional:This morning you have the option and opportunity to rise early and participate in the daily morning ritual of 'Alms Giving', you will experience saffron-clad monks collecting offerings or 'Alms' from faithful local residents. This tradition is unique to Laos, being the only Buddhist nation still preserving the daily procession.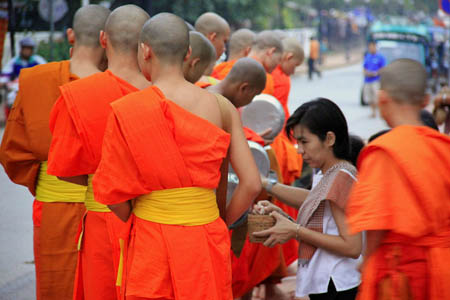 Following breakfast at your hotel you will embark on a full day cooking class by starting at the local market where your chef will explain the different herbs and spices used in Lao cooking and purchase ingredients for today's dishes. From the market you will head out to Tamarind Gardens Cooking School set out of town amongst fish ponds and tropical gardens.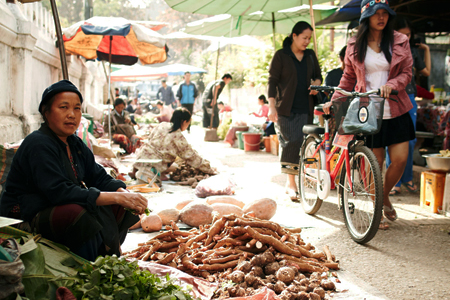 Your menu today will include:
• Varieties of jeow: the fundamental Lao spicy dipping sauces
• Mok Pa, a popular dish of fish steamed with herbs in banana leaves
• Tamarind's speciality: lemongrass stuffed with chicken & herbs
• Orlarm, Luang Prabang's eggplant based speciality: delicious & unusual
• Dessert course: a surprise!
• And of course you'll learn the art of perfecting sticky rice and its eating etiquette.
Following the class, and with full stomachs, we will head back to town where you will have the option of joining a Sunset Cruise (Nava Mekong) on the Mekong River, taking a Spa Treatment or a Massageor just relaxing at your hotel. Overnight in LuangPrabang .
Day 4: Luang Prabang – Elephant Village + Kuang Si Fall (B, L )
This morning we head to Elephant Village approximately 45 minutes' drive out of Luang Prabang, to experience elephant riding through the teak forests and along the riverside. These elephants were once employed in the logging industry but now enjoy a much easier life in the village.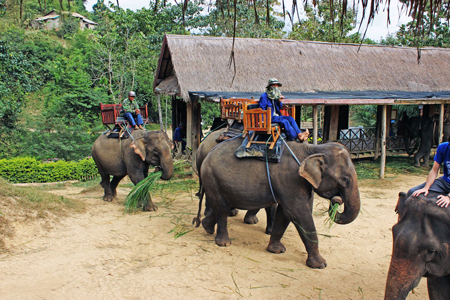 From the Elephant Village we drive on to the stunning Kuang Si Falls where you will have the opportunity to cool off with a refreshing swim in the topaz pools below the falls, walk along the forest trails and visit the Bear Sanctuary, home to Asiatic Bears rescued from poachers in the forests of northern Laos. Returning to Luang Prabang late afternoon you have the evening free to explore the night market, dine in one of the many restaurants in town or relax at the hotel. Overnight in Luang Prabang.
Day 5: Luang Prabang – Ethnology Centre – Ock Pop Tok (B,L )
Today is a day for the culture and handicrafts enthusiasts, beginning with a visit to The Art and Ethnology Centre to learn about the culture and history of some of the diverse ethnic groups that make up the rich tapestry of the population of Laos. The Centre also have a shop where you can purchase quality gifts and soveniors and a café where you can enjoy a morning coffee and cake. Next we move to the Ock Pop TokLiving Crafts Centre & Shop, where you can see the silk weaving process in action and purchase some exquisite examples of traditional Lao textiles. The Centre also has a restaurant where you can enjoy traditional and fusion dishes with the gentle melody of weaving looms humming in the background.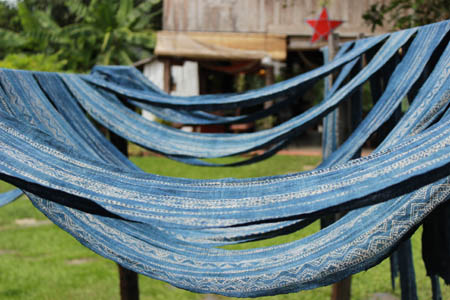 We will end our culture and handicrafts day at Yen Sabai Book and Arts Centre where you have the opportunity to participate into a traditional Paper Stenciling class (only available Monday – Friday). Using traditional stenciling tools and patterns for the murals at Wat Xiengthong you will create your own paper stencil as a reminder of your visit to Luang Prabang.
Returning to the hotel. Free at leisure. Overnight Luang Prabang .
Day 6: Luang Prabang – Living Land Farm( B, L )
This morning we head out to Living Land Farm, a working community farm aprroximately 5kms outside the town. There you will learn all about the rice growing process and have an opportunity to participate in seasonal farm activities such as identifying viable rice seeds, ploughing with a buffalo, hand planting, weeding and harvesting rice and threshing rice seed.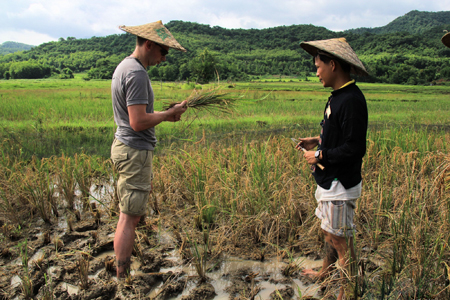 You may be picking vegatables form the organic garden or catching fish to cook for your all natural, organic lunch where there will be a variety of local rice products for you to sample.
We will return to Luang Prabang late afternoon and will have the option to go to a local petangue game and enjoy a few Beer Laos, experience a spa treatment or massage or just relax at the hotel. Overnight in Luang Prabang .
Optional quotation:petangue game and spa treatment or massage
Day 7: Luang Prabang – Departure ( B )
After breakfast, you are free until transfer to the airport catching your departure flight. Trip end.