Halong Bay Tours, Day Trips & Cruise Tours from Hanoi
Located in the North East of Vietnam, Halong City is 175 km by road (the journey direct from Hanoi to Halong Bay takes about 3 hours) to reach Bai Chay, Halong's main port. There are no special attractions to be found here – the dockside is dilapidated and grubby with dust from decades of coal shipments - but to the south of the ferry pier, in the lee of a limestone outcrop named Nui Bai Tho or 'Poem Mountain', is a picturesque fishing village. If you visit Vietnam, Halong is a must-see site in your Vietnam vacation, stroll through the village, taking note of the poems in praise of the beauty of Halong Bay, carved into the rocky face of Nui Bai Tho over the centuries.
Tour Route: Hanoi - Halong Bay - 15-minute scenic flight - Halong Junk - Hanoi
Tour Highlights
Have a bird's eye view of stunning Halong Bay from Hai Au Seaplane
Spend an overnight stay on the cruise and be ready to see sunset and sunrise from the sun deck
Savor the culinary delights of Vietnam on a boat
Gain great insight into the daily lives of locals at Vung Vieng fishing village
Join in Tai Chi lesson as the sun rises and other interesting water activities
---
Best Things to Do & See in Halong Bay Tours
Sunbathing in Halong Bay
Halong Bay tours offer various beaches of endless sand and blue water for tourists to enjoy water-based activities such as Tuan Chau, Ba Trai Dao, Ti Top, and Ngoc Vung. The sunshine here is not as dazzling as in other tropical areas. Therefore, you can spend a couple of hours lying on the sand, immersing yourself in breathtaking views of Halong Bay and letting the sun rinse your body as well as taking care of your skin. Order a cup of fresh juice to cool off if the heat makes you thirsty.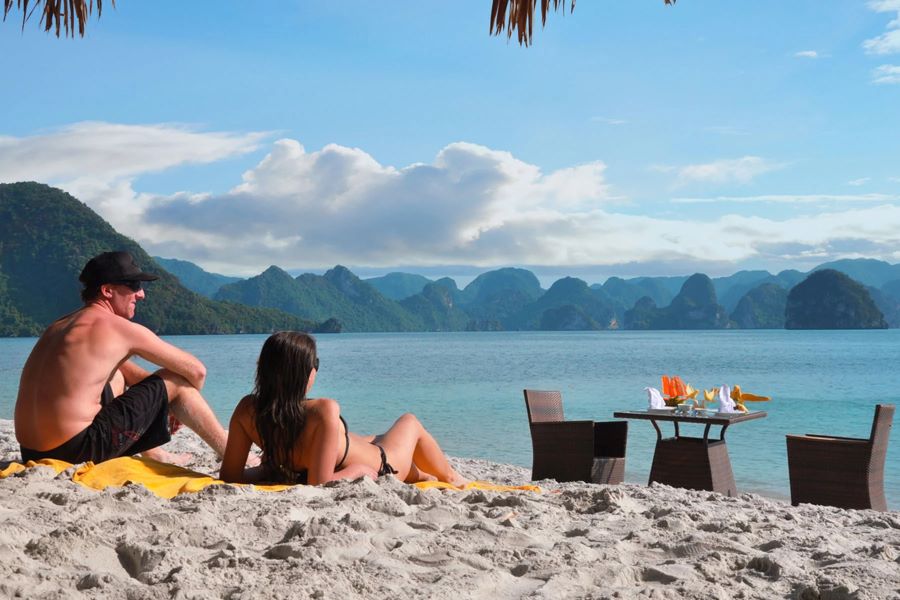 Swimming on Halong Beaches
Halong Bay attracts thousands of tourists with its clear and cool jade-blue water. Swimming on the beautiful beaches of Halong will be your most relaxed and comfortable moment ever. Moreover, by experiencing scuba diving, you can discover the marvelous underwater world of diverse marine creatures such as colorful fishes and gorgeous coral reefs.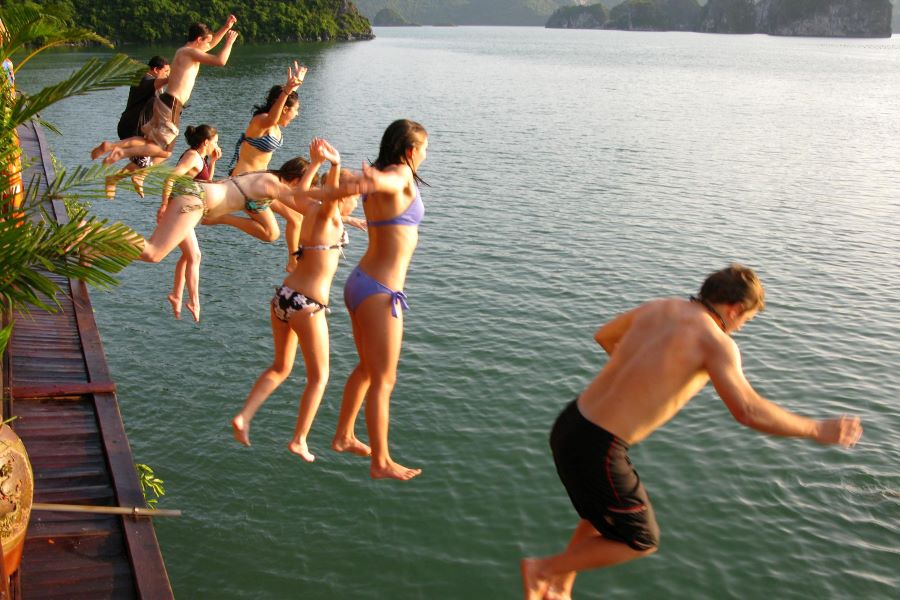 Kayaking in Halong Bay
If you are looking for something more adventurous than the traditional junk boat cruise, kayaking is an advised option. Exploring Halong Bay by paddling from one limestone outcrop to mysterious caves leaves you a wonderful adventure. The most popular places for kayaking journeys are Peaches islands, and Dark and Light caves.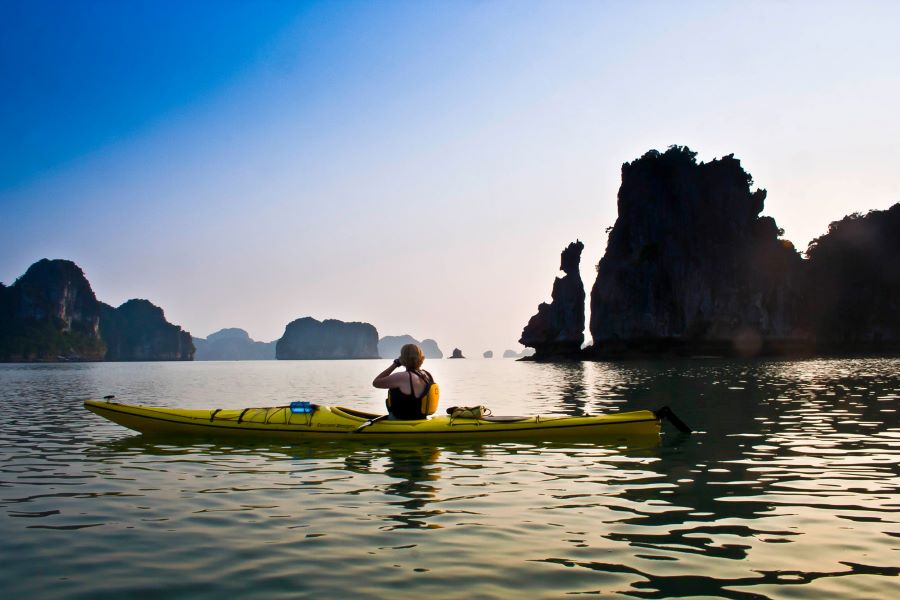 Discovering Floating Villages in Halong Bay
Floating villages are not only the home of the locals but also a vital part of their customs. Visiting these villages, you will wish to have a floating life like theirs: living every day surrounded by the beauty of the most well-known destination in the world; enjoying the delicious dishes made of fresh seafood; rising and falling with the natural tide. Spend a day living as a fisherman in a floating house, attending the fishing at night, you will see life so simple and peaceful.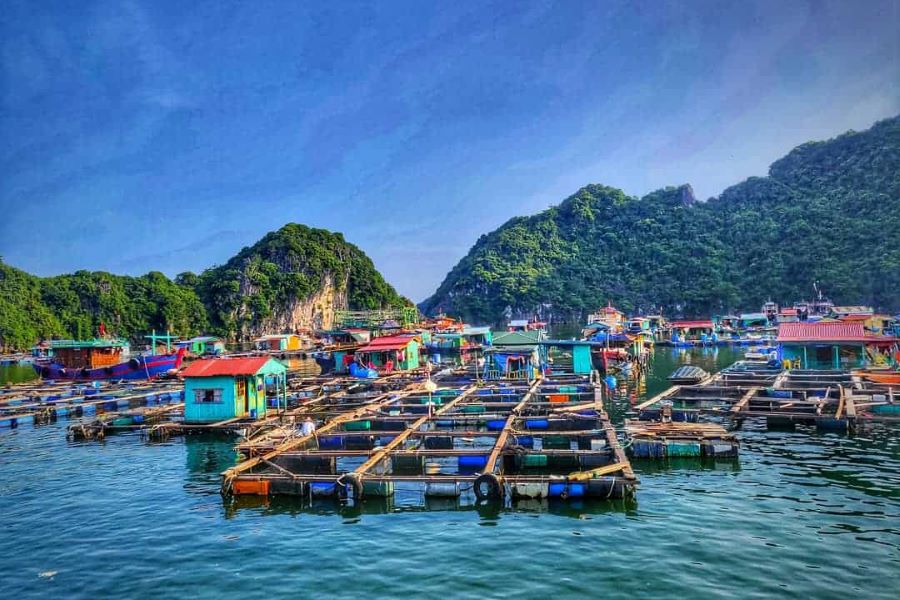 Exploring Grottoes in Halong Bay
Among hundreds of mountains covered by jungles, there are mysterious caves and isolated grottos of all sizes and shapes. You can hire boats to reach the gate of the cave and then explore inside on foot. Some famous caves are Thien Cung Cave – Heavenly Palace Cave, Dau Go Cave known as the Cave of wonders, and Sung Sot Cave (Shocking Cave).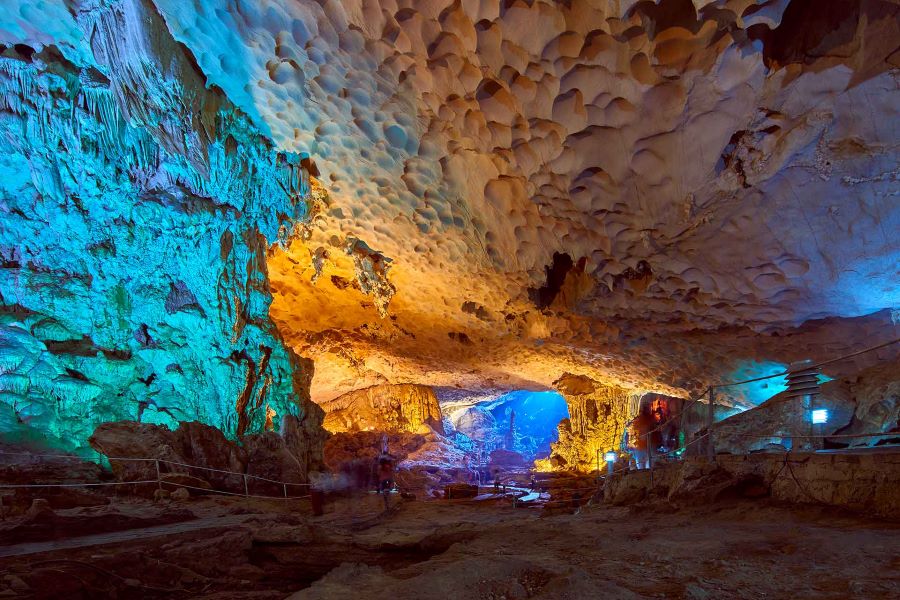 After a day of activities like swimming and kayaking, your stomach must be empty. How about having dinner in such a quiet, romantic, and mysterious cave? This new type of dinner really impresses tourists with its uniqueness and admirableness. A special meal with both fresh Halong Bay seafood and cuisine of Western and Eastern countries will perfect your night.
Viewing Halong Bay from a Seaplane
In spite of being costly, having a panoramic view from a seaplane flying over Halong Bay brings you striking and thrilling feelings. The plane takes off in Noi Bai International Airport in Hanoi and flies in the sky of Halong Bay. The high cost will reward you with the luxury and modern space and services on the plane as well as the magnificent bird-eye view of Halong Bay which can be only seen through images and videos. This service is provided by Hai Au Aviation.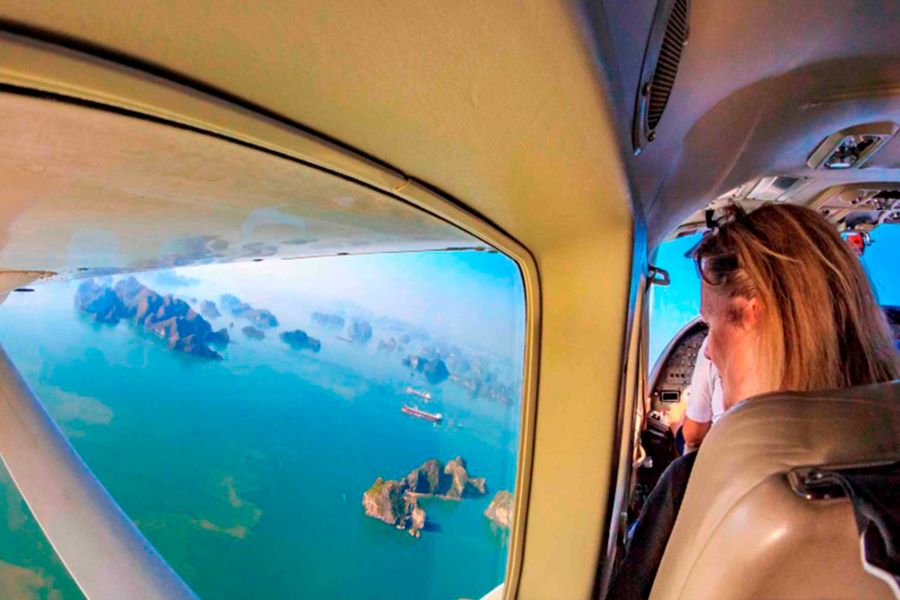 Seeing Cat Ba Island
Considered the largest island in Halong Bay, Cat Ba owns the astonishing natural beauty of mountains and beaches together with a wide range of floras and faunas. The common way to reach the island is by boat while the best way to explore it is by bike or on foot.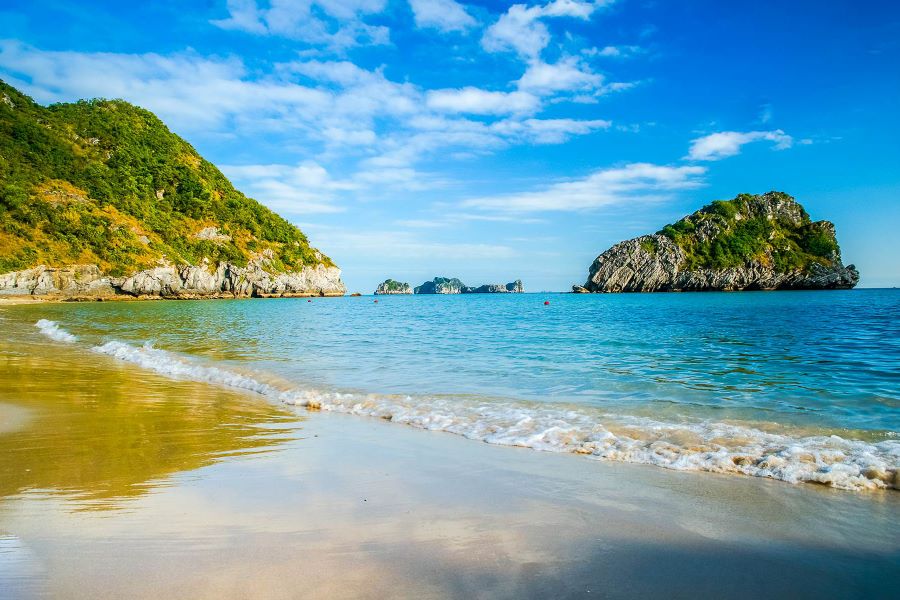 The beauty of Cat Ba Island can be found by exploring limestone mountains, hidden dreaming waterfalls, untouched caves; spotting wildlife of tropical forests as well as mangroves. Endless options to visit in Cat Ba will take lots of your time but be worthwhile if you want to experience this island at its best.
Best Time to Visit Halong Bay
Weather in Halong Bay
Halong Bay has a typical coastal climate with two distinct seasons: winter (dry season, from November to April) and summer (rainy season, from May to October). The average temperature is about 23.7oC. Despite the coastal city, Halong Bay is a sealed sea and hardly affected by storms.
As one of the UNESCO World Heritage sites, Halong Bay is a long-standing spot on the bucket list of travelers worldwide. It is true that you can take your Halong Bay tour at any time of the year. Visit Halong Bay tourists not only can appreciate the beauty of the bay but also indulge in a lot of exciting activities such as swimming, diving, canoeing, kayaking, etc. Enjoy reading to know more about the weather of Halong Bay and have a perfect Halong Bay tour package.
January - February: Best Time to Enjoy Vietnamese Traditional New Year in Halong Bay Tours
January and February are considered ideal times to visit Halong because the weather is so cool. At this special time, tourists can have an opportunity to soak into Vietnamese culture. Visit Halong market or Vincom shopping center to witness how the locals prepare for Tet. You also can visit a local's house, you will be given lucky money and taste traditional dishes such as Chung cake, spring rolls, etc. If you take your Halong Bay tour during this time you should bring your umbrella, comfort shoes, and some hoodies in your luggage because drizzle is the signature of Sring weather.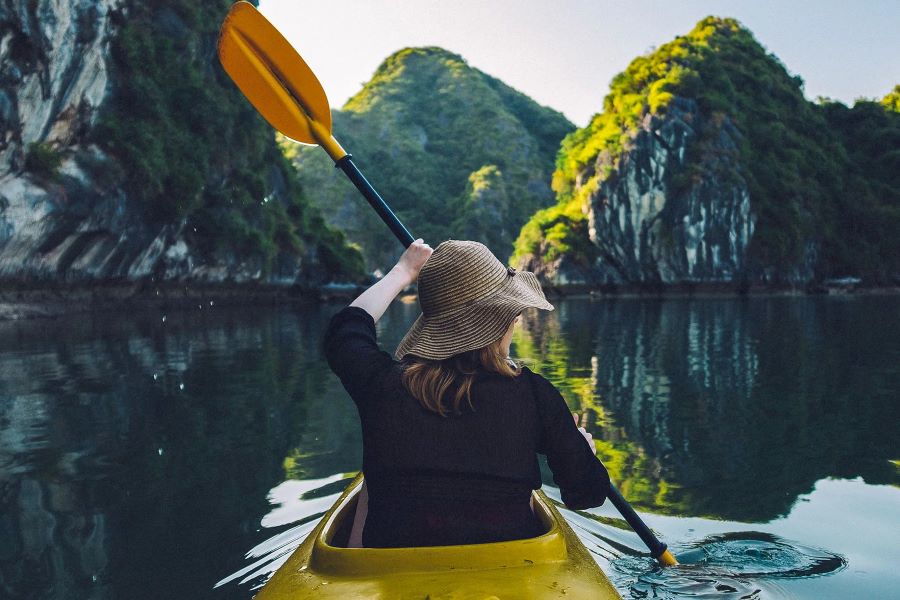 March: Best Time to Take a Look at Traditional Festivals during Halong Bay Tours
This is the best time to enjoy traditional festivals including the Cherry Blossom Festival - the colorful traditional events In Halong Bay. Hit Halong Square from 17th to 21st March to admire the beauty of a variety of flowers from different countries. Tourists will be mesmerized by vivid flowers blooming in the sunshine such as cherry or golden apricot blossoms. Especially, at night you will soak up in the charming melodies of traditional instrument concerts performed by Japanese and Vietnamese artists to learn more about the cultures of both countries. Thanks to the pleasant weather, and clear blue sky this time is also the perfect time to enjoy a seaplane flight over the bay.
April: The Best Weather for Halong Bay Tours
With the temperature which is around 20 Celsius degrees, you can take part in any outdoor activities you want. Go to Halong Bay by yourself in April to relax your mind and escape from your busy life. Visit Ti Top island to admire its beauty with the white sandy beach at the front and the breathtaking view from the top. You also can challenge yourself through a variety of water activities and book a ticket to appreciate the spectacular scenery from the luxury seaplane. Pack your stuff to explore the majestic Halong on your own. Do not forget to visit many famous temples in Halong Bay such as Ba Vang, Long Tien, or Cua Ong to have an in-depth look into Vietnamese culture. Soaking into Halong Carnival is another great choice for you. This festival is held annually on 28th April at 8:00 PM at Sunworld Halong Park.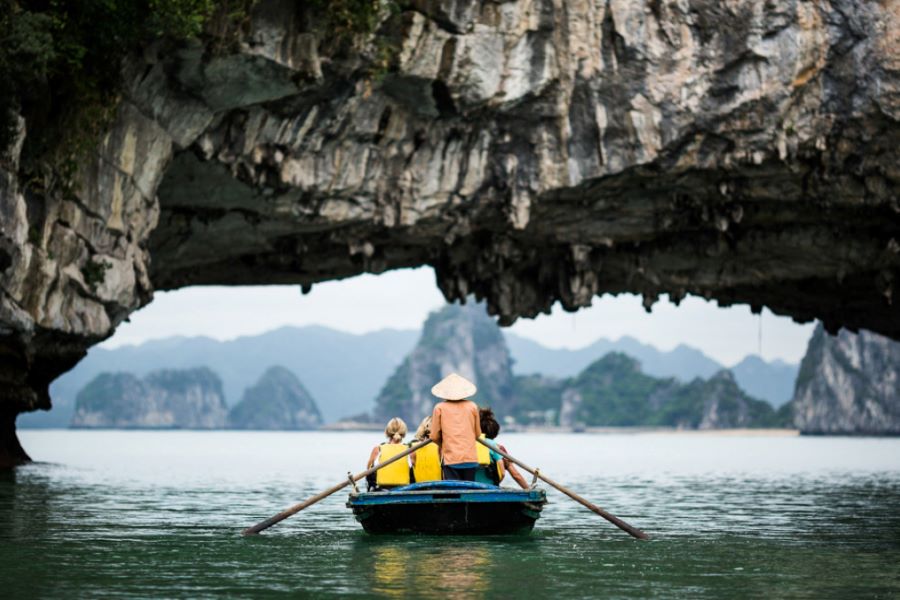 May: Suitable Time to Enjoy Halong Bay Tours from the Top
Travel to Halong Bay in May to avoid the intense tourism flows and take the advantage of this month before the school break starts. With moderate temperature and clear sky, this is the best time to take a seaplane tour to get perfect sightseeing. Halong Bay this month is so cool makes it easier for outdoor activities like fishing, cycling, kayaking, and swimming. Let your hair down in a bar at night… that's so much fun.
June to July: The Months to Avoiding the Tropical Heat by a Halong Bay Excursion
Halong Bay is an ideal destination to avoid the heat of summer. Book an overnight Vietnam day tour to relax on a boat, have a sauna and relax on the top deck in the sunshine. Because the temperature in May can rise up to 35 Celsius degrees at noon, make sure that you do not forget to bring your sunglasses, sun cream in the luggage to avoid getting sunburn, and a camera to take a ton of amazing photos.
August - October: Best Time to Travel for Couples on a Halong Bay Tour
From August to October is the perfect time for a honeymoon thanks to the warm weather and blue sky. Many couples go to Halong Bay during this time to take their wedding photos on the streets full of romantic trees' leaves falling down. Take your Halong vacation with your lover in the autumn months to have romantic experiences like cruising in the middle of the emerald sea and holding hands on the top deck and watching the sunset together. Having dinner with a glass of wine on the rooftop is also a once-in-a-lifetime experience for your sweet holiday. The average temperature of these months is 25 Celsius degrees, making it suitable for tourists to discover floating villages or kayaks. Note that, September is the rainy month typhoons happen more frequently.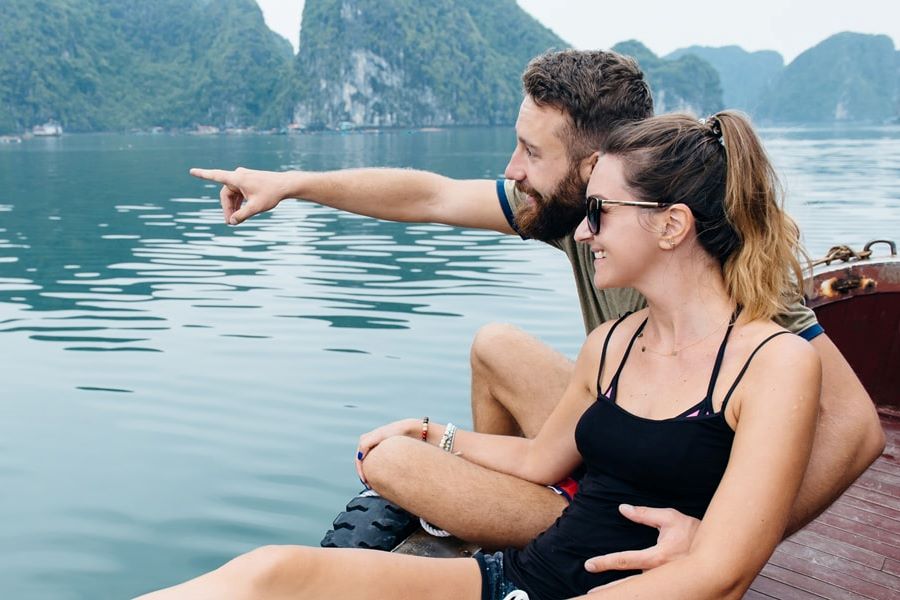 November: Wonderful Time to Visit Halong Bay
November is the time when domestic tourism is down and inbound tourism reaches a peak because the Vietnamese are much more focused on work during this time. It is the most suitable time to visit Halong for travelers who want to discover this beautiful place without the intense flow of locals. With the moderate temperature (around 22 Celcius degree), you can enjoy all activities from cycling, and kayaking to visiting the fishing village. However, the prices are not much lower than in summer because a lot of international tourists hit the bay this month.
Halong Bay in December: Best Time to Try Local Foods in Halong
If you take your Halong Bay tour in December you should bring your jacket because the temperature is just around 15 Celsius degrees. Although swimming is avoided at this time, tourists also can indulge in some activities like visiting floating villages and kayaking. Fly with Hai Au Aviation is a perfect choice. In this cold weather, the best thing to do absolutely is to taste delicious local's cuisines such as barbecue, seafood noodles, or "banh cuon"- a tasty traditional Vietnamese dish before floating in the middle of the foggy sea to enjoy a fairytale-like feeling.
Halong Bay Travel Guide
Halong Bay General Information
Location: Northern Vietnam, Quang Ninh Province
Population: Approximately 300,000 (2018)
Language: Vietnamese
Currency: Vietnam Dong (VND)
Natural Condition: Mountainous area (North and Northeast) & Beaches and islands (South)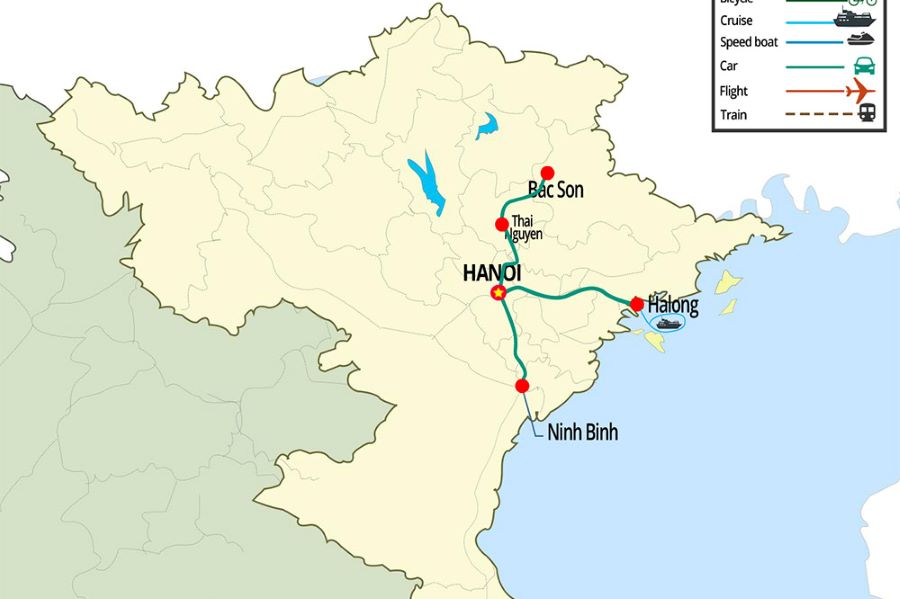 People, Nature & Culture in Halong Bay
Halong Bay People
In general, people in Halong Bay are enthusiastic, hospitable, friendly, civilized, and polite. They always have the awareness of preserving and popularizing the gift Mother Nature gives to their home country. Tourists all over the world are always welcome to Halong Bay with their smiles and respectful attitudes. In addition, 15 ethnic groups living in the area create linguistic and cultural diversity in Halong Bay.
Legend of Halong Bay
Legends tell Vietnam was invaded by foreign invaders. Ngoc Hoang (King of Heaven) sent Mother Dragon and her baby Dragons to help the Vietnamese fight against the enemy. Enemy's boats just reaching the shore were immediately burned by the fire from the Dragons. They also built the huge stones wall to block the attack of invaders. After the war, seeing the peaceful landscape with hard-working people, Mother Dragon, and her baby Dragon did not return to heaven but stayed in Vietnam to protect the Vietnamese forever. The place Mother Dragon landed is Halong Bay and the one her children landed is Bai Tu Long Bay the tails of the Dragons become Bach Long Vi Island (White Dragon) nowadays.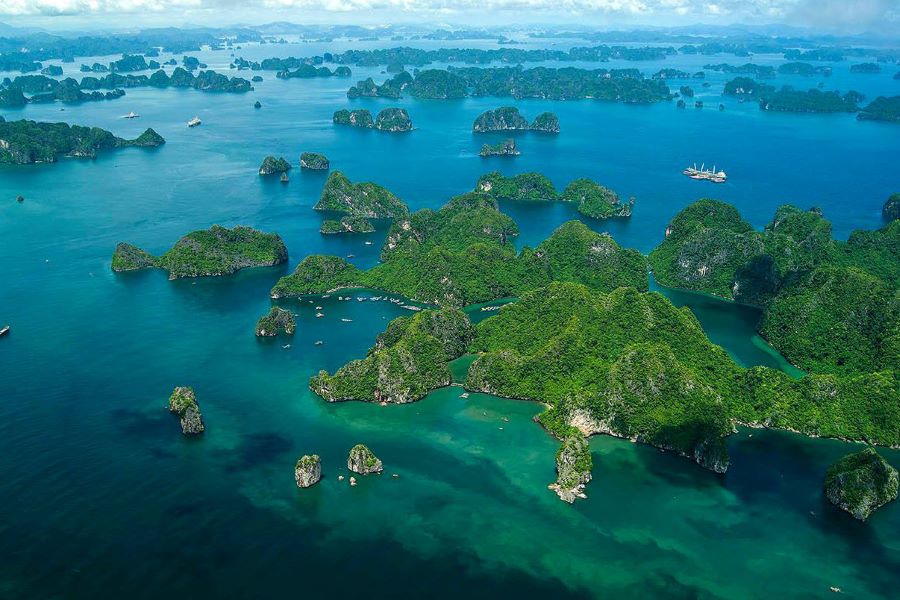 Nature of Halong Bay
Halong Bay covers an area of about 1,500 km² including nearly 2000 large and small islands, most of which are limestone islands together with countless towers, limestone islands, mysterious caves, and smooth sand stretching along the turquoise waters. The history of the limestone karst in Halong Bay has been around 500 million years with different geologic circumstances, and full karst evolution over the past 20 million years with a combination of thick limestone, and hot and humid climate, and a slow progression of tectonics. Besides, the melting pot of environment, geology, and geomorphology has made Halong Bay a convergence of biodiversity including ecosystems of tropical rainforests, coast, and sea. 17 endemic plants and about 60 endemic animals have been discovered among thousands of floras and faunas in Halong Bay.
Halong Bay Culture
People lived in Halong about 20,000 years ago with a lot of civilizations together with remarkable ups and downs throughout history. Their cultural characteristics create a mysterious and impressive Halong Bay. Fishing activities happened a long time ago together with handicrafts such as ceramic and jewelry production as well as spinning and weaving. Their development led to the foundation of traditional fishing villages and vibrant markets. After a day of working, the locals often gathered on boats and sang together folk music. Nowadays, you can enjoy this traditional art through the excellent performances of outstanding artisans. Halong Bay is recognized by UNESCO as a World Heritage Site for its unique nature and long-established culture which can be seen in islands, caves, and daily activities of the locals.
How to Get to Halong Bay
Bus
Departure: My Dinh Station
Arrival: Bai Chay Station (From here, you can get to Halong Bay by taxi)
Operation time: From 6 am to 17 pm
Travel time: About 4 hours
Ticket price: Around 100,000 VND to 200,000 VND (about $5 to $10)
Private Coach
Fully utilized luxury Limousine Luxury Van manufactured in 2017 and 2018 with the standard of 9 seats in spacious, luxurious amenities. Pick up passengers everywhere on request
Travel time: Around 2h45
Ticket price: 250,000 VND (about $10)
Tel: 1900 1112
Seaplane
Tourists from Hanoi to Halong Bay also have a new choice with the modern and luxury seaplane of Hai Au Aviation.
Transportations in Halong Bay
Cruise & Boat
Cruises and boats are absolutely the main transportations to discover Halong Bay at its best. Besides, the bus system is also available for traveling to destinations in Halong (around 15,000 VND for a single ticket). You can also choose a taxi for convenient movement or hire a motorbike (ask the hotel's staff for the store of motorbike hire) for the new experience in Halong Bay.
You can hire a boat to visit Ha Long Bay at the two ports:
Tuan Chau International Port (Tel: +84 203 384 2134)
Hon Gai Vinashin Port (Tel: +84 333 628 234)
Taxi
Some of Taxi brands in Halong Bay:
Halong Taxi: (Tel: +84 33 362 62 62)
Mai Linh Taxi (Tel: +84 33 3628 628)
Mobile & Internet Access in Halong Bay
The mobile connection is available in Halong Bay. The only thing you should care about is the registration with Vietnamese mobile operators for international roaming services, SIM purchases, and others. Names of recommendation include Viettel, Vinaphone, and Mobifone with dozens of their stores around Halong Bay.
Internet Access and Wi-Fi in Halong Bay are generally good on cruises, hotels, restaurants, and other public places. However, on islands and caves, accessibility is unavailable.
Useful Things to Remember on a Halong Tour
For your safety, always wear a life jacket in water-based activities
You should try squid sausage, horseshoe crab, and seafood noodles in Halong. They are so yummy!
Seafood and delicious dishes are available in Halong market and Halong night market. Remember to ask for the price before ordering if you want to pay the higher price after the meal.
Check the quality of the cruise carefully before booking unless you will travel in aging and out-of-date ones.
Hire a tour guide to go with your Halong Bay. He (she) will give you interesting information about Halong Bay and take you to interesting places that you may not know.
Winter in Halong is chill so carry enough warm clothes.
Be careful in caves as the stones may hurt you if wiping out.
On a kayaking tour, despite being very interesting, you mostly see the silver of the water. For more experience, you should take a cruise tour including a kayaking stop.
Do not go for the cheapest option in Halong. Cheapness does not usually go with quality.
Be an early bird. Get up to see the dawn in Halong Bay. How wonderful it is!