This provincial outpost lies in a picturesque crook in the Bang Giang River. Few foreigners get up this far, and the state of hotels and services might indicate why, but rugged travelers are in their element.
The city alone is worth a wander, especially its large riverside market, and sunset in Cao Bang is an event, best viewed from the bridge or walking along the riverside promenade. From here, you can watch water buffalos grazing and locals paddling low skills to bring their produce to market. What brings people to Cao Bang, apart from the call of the fun rural roads in the region, is the famed Ban Gioc Waterfall northwest of town, one of the most photographed waterfalls in the world. Northwest of Cao Bang is the Pac Bo Caves where Ho Chi Minh hid out upon returning from China. On designated days, usually on weekend mornings, you are sure to come across hill tribe markets in the towns outside of Cao Bang (on your way to Pac Bo or Ban Gioc) a photographer's dream.
Most Popular Attractions in Cao Bang
Both the journey and the destination in Cao Bang tour offer a ton of attractions. The caves at Pac Bo are of little interest to foreign visitors, but the waterfall at Ban Gioc is quite a stunning sight and worth the effort to see. The best part is that the roads to both sights pass through beautiful mountain landscapes among ethnic hill tribe villages. Especially on weekends, you are likely to pass through seemingly impromptu hill tribe markets, the roads lined for miles with Tai and Nung people in traditional wear marching their product to market. Ask at your hotel about any scheduled markets (they are often held on auspicious days in the lunar calendar).
Non Nuoc Cao Bang Geopark
Recognized by UNESCO as a Global Geopark in Vietnam after Dong Van Stone Plateau, Non Nuoc Cao Bang Geopark is the highlight you cannot miss when setting your foot in Cao Bang province. This park is not only renowned for its rich biodiversity but also the stunning karst landscape. The researchers also had found the sedimentary rocks date from 500 million years ago in this park. Discover Non Nuoc Cao Bang Geopark you will have a chance to admire the magnificent Ban Gioc Waterfall as well as many historic monuments such as Pac Bo Cave or Tran Hung Dao Forest.
Ban Gioc Water Falls
Some 85km (53 miles) of mountain road more than a 4-hour drive one-way east of Cao Bang brings you to one of the most well-known waterfalls in Asia. People don't know it by name, but once you tick this sight off your list, you'll be able to spot glossy photos of it in Chinese restaurants and hotel lobbies everywhere. The multi-tiered falls are fueled by the Quay Son River spilling into Vietnam from China. The French originally built small villas on the banks at the base of the falls. Vietnamese tourists now come to Ban Gioc Waterfalls in big groups, especially on weekends, and the place is crowded with happy picnics, drinking, and chatter. Sit for a while and you might be invited to join in. Nguom Ngao Cave (admission VND 15.000) is just a few kilometers past the falls, and the cavernous space is well worth the visit.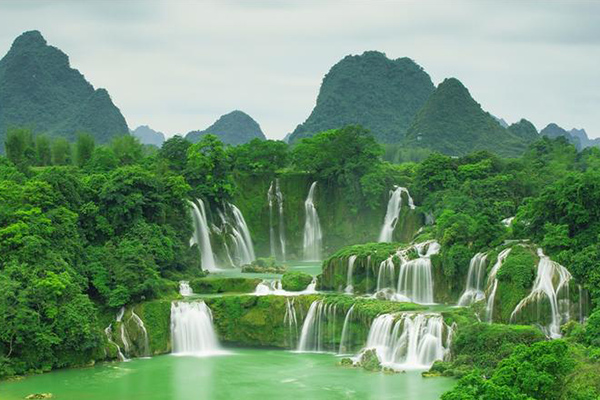 Important: You have to arrange a special permit (just a bit of a bureaucratic hang-up) to get to the falls. Don't try to do it yourself a waste of time, really just arrive in Cao Bang the night before you plan to see the falls and have your hotel make arrangements (for a small fee).
Pac Bo Cave | President Ho Chi Minh's Hide-Out
Most sights dedicated to Ho Chi Minh are geared to Vietnamese tourists and are of little interest to Westerners. Pac Bo follows the party line. Pac Bo is the site where, returning to Vietnam after more than 30 years of exile, a fired-up Ho Chi Minh began planning the revolution in 1941, living in caves and protected by local people. The approach to the site is lined with big concrete pavilions and walkways. An open parking area gives way to paved paths along the picturesque Lenin River at the foot of the Karl Marx Mountain (Ho Chi Minh named them himself). Paths take you to some small cave sites, and signs lead the way to places where Ho wrote, slept, and ate; but the real business at Pac Bo is family swimming and picnicking.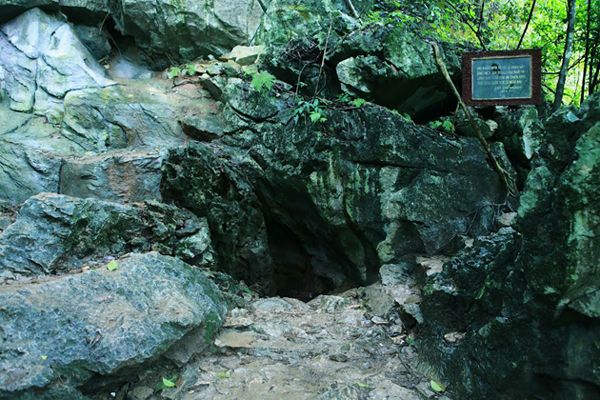 Nguom Ngao Cave
The cave of 300 million years old is a valuable gift of nature spending for this wonderful land. Tourists explore Nguom Ngao Cave for its mysterious space created by marvelous stalactites on one side and an interesting legend behind the special name. The cave owns a total length of nearly 2200m with three gates and thousands of small grottos. Setting foot inside Nguom Ngao Cave, you will be impressed by a miraculous collection of limestone mountains and stalactites taking millions of years to form their unique forms today.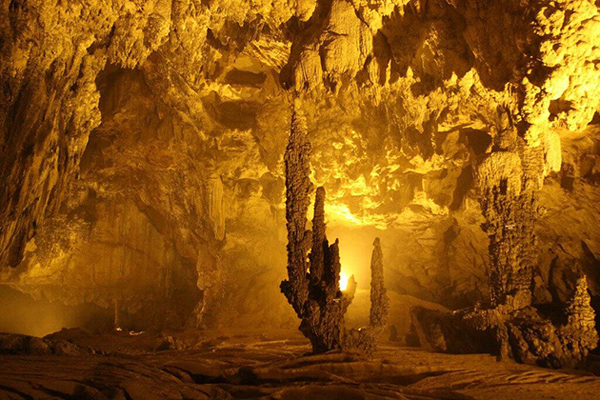 Truc Lam Phat Tich Pagoda
Considered as the first pagoda in Northern Vietnam, Truc Lam Phat Tich is built based on the traditional Vietnamese architecture with a three-door gate, Guan Yin statue and a temple of national hero Nung Tri Cao, who led the locals to protect the northern border of Vietnam. The appearance of the pagoda perfects the panoramic view of Cao Bang with natural beauty and religious place.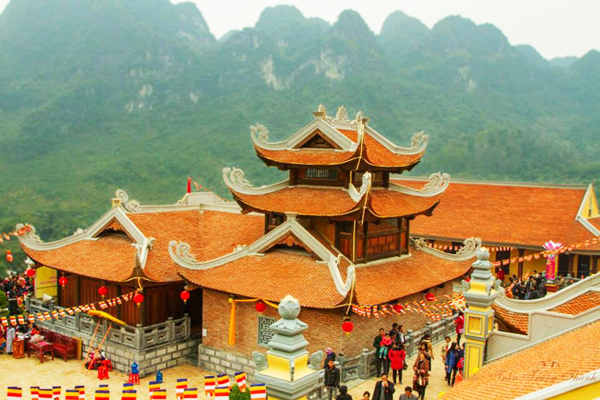 Cao Bang Travel Guide
Best Time to Visit Cao Bang
In general, you can travel to Cao Bang at any time in a year. Each season has a different weather as well as featured landscapes and attractions to explore.
Spring in Cao Bang (February to March)
Your wonderful Cao Bang travel should be on this occasion. The weather is cool in daytime and a little bit cold at night with a minimal chance of rain making your trek and outdoor activities dry and comfortable. Cao Bang will offer you breathtaking scenery of green forests and meadows after a long chilly winter. Rice season of Cao Bang starts in February so you can see local farmers bending their hips on the terraces filled by water. In March, the whole terraces change into a lush green going with the deep blue sky, which is absolutely an unforgettable memory in your trip to Vietnam.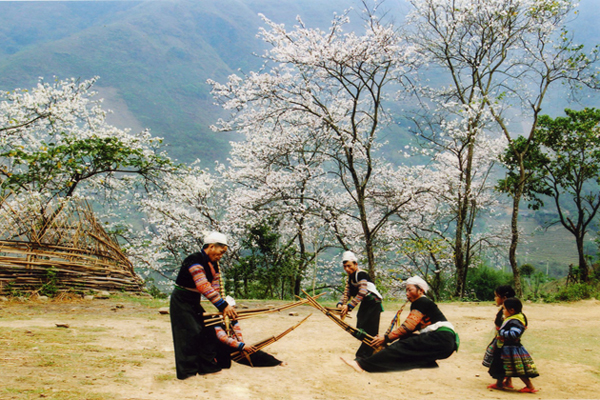 Summer in Cao Bang (April to September)
Cao Bang quickly heats up in the temperature of 25oC. The heat pairing with the humidity may make you exhausted if you are not used to this featured climate of the tropical area. Ride a motorbike is a great way to explore the amazing beauty of Cao Bang in the summer. The green rice paddies in the spring turn yellow and get ready to be harvested. How about supporting the farmer harvest the crop? It will be such an awesome experience.
At the end of summer, rain season starts in Cao Bang with regular downpours. However, they only interrupt your travel for 1 or 2 hours and then when clouds move on, you can continue your journey. Rains raise the water level in Cao Bang so Ban Gioc Waterfall is a must-visit in this season.
Autumn in Cao Bang (October to November) 
The weather in autumn seems to be similar to spring's which is moderate all day long. Rains do not occur as frequently as in the summer but is enough for hundreds of flowers showing their beauty and aroma. It is said the most beautiful moment of anything is the one before its death and that is true to Cao Bang scene before winter. Plan to visit Cao Bang on this occasion to have your own experience.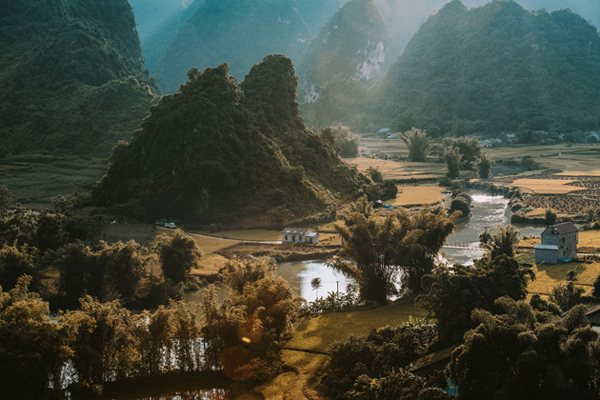 Winter in Cao Bang (December to January)
A gloomy winter is completely not what happens in Cao Bang. The chilly weather makes terraces, forests, mountains blue and dreary. When snow comes to this land, Cao Bang wears a new outfit of a pure white. Discover the winter in a tropical country will totally bring you strong impressions.
How to Get to Cao Bang from Hanoi
By Coach
From My Dinh Station in Hanoi (No. 20 Pham Hung St, My Dinh), there is a lot of high-quality and air-conditioned coach to Cao Bang Station
Thanh Ly Company
Fee: VND 200.000 for a single ticket
Travel time: 9 hours
Tel: +84 944 266 266 +84 916 121 888
Khanh Hoan Company
Fee: VND 200.000 for a single ticket
Travel time: 8 hours
Tel: +84 915 660 062
By Motorcycle
If you want to experience the beauty along the road, motorcycle will be your companion. However, the road to Cao Bang has many steep slopes and many large trucks so you need to guarantee your safety.
Some suggested agencies for hiring motorbike
Van Chinh Company
Address: No. 24D Ta Hien St, Hoan Kiem District
Tel: +84 989 595 533
Bon Bon Motor
Address: No. 246 Ton Duc Thang St, Dong Da District
Tel: +84 125 5225 555
Where to Stay in Cao Bang
Most of hotels and homestays gather in Cao Bang city's center. Name of recommendations are Bang Giang hotel (No. 1 Kim Dong St) and Hoang Anh hotel (No. 131 Kim Dong St).
Dining is limited in Cao Bang. Go for "point-and-shoot"-style dining at the little local buffet at the riverside, Huong Sen Restaurant, "Point" at what you want and say "Shoot! " when they charge you double for it. But even at double the price, it's still a bargain. They've got the fried egg, tofu dishes, vegetables, fried river fish, and rice.
On the main drag, there are lots of good local coffee joints, the best of which is the Trung Nguyen Coffee Shop at the town center. For a good, familiar snack, look for 89 Kim Dong St., where there is a good little stand selling banh mi (bread) and pate. They'll make you a great little savory sandwich from just VND 30.000.
The Bank for Agricultural and Rural Development (Hoang Dinh Giong St.; 026 385 2932) can exchange currency, as can most small hotels, but it's best to bring U. S. greenbacks or dong with you from Hanoi. There are a few Internet corners, including one very good storefront right next to the Hotel Hoang Anh. The post office is on central Hoang Dinh Gong Street.
Useful Things to Remember for a Perfect Cao Bang Tour
A backpack is better than a suitcase. Most of your exploration is trekking adventure and mountain climbing so the backpack makes you free and comfortable.
Sunscreen, insect repellant, raincoat, warm clothes, sport shoes, first-aids, toiletries should be packed in your luggage.
Do not reach the border, you will get risk because the military will consider you as a transgressor.
Roasted duck, steamed rice rolls, chestnut are delicious foods that you should try in your trip in Cao Bang