Day 1: Ho Chi Minh - Cai Be - Phu An - Dong Hoa Hiep - Vinh Long - Sa Dec
Day 2: Sa Dec - Long Xuyen - Ong Ho Island
Day 3: Long Xuyen - Rach Gia - Ho Chi Minh
Full Itinerary
Cabin & Facilities
DAY 1: HO CHI MINH – CAI BE – PHU AN – DONG HOA HIEP – VINH LONG – SA DEC
We will depart Saigon (Ho Chi Minh City) for in the morning for Cai Be. Arriving Cai Be after 2 driving hours we embark our sampan with welcome by crew. After our installation the cruise will begin with the visit of Cai Be floating market, cruising among local barges full of fruits and vegetables. Then we will proceed to Phu An hamlet, an untouched beautiful area reflecting some of the Mekong delta best sights. On the way, stop will be made at some local home factories to observe how rice paste, coconut candies and other regional specialties are made.
A delicious lunch will await us at "Le Longanier" restaurant, a superb Indochinese house located by the river, in a lush tropical garden surrounded by fruit plantations. After lunch, our sampan will proceed to Sa Dec cruising the Tien Giang river, one of the two large arms of the Mekong. These evergreen islands among the Mekong River bring about large networks of meandering rivers, criss-crossed with countless arroyos, and remaining unknown to many people.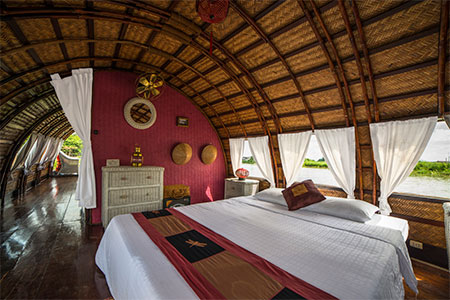 We will then cruise on a small beautiful canal through water jacinth plantations… We will take a small rowing boat for a cruise along a narrow canal passing by a local tiny village and fruit plantations. Further on the banks, some dark smokes in the sky will lead us to one of the largest artisanal bricks and tiles workshops where we will have an interesting visit. Sa Dec town will appear like a little "Venice" with numerous narrow canals. We then will disembark at the local market place.
Before sunset, we will have a very interesting visit at a splendid ancient house or "Nha Co" dating from the early 19th century. After being greeted by the owners, we will cater a candlelight dinner, an unforgettable experience in a very unique atmosphere…First night on the Mekong River… Overnight on board "Song Xanh" Sampan.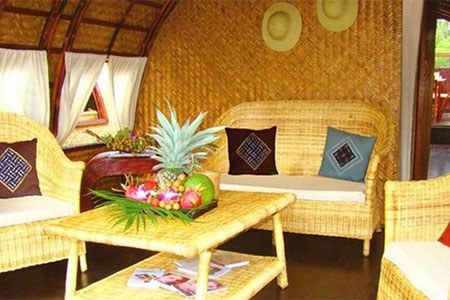 DAY 2: SA DEC – LONG XUYEN – ONG HO ISLAND
The breakfast will be served on board at 07am. Our day will begin with a guided visit of Sa Dec charming and peaceful town, walking along its narrow streets where beautiful French old houses and Chinese temples dating from the last century are numerous… We will also visit the local market and the Trung Vuong primary school where well known writer Marguerite Duras spent her childhood… (See her famous novel "The Lover"). Back on board our private sampan for our second day cruise in the delta.
While our sampan will proceed upstream on the Mekong river to Long Xuyen, a delicious lunch will be served on board… Long Xuyen is a peaceful typical provincial town lying on the Mekong's banks, dotted with an attractive floating market… In the afternoon, we will have an excursion to "Ong Ho" (Mr Tiger) island to visit the museum of Ton Duc Thang, second president of Vietnam…
At the end of the day, we will enjoy an exciting dinner arranged at a local ancient house. We will be able to share experiences with family members and learn about traditional southern lifestyle, a highlight of our journey to be kept for long time in our memory…Back on board our private sampan for the second night on the river. The cruise will slowly continue during the night to Rach Gia. Overnight on board "Song Xanh" sampan.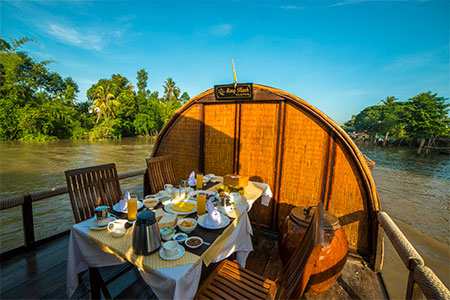 DAY 3: LONG XUYEN – RACH GIA – HO CHI MINH
Arrival at Rach Gia, a port town located at the southern end of Vietnam in the Gulf of Thailand. Its main industries are fishing and agriculture. The breakfast will be served on board at 07am (for those having a connecting flight to Phu Quoc island at 08am, breakfast will be served at 06am). Then we transfer to Ho Chi Minh City (Saigon) by our private vehicle. End of services.
In Rach Gia, there are several places of interest including Ha Tien about 100km north-west which has some unusual limestone formations. Many of the rock formations have caves that have been turned into temples…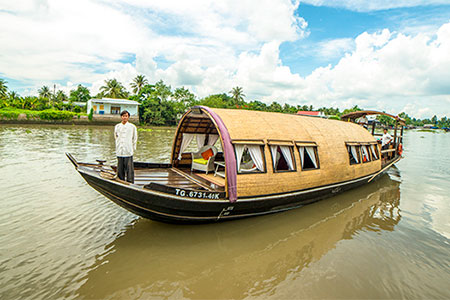 Price inclusion:
Private transfer from/to Ho Chi Minh City (Saigon)
Private Song Xanh Sampan
Meals: 2 lunches (1 at "Le Longanier" Indochina villa and 1 on boat"), 2 dinners with 1 small bottle of wine for 2 at ancient house, 2 breakfasts on board
2 bottles of mineral water per day,
Vietnamese tea, Fresh fruits, Refreshing cotton towels
English or French speaking guide
Bicycles and "Xuong" rowing boat rides
Entrance fees, permit
Service charge and Government tax
Crew assistance
During the cruise, fresh cotton towels, exotic seasonal fruits, hot green tea and two bottles of mineral water will be served daily free of charge
Price exclusion:
Individual Traveling Insurance
Personal Expenses during the cruise
Drinks during meals & cruise (soft drink, beer, wine…)