Plan a trip to Vietnam, Cambodia, and Thailand to enjoy all the attractions in these three amazing countries. Then this astounding Thailand, Vietnam, and Cambodia tour package will perfectly meet your requirements. It begins in the hustle and bustle of Bangkok, takes in the charming town of Chieng Mai, the legendary Angkor Wat, the cultural hub of Hoi An, the Colonial City of Hanoi and the majestic Halong Bay National Heritage Site. The trip of 3 weeks itinerary will be absolutely worth every moment in Southeast Asia.
Tour Code: VTK 01
Tour Route: Bangkok – Chiang Mai – Phnom Penh – Siem Reap – Ho Chi Minh city – Cu Chi tunnel – Mekong Delta – Hoi An – Hue – Hanoi – Halong Bay
Duration: 19 Days/ 18 Nights
Date: No fixed departure dates. You may go whenever you wish.
Start/ End: Bangkok/ Hanoi
Tour Type: Explore and Experience
Tour Categories: Indochina Tours, Vietnam Cambodia Tours
Tour Customizable: Absolutely! (Tell us your specific requirements in the inquiry form)
Brief Itinerary in 3 Weeks of Thailand – Cambodia – Vietnam Tour
Day 1: Bangkok Arrival
Day 2: Bangkok City Tour
Day 3: Bangkok – Kanchanaburi
Day 4: Bangkok – Fly to Chiang Mai
Day 5: Chiang Mai – Golden Triangle Tour
Day 6: Chiang Mai – Elephant Tour
Day 7: Chang Mai Departure – Bangkok – to Phnom Penh
Day 8: Phnom Penh City Tour
Day 9: Phnom Penh – Fly to Siem Reap – Angkor Tour
Day 10: Siem Reap – Angkor Temples Exploration
Day 11: Siem Reap – Tonle Sap – Fly to Ho Chi Minh City
Day 12: Ho Chi Minh City Tour – Cu Chi Tunnel
Day 13: Ho Chi Minh City – Mekong Delta
Day 14: Ho Chi Minh City – Fly to Danang – Transfer to Hoi An
Day 15: Hoi An – Transfer to Hue – City tour
Day 16: Hue Boat trip – Fly to Hanoi
Day 17: Hanoi City Tour
Day 18: Hanoi – Halong Bay
Day 19: Hanoi Departure
Full Itinerary
Price & Inclusion
Accommodation
Photos
Thailand Itinerary in 7 Days
Day 1: Bangkok Arrival (D)
We will be greeted at the airport and transferred to our hotel. Relax in the rest of the day and enjoy welcome dinner on the Grand Pearl cruise. Overnight in Bangkok.
Day 2: Bangkok city tour (B, L)
Today we explore Bangkok's best cultural landmarks. See first the glittering temples of the Grand Palace and the large reclining Buddha at Wat Po, one of the oldest temples in Bangkok. Cruise the mighty Chao Phraya by a long tail boat and pop into the famous Temple of Dawn. Marvel at how ancient sites lie alongside glittering shopping malls and skyscraper – that's Bangkok. Stay overnight at hotel in Bangkok.
Day 3: Bangkok – Kanchanaburi – Bangkok (B, L)
Today we do a full day Kanchanaburi Tour with lunch. Visit the famous war Cemetary "Don Rak " and the Jeath War which enclave in the riverside precincts of Wat Chai Chumphon having been constructed largely in the form of an allied prisoner of war camp. The name Jeath is derived from Japan, England, America, Australia, Thailand, and Holland. Explore The Bridge over the River Kwai International famous, the black iron bridge was brought from Java by the Japanese army and reassembled under Japanese supervision by Allied prisoner of war labor as part of the "Death Railway" linking Thailand with Myanmar.
Add the visit to the Hellfire Pass Museum including a train ride and boat ride, co-sponsored by the Australian and Thai governments which are located on the site of the cutting and has superb interactive displays telling the story of the construction. Visitors can walk down the valley and see the actual cutting of Hellfire Pass. Although the tracks have long since disappeared, the route of the cutting can be clearly seen. Lunch at a local restaurant and then free at leisure. Stay overnight in Bangkok.
Day 4: Bangkok – Fly to Chiang Mai (B, L, D)
Fly to Chiang Mai to see this city from a unique perspective as you travel the old walled city area by samlor – a cyclo. Pop into the Art and Cultural Centre for an introduction to the history and culture of Northern Thailand. Continue to journey Wat Chedi Luang with its big stupa and Wat Phra Singh that houses a sacred Buddha. After a local lunch, drive to Chiang Mai's most famous place, Doi Suthep Temple. Climb the stairs to the top of the temple and be rewarded with magnificent views over the valley.
Evening Khantoke dinner with traditional dance. Back to the hotel. Free at your own leisure.
Day 5: Chiang Mai – Golden Triangle Tour (B, L)
Start from the hotel in Chiang Mai driving along a wild route via Doi Saket through scenic hills, valleys, and villages. A short break is made at Mae Khachan Hot Spring. Proceed to Chiang Rai province and visit Akha and Yao hill tribe villages in Mae Chan area. View around taking pictures of tribal villages and people who still dress up in their traditional costume as well as purchasing some cheap crafts from them.
Continue to the ancient town of Chiang Saen, the capital of the kingdom until the 13th century before King Meng Rai, the founder of Lanna Kingdom moved the capital to Chiang Rai. At that time the Myanmese also arrived and started to occupy the area, Chiang Saen was then totally destroyed and became an abandoned city for many decades.
Visit Wat Chedi Luang, almost 800 years old temple, also one of the most important temples in Chiang Saen. Further drive along the Mekong's River Bank to The World Renowned, Golden Triangle, and the mystery land in the past related to the Drug Trade and War. Buffet lunch at the restaurant. Drive up a small hill to a scenic point at Wat Pu Kao for a picturesque view over the Mekong River and the meeting point of 3 different countries: Thailand – Laos – Myanmar.
Then, take a short walk from the temple down to the Opium Museum where questions and curiosity about the Opium are replied. Go on traveling to Mae Sai, a bustling market at the border town with Myanmar and the northernmost point of Thailand. Free at your own leisure. Overnight at Chiang Mai at hotel.
Day 6: Chiang Mai – Elephant Tour (B, L)
Spend the day riding elephants through the forest and swimming in the Mae Ping River. See how these giants live and get a glimpse at the unique and very real relationships between elephants and their mahouts, often each other's best friends for life and watch elephants at work, the baby training school and bath time! On the return journey to Chiang Mai you will stop at an orchid farm to see exotic species in full bloom. Lunch at a local restaurant. Afternoon free for shopping. Overnight at Chiang Mai.
Day 7: Departure Chiang Mai – Bangkok – to Phnom Penh (B)
Breakfast and check out at hotel, transfer to Chiang Mai airport for flight departure to Bangkok. Arrival at Bangkok airport connects flight to Phnom Penh in Cambodia Upon arrival in Phnom Penh international airport, Meet with a tour guide and driver then transfer to hotel for check-in. Relax & stay overnight in Phnom Penh.
Cambodia Itinerary in 4 Days
Day 8: Phnom Penh City Tour (B, L)
In the morning, pick up early at 8:00 AM and visit to the Royal Palace, built by King Norodom in 1866 on the site of the old town, and the Silver Pagoda, located within the grounds of the Royal Palace, is named because of its floor, which is made up of 5000 silver tiles. Then continue your visit to the National Museum, one of Phnom Penh's true architectural gems. It is instantly recognizable with its warm red terracotta and its gracefully cured roof topped by dozens of guardian nagas. It was designed in Khmer style in 1917 by famed French architect Georges Groslier & Ecole Des Arts Cambodgiens.
In the afternoon, we continue to visit the notorious Killing Fields "Choeung Ek" 15km southwest of Phnom Penh. This one is the site of brutal executions of more than 17,000 individuals, most of whom first suffered through interrogations, torture and deprivation in Toul Sleng Prison during Pol Pot regime (from 1975–1979). Continue your visit to Tuol Sleng Genocide Museum (S21 prison). This prison was a high school, and used as a prison by Pol Pot's security forces and became the largest center for detention and torture during the rule of the Khmer Rouge. After your rest, Visit Russian Market (Psah Tuol Thom Pong), a lively outdoor market where you will find antiquities, silver and gold jewelry, gems, silk, kramas, stone, and wood carvings, as well as T-Shirts, CDs and other souvenirs. Then, we end our trip at the Victory Monument.
The tour is finished at a bit late afternoon upon dropping at hotel, at leisure & stay overnight in Phnom Penh.
Day 9: Phnom Penh – Fly to Siem Reap – Angkor Tour (B, L, D)
Arrival in Siem Reap, meet with your tour guide and driver to transfer to hotel for check-in. After lunch, visit Ta Prohm, one of the area's most beautiful temples. It has been relatively untouched since it was discovered and retains much of its mystery. Neak Pean, a fountain built in the middle of a pool (representing the paradisiacal Himalayan mountain-lake) and Ta Som, built in the late 12th century C.E. the most distant temple on the grand circuit, small but classic are the next stops during your travel. Afterward, Preah Khan temple, built by the King Jayavarman VII, like Ta Prohm is a place of towered enclosures and shoulder-hugging corridors. However, the temple of Preah Khan is in a reasonable state of preservation and ongoing restoration efforts should maintain and even improve this situation.
In the evening, we enjoy Buffet Dinner and enjoy Khmer Traditional Dance Show at a local restaurant. We are back to hotel, at leisure & stay overnight.
Day 10: Siem Reap – Angkor Temples (B, L)
In the morning, visit to the antique capital of Angkor Thom of the South Gate with its huge statues depicting the churning of the ocean of milk, the Bayon Temple, unique for its 54 towers decorated with over 200 smiling faces of Avolokitesvara, the Phimeanakas, the Royal Enclosure, the Elephants Terrace and the Terrace of the Leper King. After your rest, visit the most famous of all the temples on the plain of Angkor: Angkor Wat. We enjoy lunch at a fine local restaurant.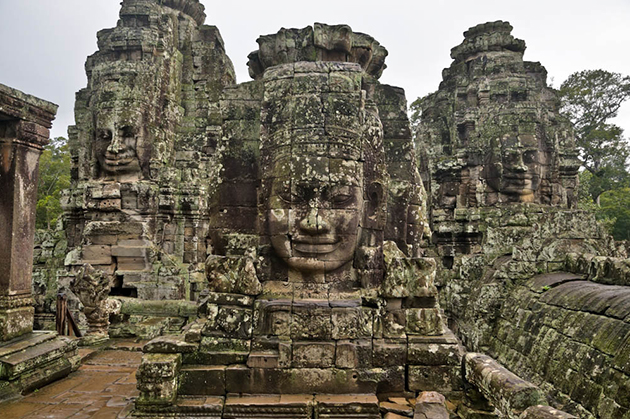 In the afternoon, visit the Angkor complex covering 81 hectares and is comparable in size to the Imperial Palace in Beijing. Its distinctive five towers are emblazoned on the Cambodian flag and the 12th-century masterpiece is considered by art historians to be the prime example of classical Khmer art and architecture. Continue to view wonderful sunset from the top of Phnom Bakheng Hill. The tour is finished in the late afternoon, drop in hotel, at own leisure & stay overnight.
Day 11: Siem Reap – Tonle Sap – Fly to Ho Chi Minh City (B, L)
In the morning, we with our guide & driver visit to the floating village of Chong Khneas, located 10 kilometers south of Siem Reap. Visit the village and take an excursion in a traditional wooden boat on the Tonle Sap Lake, the "Great Lake" of Cambodia, one of the largest in Asia.
After lunch, Transfer to Siem Reap international airport for your departure flight to Ho Chi Minh City. End of tour & services in Cambodia. Upon arrival in Ho Chi Minh City, we will be welcomed at the airport by tour guide and then transfer to hotel. Check-in and relax. Dinner in a fine restaurant & overnight at hotel.
Vietnam Itinerary in 8 Days
Day 12: Ho Chi Minh City tour – Cu Chi Tunnel (B, L)
In the morning we will leave Ho Chi Minh City for the Cu Chi tunnels, otherwise known as the "Iron Triangle" or "Iron Land". On our way, we will drive through the pleasant countryside; rubber plantations and rice paddies. Before entering the tunnels, we will see a short introductory video showing how they were constructed, followed by an exploration of the maze of tunnels, some of which have been widened to allow tourist access. Also on display are various mantraps and the remains of an American tank, as well as numerous bomb craters made by 500lb bombs, dropped by B52 bombers. After that, we transfer back to Ho Chi Minh City & enjoying lunch time.
In the afternoon, we visit the Reunification Palace, the former Presidential Palace for the president of the South of Vietnam. Then we will visit the War Remnant Museum, where we can see countless artifacts, photographs, and pictures documenting the second Indochina war. We also stop at Notre Dame Cathedral and Old Post Office to get good shots for our memory of the big, modern city of Vietnam. In the rest of the day, we will visit Ben Thanh market and then return back to hotel at around 17:00. Overnight in Ho Chi Minh City.
Day 13: Ho Chi Minh City – Mekong Delta (B, L)
The morning starts from the hotel at 7 AM to leave Ho Chi Minh City and travel to Cai Be for about 2,5-hour driving. Vivid farming activities and the riverine life of the Mekong Delta can be seen en route. Take a boat trip from Cai Be along the mighty Mekong River and its tributaries to view the riverine of local people who work and play on the waterways of the Mekong Delta.
It would be a miss if we do not visit the floating market at Cai Be, and a family-run workshop making popcorn, pop-rice and rice paper. A taste of these local products with green tea brings you a great feeling in tropical weather. Lunch will be set up in a local house that located on an island, which is a fertile place for different fruits and trees. After lunch, taking a short nap on a hammock under the shady garden or you also can do cycling along the village paths to enjoy the beauty of the countryside. Lastly, the cruise will transfer us to Vinh Long city where we take our vehicle back to Ho Chi Minh City and drop at hotel then leisure for our own dinner expense & stay overnight.
Day 14: Ho Chi Minh City – Fly to Danang – Transfer to Hoi An (B)
After more than 1 hour- flight, we arrive at Danang city with welcome upon arrival by a local tour guide who will take us to Hoi An. Check-in and relax.
In the afternoon, we are met up by local tour guide for a short walking- down to the downtown for our walking tour with visiting to the ancient town to visit the Japanese Covered Bridge, the Pottery Museum, Tan Ky old house, the Cantonese congregation, the silk street of Hoi An, the temples and pagodas of Chinese appearance. Hoi An tour ends at the lobby of our hotel & free in the evening & overnight in Hoi An.
Day 15: Hoi An – Hue (B, L)
After breakfast at the hotel, we travel to Hue along scenic highway 1A. On the way, we will stop to contemplate South to Danang city and the stunning views north, visit Cham Museum – the houses of the most complete collection if Cham Artifacts anywhere in the world together with Non Nuoc Beach and the Marble Mountain including the five elements of the Universe (water, wood, air, fire, and earth).
We will arrive in Hue in the afternoon then visit the Citadel, the Forbidden Purple City and Dong Ba market. Overnight at hotel in Hue.
Day 16: Hue Boat Trip – Fly to Hanoi (B, L)
We will be met and transferred to the Wharf where we will cruise along the Perfume River to visit Thien Mu Pagoda (the Heavenly Lady pagoda), from here we will have a good view of Perfume River and surroundings. And then we take our vehicle to Tu Duc King's tomb, which is one of the most beautiful works of Royal Architecture of the Nguyen Dynasty. The tomb lies in a boundless pine forest. Then we go back to the city for our delicious lunch at a fine local restaurant.
In the afternoon, we continue heading to the airport for our next flight to Hanoi. On arrival, our tour guide and driver will welcome us at the airport and transfer to our hotel. Check-in and relax. Overnight in Hanoi
Day 17: Hanoi Sightseeing Tour (B, L)
We start our one-day city tour from the lobby of the hotel at 8:00 am with our tour guide & driver pick up. We will drive to Ho Chi Minh Complex, where we will spend a couple of hours to visit Ho Chi Minh's mausoleum, his former stilt-house residence, the Presidential Palace, the Ho Chi Minh Museum and One Pillar Pagoda. Keep going to see the Temple of Literature originally built as a temple to Confucius, this is the site of Vietnam's first university dating back to 1070. The temple highlights the importance that Vietnamese society placed then and now on education. Lunch will be at a fine local restaurant in Hanoi.
In the afternoon, we visit one of the most interesting museums in Vietnam, Museum of Ethnology, which is widely acknowledged as the best in the country and has an extensive display dedicated to Vietnam's 54 Ethnic minority people. After that, get back to the city center & visit Hanoi Hilton (Hoa Lo Prison), a very good place to discover the old time of Vietnam.
Next, we are on one-hour cyclo around the Old Quarter by local people ride, known as the 36 streets. This bustling area of narrow streets is home to literally thousands of small businesses and shopkeepers. Before we go back to hotel, we will have a chance to enjoy the unique Water Puppet show to hear to know Vietnamese traditional instruments and singing from the live musicians who play throughout the show. The trip will be finished after the show at the hotel in late afternoon, free then & stay overnight in Hanoi.
Day 18: Hanoi – Halong Bay (B/L)
We are met at the lobby of hotel by our tour guide & driver at 08:00 AM for a transfer to Halong Bay. After more than 3 hours driving including a stop-over in Hai Duong city, we arrive in Halong Bay at around 11:30 AM. Go to our private boat and enjoy a fresh seafood lunch onboard your traditional junk while cruising leisurely through the natural wonders of Halong Bay, passing the most beautiful spots in the Bay. Discover the amazing stalactites in Dau Go (Wooden Stakes) Grotto and Thien Cung (Heaven Palace) Grotto with their fantastic history.
The afternoon cruise is highly recommended for those who want to discover Halong Bay within a limited timeframe. We then go back to the dock by another way at around 16:00 PM and we are picked up by our vehicle & will return to Hanoi in the evening at around 19h with a drop at the hotel & have free time till stay overnight in Hanoi.
Day 19: Hanoi Departure (B)
After breakfast, we are free at our leisure until our tour guide picks us up and transfer to the airport for our departure flight. Thailand, Vietnam, and Cambodia holiday package ends
What is Included?
Private boat trip/cruise in Thailand and Siem Riep as indicated
Flights mentioned in the itinerary
Entrance fees visit all sites as indicated in the itinerary/ Government tax & charges
All private transfer/transport by the most comfortable vehicle with air conditioner & good driver separately between airport & hotel; scenic spots; restaurants
Experienced English speaking guide/s during the trip separate in
Thailand/Cambodia/Vietnam & private guide in each city as in itinerary
Centrally- located accommodations and based on double bed (DBL) with daily breakfasts as indicated in the above list.
Meal included in the tour: Breakfast daily only at hotels (B=Breakfast, L=Lunch, D=Dinner)
Dinner at fine local restaurants based on local food & set menu & on boat cruise
Reasonable mineral water per person each day during the tour
Private boat trip in Mekong Delta & Hue: local wood boat & sampan
Entrance fees visit all sites as indicated in the itinerary
Government tax & charges within Thailand/Cambodia & Vietnam
What is Excluded?
Other Airfares and taxes of international flight to Bangkok Thailand /out of Cambodia/Vietnam.
All airport taxes of external flights among 2 countries.
Visa to Thailand & Cambodia & all visa fees.
Foods and drinks not mentioned in the itinerary
Visas to Vietnam for visa approval letter & visa stamp fee.
Entrance fees and permits during free time.
Personal travel insurance (Compulsory).
Personal expenses such as Bar, Telephone and Laundry bills.
Tips and gratuities for guides & drivers.
Recommended Hotel List:
Bangkok: JW Marriott Hotel
Chiang Mai: Le Meredian Hotel
Phnom Penh: Sunway hotel
Siem Reap: Borei Angkor hotel
Ho Chi Minh city: Grand hotel
Hoi An: Sunrise Hoi An Beach Resort
Hue: La Residence Hotel & Spa
Hanoi: Sofitel Legend Metropole Hanoi hotel