Leave loads of work behind and pamper yourself with a private family tour to quaint villages and historic towns in Vietnam and Cambodia. This Vietnam and Cambodia Family Adventure Tour in 14 days is designed for your family to visit notable landscapes and soak up interesting indigenous culture in two weeks. Listen our experienced tour guide to acquire educational and insightful narrative about generous locals and traditional customs of these two countries. After a visit to a series of exotic destinations in Vietnam such as Ha Long Bay – a paradise of amazing limestone islands, Da Nang City – "worth-living" city of Vietnam and floating market in Cai Be Town, you will transfer to Siem Riep and admire ancient Angkor's Complex like  Angkor Archaeological Park with the South Gate of Angkor Thom. It is a precious occasion for both adults and children to gain profound insight into southeast countries' culture and history. Meanwhile, you also have a chance to participate in several interesting cooking classes as well as savor the culinary delights of Vietnam and Cambodia.
Tour Route: Hanoi -Halong Bay – Hue – Hoi An – Ho Chi Minh City (Saigon) – Siem Reap
Duration: 14 Days/ 13 Nights
Date: No fixed departure dates. You may go whenever you wish
Start/ End: Hanoi/ Siem Reap
Typer Type: Landscape, Culture, and Nature
Tour Customizable: Absolutely! (Tell us your specific requirements in the inquiry form)
Tour Category: Cambodia Family Tours, Vietnam Family Holidays
BRIEF ITINERARY
11-Day Vietnam Family Tour
Day 1: Hanoi Arrival
Day 2: Hanoi City Tour & Vespa Riding
Day 3: Hanoi – Halong Bay (Overnight on Deluxe Junk Cruise)
Day 4: Halong Bay – Hanoi – Night Train to Hue
Day 5: Hue City Tour & Boat trip
Day 6: Hue – Hoi An – Walking tour
Day 7: Hoi An – My Son Holy Land
Day 8: Hoi An – Cooking class – Danang – Fly to Saigon
Day 9: Saigon City Tour & Cu Chi Tunnels
Day 10: Mekong Delta Adventure Tour with Homestay
Day 11: Cai Be Floating Market – Saigon
3-Day Cambodia Family Tour
Day 12: Saigon – Fly to Siem Reap
Day 13: Siem Reap – Angkor Temple Tour
Day 14: Siem Reap Departure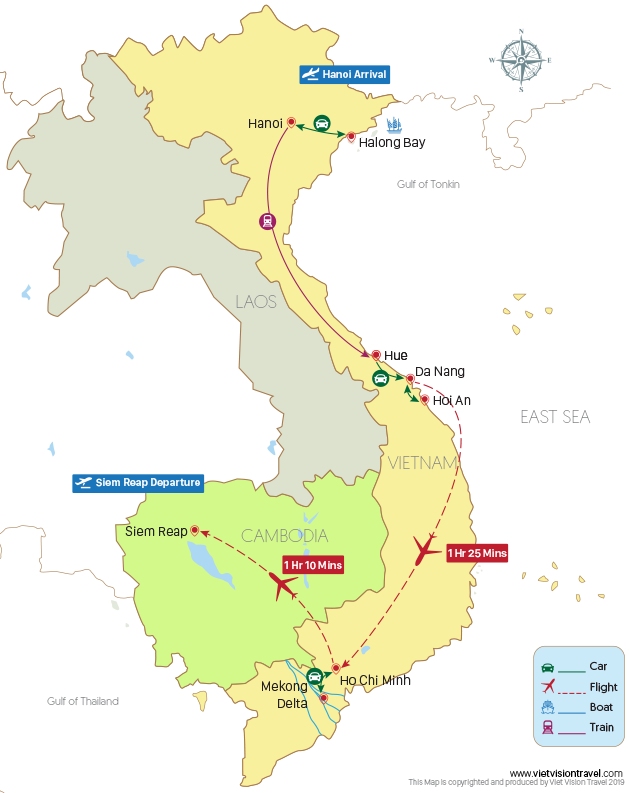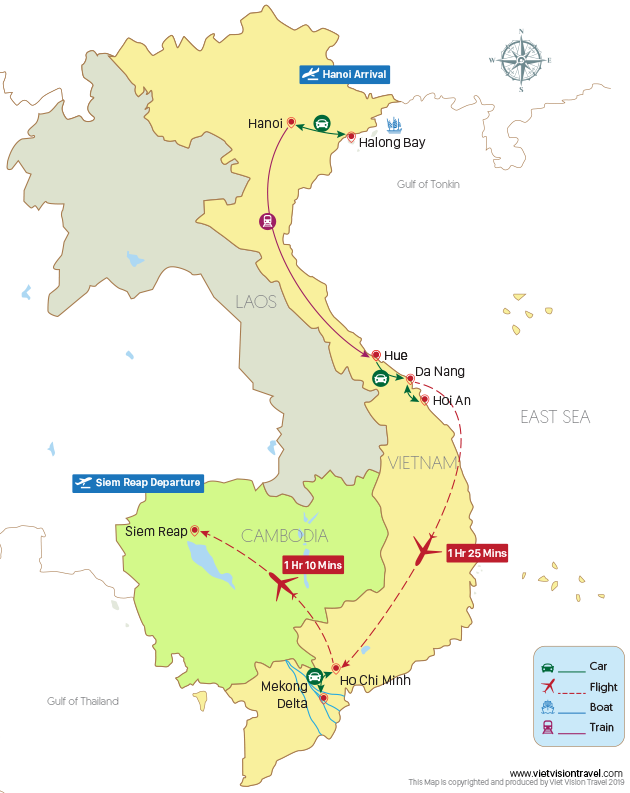 Full Itinerary
Price & Inclusion
Accommodation
Photos
11-Day Vietnam Family Tour
Day 1: Hanoi Arrival (D)
Arriving at the airport, the family will meet the tour guide and driver at the outside security gate. It's easy to find out the tour guide with the welcome board with the name of the family. Later, we will transfer to hotel in the city. Relax after a long flight journey and we enjoy our delicious dinner in a local family, this can be your sales' or your tour guide's house.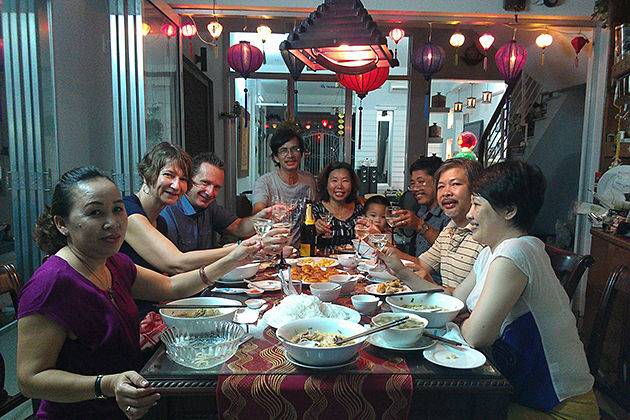 This will be a highlight of the trip, especially for the children as Vietnamese are all friendly and extremely hospitable. If you're interested in cooking, we can join the host and also learn how to make some traditional Vietnamese food. We, Vietnamese people, normally watch TV while having dinner, let's experience this and talk about anything you're interested in. After dinner, our car will take us back to the hotel for overnight accommodation.
Day 2: Hanoi City Tour & Vespa Riding (B, L)
Today, we explore the capital city of Hanoi right after breakfast. Meeting time with the private tour guide is at 8.00 am or 8.30 am depending on our schedule, then we take a short driving to Ba Dinh Square to visit Ho Chi Minh Mausoleum, outside of new National Assembly House, the Presidental Palace, One Pillar Pagoda, Ho Chi Minh's House on stilt and his goldfish pond.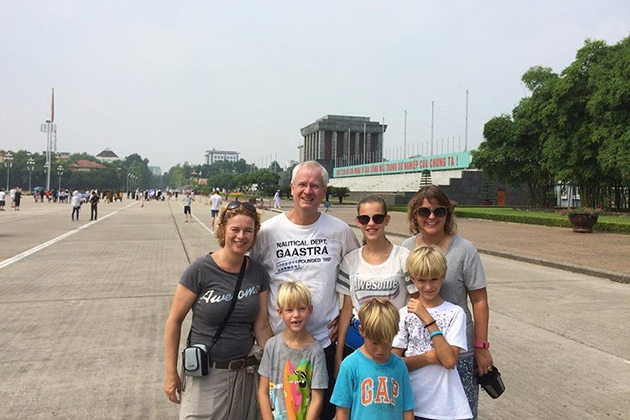 Later, we stop at the Temple of Literature, the first university of Vietnam and now is a temple. We spend almost one hour in the place before walking to the K.O.T.O restaurant nearby for our lunch. This is a nice restaurant with its Australian Vietnamese owner, who is very kind-hearted. He collects many poor young boys and girls or street boys in Vietnam and trains them as a waiter and waitress then send them to hotels, resorts or restaurants in all over Vietnam. The restaurant staff can contact with customers in English well and they are very friendly.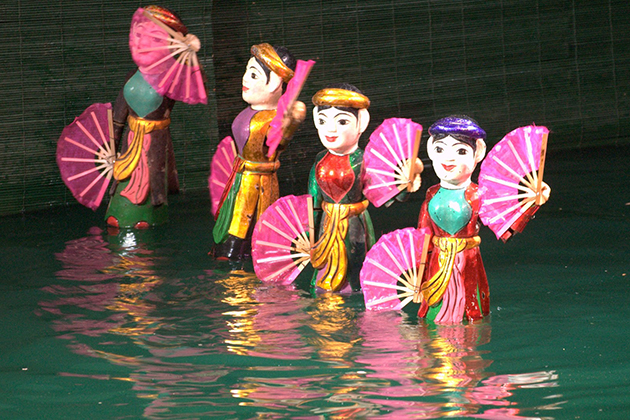 In the afternoon, we are riding pillion behind Vespa driver and touring outside of Hanoi with city gate, the over 100 years old Long Bien bridge, Westlake area, Tay Ho Temple, Van Nien pagoda and new Hanoi city. This half-day Vespa tour gives family another experience in Hanoi and modern life. The Vespa driver will drop us in front of the theater where will we enjoy one hour Water Puppet show. After the show, we will go back to the hotel with a tour guide then free time for dinner and overnight in Hanoi.
Day 3: Hanoi – Halong Bay (overnight on deluxe junk cruise) (B, L, D)
The family checks out this morning for the two-day boat trip in Halong Bay and night train to Hue the night after. The main luggage should be left at hotel's store and we will get back to pick up on the next day. This excursion is recommended to take necessary followings for 1 night only due to the junk's cabin space. The journey lasts 3.5 hour driving along Red River Delta. However, it's not tired thanks to a stop in the middle of way; or we can ask the driver to stop at anywhere we want (for private transfer only). The crew team will welcome us at midday at the pier. We take the tender to the junk cruise with escorted by staff and our luggage is also carried by them after that.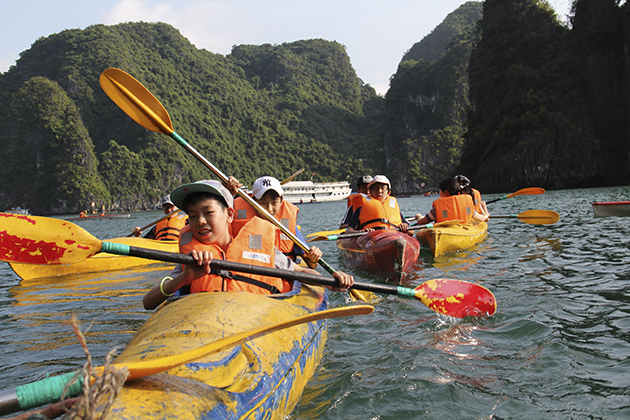 We will enjoy delicious two lunches, one breakfast and one dinner at the restaurant on a cruise. The food on the cruise is always excellent; it's always hot, good smell and fresh. All cruise passengers will experience many amazing activities such as visiting the cave, kayaking, swimming, sunbathing, photo hunting, spa services…. The tour guide on a cruise will take us from this activity to another, step by step and we feel as we are at home. The cruise will take a route around the World Nature Heritage, from this part to another part of the tranquil Bay. Overnight on junk cruise.
Day 4: Halong Bay – Hanoi – Night train to Hue (B, L)
One of the highlights this excursion is to enjoy the sunrise time in the middle of Halong Bay. So the family is recommended to get up the little bit early (around 5h30 or 6h00am) and walk to the sundeck. We may join Tai Chi Session with Master or just relax on the chair with a cup of morning coffee or tea. Each of us will have a great moment in a very private place.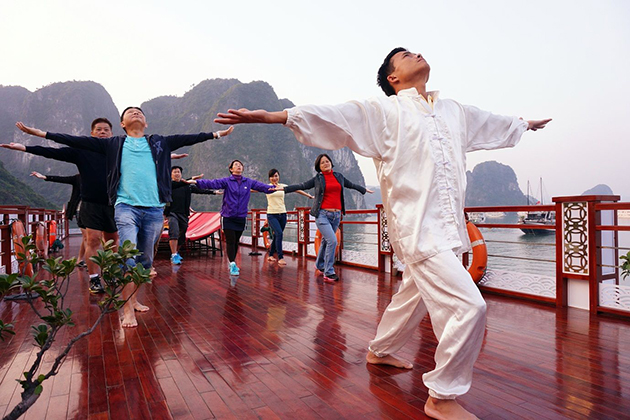 Later, we enjoy breakfast and join some other activities that the cruise team built for in-house guests. We check out cabin at around 10h00am this morning and leave the cruise at midday after our early lunch. Our awaiting vehicle and tour guide will take the family back to Hanoi where will pick up the luggage at the hotel and take the night train to Hue in the evening. Overnight on train.
Remarks:
The family will take a private cabin with 4 berths
Vietnamese standard cabin with air conditioning, water, mattress, blanket….
No tour guide on train but tour guide see off and welcome upon arrival
It's safe for the family to stay one night on the train
Train time from 7.00 pm tonight to 8.30 am next morning
Day 5: Hue City Tour & Boat Trip (B, L, D)
We arrive in Hue in the morning, enjoy local breakfast at Bun Bo Gio Heo (rice noodle with beef and pork) restaurant then starting the tour. We experience dragon boat trip along a part of Perfume River, then stop at Thien Mu Pagoda which is located on the top of the hill looking over the Imperial Citadel. In this history pagoda, the tour guide will lead the family back to the Vietnam War history time with many stories about people, life and how the Vietnamese people against the American personally. The monk Thich Quang Duc fired himself in Saigon to show the American army that how much he did not agree with their invasion.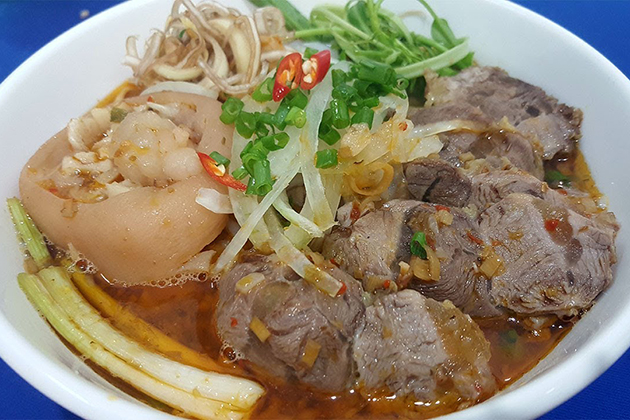 After the pagoda, we take a short driving to Emperor Tu Duc's tomb to explore his palace which was built for himself after death. This is a complex with the tomb, palace, summer palace, lake as well as the forest of pine trees and many other bonsais…. Rest of the day, we visit some handicraft villages of the Colonial hat, incense, Citadel, Forbidden City and Dong Ba market. We will enjoy delicious Hue food in our dinner today. Overnight in Hue.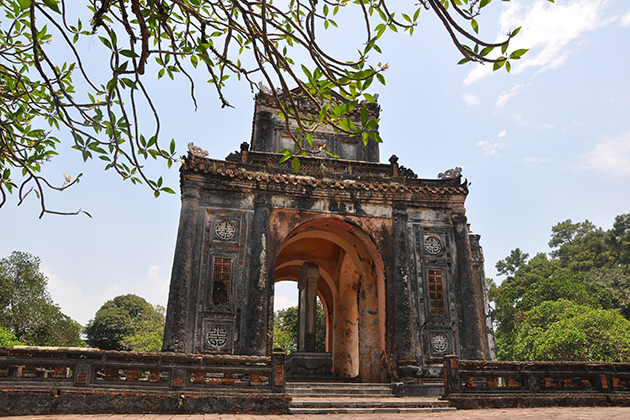 Day 6: Hue – Hoi An – Walking Tour (B)
Today, we travel southward to Hoi An via Danang city where we have a shortstop on the top of Hai Van Pass, Lang Co beautiful beach, and Non Nuoc stone village. We will take an open lift to the Marble Mountain to get the panorama of Danang city as well as one the most beautiful beaches on the planet, Danang beach.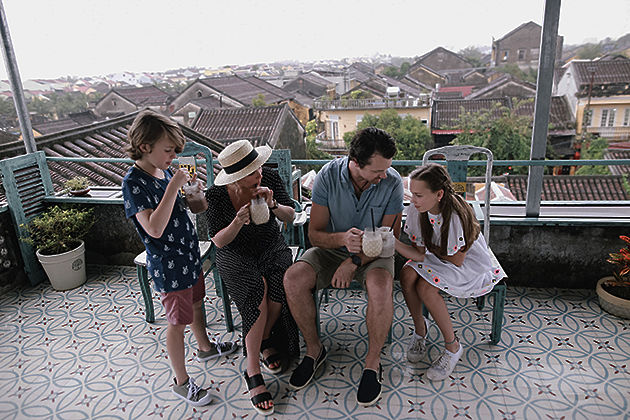 In the afternoon, we spend almost two hours for our walking tour to visit all the highlight places in Hoi An Ancient town. They are the Japanese Covered Bridge, the Pottery Museum, Tan Ky old house, the Cantonese congregation, the silk street of Hoi An, the temples and pagodas of Chinese appearance. Later, we will explore this wonderful town by own or back to the hotel for relax. Overnight in Hoi An.
Day 7: Hoi An – My Son Holy Land (B)
My Son Holy Land was an ancient city of Cham people from many centuries ago, where is about 70 km far from Hoi An. Following the provincial roads, we come closer to the forest and feeling the Cham culture through the traditional music performance which is showing by Cham artists. There are five parts in the complex named by archeologists and family will take a tour from A complex to the end. My Son Holy land was destroyed much during the American war but it was still recognized as one of the World Cultural Heritage Sites of Vietnam. We are back to Hoi An at noon for our own time shopping, swimming, relaxing, biking…. Overnight in Hoi An.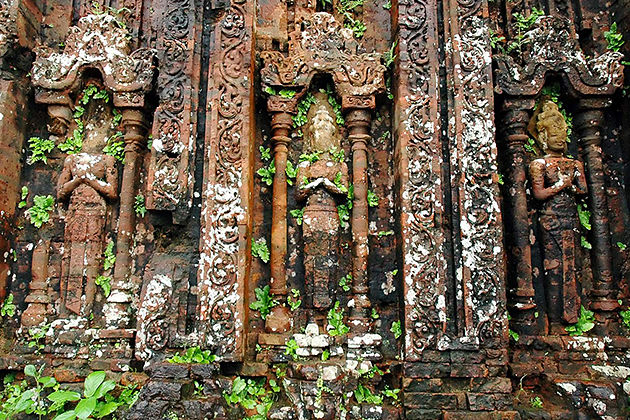 Day 8: Hoi An – Cooking Class – Danang – Fly to Ho Chi Minh (Saigon) (B)
Before farewell this wonderful town, we will experience a good activity that is very famous in Vietnam, Cooking class with the chef. We first meet the chef at the restaurant then do the market tour for shopping all the ingredients that the chef says to use during the cooking class. Later, we join the hands-on cooking course, prepare and cook some dishes with guiding of the chef. There will be a lot of fun and we will enjoy all the food that we cooked before.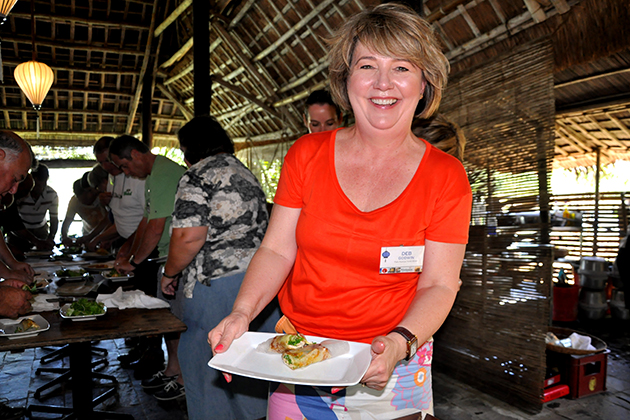 In the afternoon, we transfer back to Danang city for our short flight to Ho Chi Minh City (Saigon) with airport pick up on arrival. Tonight, the family is free for dinner and shopping in the night market in Ben Thanh area. Overnight in Saigon.
Day 9: Ho Chi Minh City Tour & Cu Chi Tunnels (B, L)
Today is divided into two parts, inner city and outside the city. We venture Saigon in the morning; visit all the highlights of the vibrant city with Reunification Palace, the War Remnant Museum, Cathedral and Post Office. Family can ask the tour guide to skip the War Remnant museum if it's not suitable for children then we will explore China Town, Giac Lam pagoda instead of.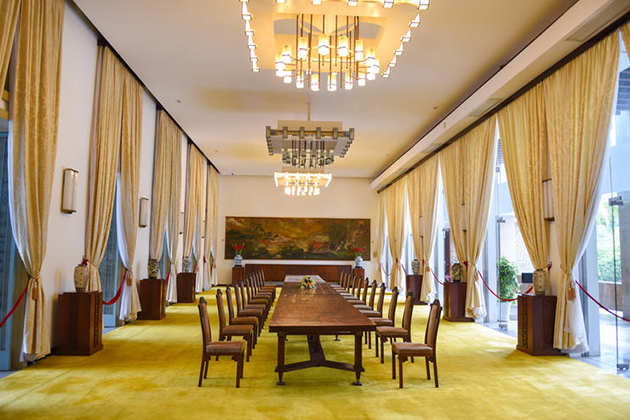 After lunch at a Vietnamese cuisine restaurant, we travel to the heroic history area of Cu Chi Tunnel. We first see the video in the showroom to have an overview of this place then craw along some tourist permitted parts. To be an old people by enjoy some special food of boiled cassava, sweet potatoes, and local tea or try to experience the old soldiers by buying real bullets for some shootings in the shooting range which was built only for tourists. There will be guiding the soldiers in range. Overnight in Saigon.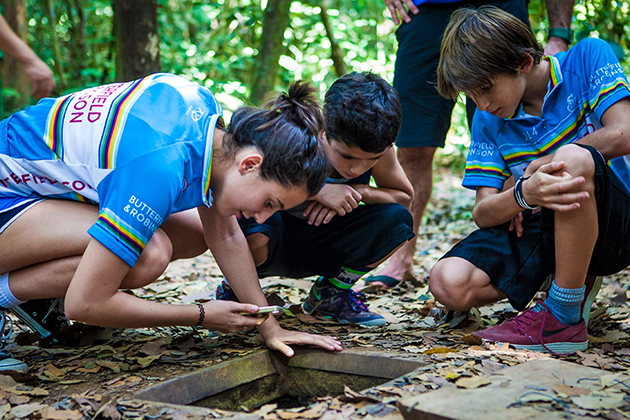 Day 10: Mekong Delta Adventure Tour with Homestay (B, L, D)
Mekong Delta nowadays is a popular place for homestay services. This is an unforgettable experience during our family vacation in Vietnam. We bid farewell the busy Saigon in the morning and boat to home-stay in the afternoon after approximately 2-hour driving. During the day trip, we stop at Vinh Long local market, brick kilns and many agriculture production workshops. We also take sampans closer to villages along the smaller canals where will see and contact them by our way.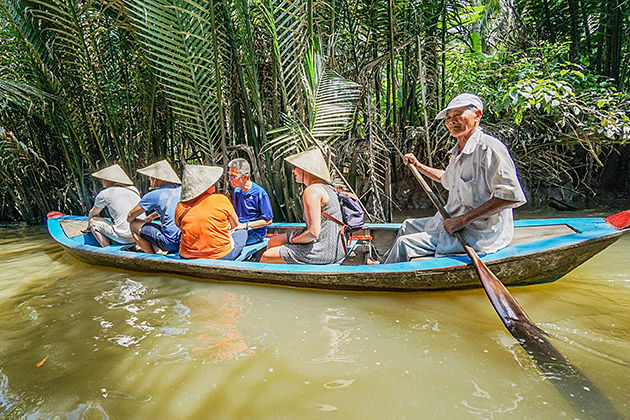 At the end of the day, we check in home-stay, join cooking demonstration with host and have dinner with them. We will enjoy the traditional music performance by local people and overnight in Mekong Delta.
Day 11: Cai Be Floating Market – Ho Chi Minh City (B, L)
We have breakfast with host then boat to Cai Be colorful floating market. We depart a little bit early this morning to join the busiest time of the market. The floating markets in Mekong Delta usually start at 6h00 am and end around 10h00. But for Cai Be wholesale floating market, the best time is from 6h00am to 8h00am every day. The boat will take us among the barges of fruits, vegetable and agriculture products. We will see how people here selling and buying products. We also have a chance to buy something that we want with tour guide's help; or we just relax on the boat and see their friendly smile, conversations and do the most important thing of the trip, photo hunting.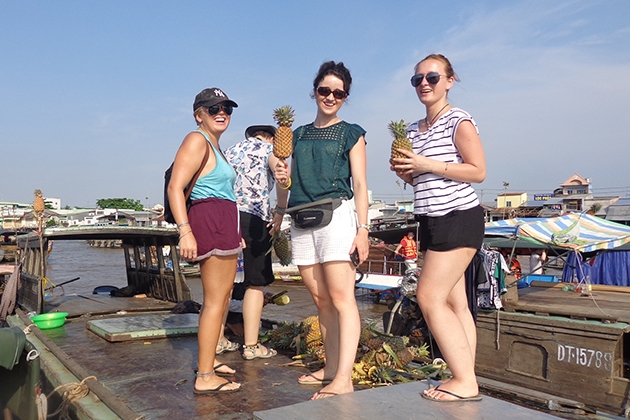 The trip continues by visiting some local workshops and handicraft villages where we will be free for shopping or seeing. End of the morning, the boat takes us back to Cai Be Town where we meet the driver for our journey to Saigon. Overnight in Saigon.
3-Day Cambodia Family Tour
Day 12: Ho Chi Minh (Saigon) – Fly to Siem Riep (Cambodia) (B)
Today, we take a midday flight to Siem Reap, the Kingdom of Cambodia with airport pick up services. Then visit the antique capital of Angkor Thom (12 century), the South Gate with its huge statues depicting the churning of the ocean of the Bayon Temple, unique for its 54 towers decorated with over 200 smiling faces of Avolokitesvara, the Phimeanakas, the Royal Enclosure, the Elephants Terrace and the Terrace of the Leper King.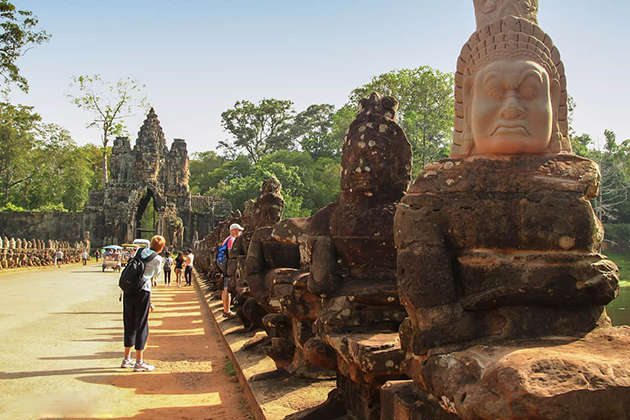 In the afternoon, we discover the Angkor Archeological Park with the South Gate of Angkor Thom. This is a complex of the moat, stone figures, statues of guardian god, snakes….It's a legend about a famous Hindu, and the tour guide will lead us back to history with many interesting stories. It's the best moment to see the sunset from Prasat Chrung where is recognized to be the best corner to view the setting sun. After that, we enjoy a short royal boat along the ancient moat then back to the hotel. Overnight in Siem Reap.
Day 13: Siem Reap – Angkor Temple Tour (B, L)
Angkor Wat is the place that visitors must see while traveling in Siem Reap. It is an ancient city, it's known as the last capital city of the ancient Khmer Empire and the jewel of Cambodia with the rest now is the sandstone carved bas-reliefs, gables, and lintels. We firstly visit Ta Prohm temple where ancient stones and massive tree roots engulf the ruins, then we take a short walk to the royal enclosure temple of Phimean Akas and the serene Preah Pithu groups of smaller temples.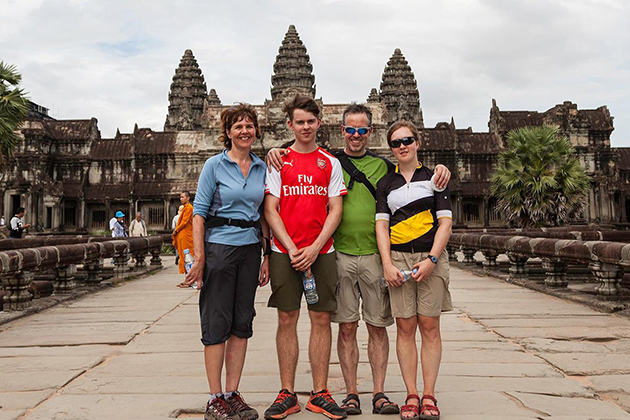 After lunch, continue the visit at Angkor Wat and back to the center city for our modern busy life with the local market, restaurants and friendly people contacting. Overnight in Siem Reap.
Day 14: Explore Floating Village – Siem Reap Departure (B)
This morning today, we have an option for seeing the sunrise at the Angkor Wat or we spend our last morning in the city. Depending on our departure time, we will take a short boat trip to visit the floating market of Kompong Phluk or Kompong Khleang. We will explore a part of Siem Reap the waterway then back to the hotel for our packing luggage for our journey to home. Vietnam and Cambodia Family tour ends.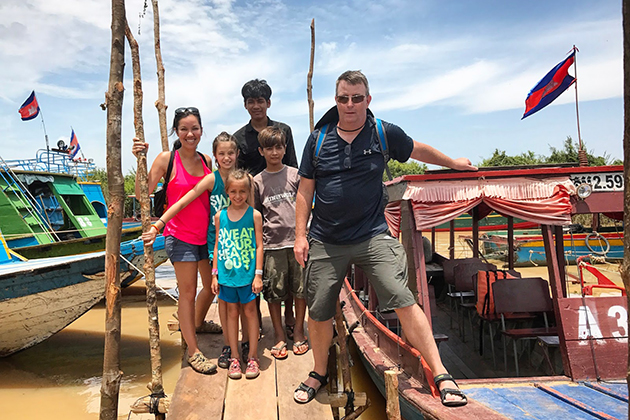 What is Included?
Private ground transfers and transportations
Expert English speaking guide (other languages upon request)
Accommodation with daily breakfast, rooms based on 2 people per room, extra beds upon request
Meals indicated in the itinerary (authentic Vietnamese food)
Vespa tour in Hanoi
Junk cruise in Halong Bay
Kayaking
Cooking demonstrations on boat
All entrance fees and permits
Water puppet show in Hanoi
Boat excursions
Cooking class in Hoi An
Train tickets
Domestic flight ticket Hanoi – Danang; Danang – Saigon; Saigon – Siem Reap
Airport tax
Bottle during the trip
Government tax and service charge
Many opportunities for photos
What's Excluded?
International flight tickets
Airport tax
Personal expenses
Meals not indicated
Visa and visa fee – http://www.itvietnamvisa.com/
Tips for tour guides, drivers and others
Recommended Hotel List:
| | | | |
| --- | --- | --- | --- |
| Cities | 3 stars | 4 stars | 5 stars |
| Hanoi | Authentic hotel | Lan Vien hotel | Apricot hotel |
| Halong Bay | V'spirit cruise | Paloma cruise | Paradise Cruise |
| Hoi An | Vinh Hung 2 hotel | Thanh Binh Riverside hotel | Royal Hoi An hotel |
| Ho Chi Minh City | Saigon hotel | Central Palace hotel | Grand Saigon hotel |
| Mekong Delta | Home-stay | Home-stay | Mekong Lodge |
| Siem Reap | New Riverside hotel | Seam Siem Reap Hotel | Sokha Angkor Resort |